October is "Breast Cancer" awareness month, which is an annual campaign to increase awareness of the disease. So get out your pink bows, ties and bow ties and tie them on wherever applicable. Amongst the various fun runs, concerts and cup cake sales to raise money and awareness I came across "No Bra Day". Monday October 13th is the official "No Bra Day" set the Tatas free as the campaign suggests. No one can debate that breast cancer awareness is important and one should support this cause, however the free your Tatas day has caused a huge debate.  Facebook, twitter and social media accounts are blowing up with heated comments coming from all over the world.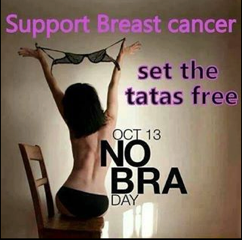 There will be no free Tata's for me on October 13th. Not because I think it is a silly idea, if it raises awareness to some because we are all different then great! When you are well endowed (as gravity works so well on it's own) no need them drooping any faster than it is necessary. I have even found myself in the throws of passion thinking to myself now would be a really good time for a sports bra. (Lingerie manufacturer's who cater to larger breasted woman take note here opportunity for a "sexy" sports bra to come on the market…No?). Although I am sure there would be no shortage of assistance if I were to ask for a relay in "support" from my fellow man on a Tata free day.  I have no desire to let them swing around for a minute let alone a whole day because once the ligaments in your breasts have stretched that's it, they are stretched. This Tata's free idea doesn't support me and I can't quite wrap my head around how it supports breast cancer, but each to their own opinion I say.
However on the flip side, something came up, which could work well was an idea suggested by a male friend of mine. His suggestion was a "Bro Day" or a "Manziere Monday" on the 13th of October asking Men who participate to actually wear a bra filled or not, in support of support. I give 100% kudos to my friend who came up with this idea. I just liked the concept and couldn't see any harm in the fun of it and men getting involved with the concept of what it is actually like to wear a bra and possibly what it is like to carry around two large grapefruits or smaller to walnuts all day on your chest, and we all know there are some men out their who won't need the extras and could fill a bra on their own. However what a lot of people don't know is that woman are not the only ones who suffer from breast cancer about 1-2% of victims of breast cancer are men. I know as Richard Roundtree a man I have met several times through good friends, and is also the actor who played John Shaft in the iconic 1971 film "Shaft" was diagnosed with male breast cancer in 1993.  After becoming a survivor of the disease eventually became an awareness advocate for male breast cancer, speaking about it all over the USA.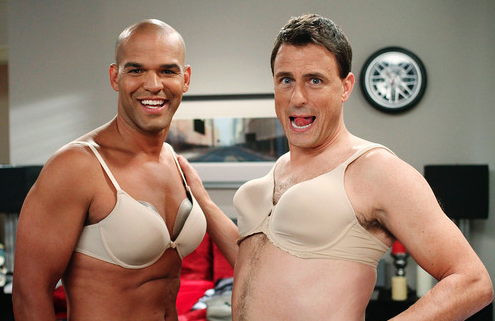 So YES I think that men should get involved and support Breast Cancer Awareness month, however they like! Whatever it is you do this month with a bra or without, freeing your Tata's, Running a marathon or strapping a bro on, remember why you are doing it! Ultimately it's to support the plight of saving women's and men's lives who are fighting against breast cancer.
by Stephanie Paul
Twitter: @FunnySpanky