Sailing ahead with new technology.
Since its inception in 2008, V.Ships Offshore, one of the pioneers of vessel management and new technologies, have continued to expand and grow not only in premises but also in new applications and procedures to make the industry cleaner, more efficient and secure, keeping everything 'above water'. We spoke with Vice President Alessandro Ciocchi regards to how his company is ensuring this happens.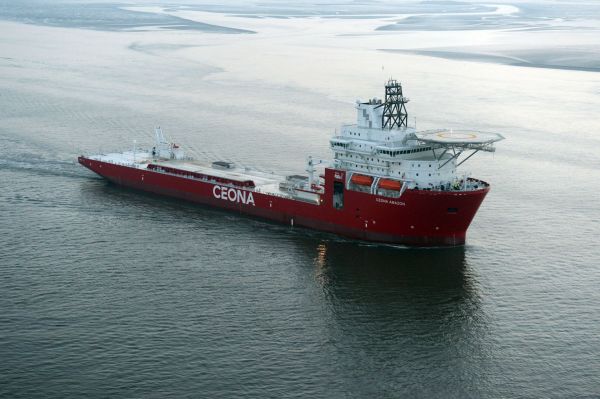 Entrenched in the realms of commercial shipping, cruise, energy and defense sectors, V.Group has become the world's leader in maritime solutions. Offering their global clients a wide range of services, coupled with the highest levels of professionalism and customer relations, their reputation is one that has been created through the careful molding of their business to suit this highly technical industry, resulting in them becoming a one stop shop for the sum of their client's shipping needs.
Having expertise in every field within an industry has proven to be an advantage as V.Group operates across all facets of shipping, including commercial, cruise, energy and defense, offering outsourced technical management of high-value maritime assets, the provision of high-value technical support, workforce and commercial services. This means that clients come to them with projects needing to be completed from cradle to the grave, which opens up many opportunities for innovative thinking and growth as every project, inevitably, provides something new and interesting to handle.
When it comes to ship management, V.Ships, the shipping arm of the group, has encapsulated the entire realm of services and has proven to be stalwartly resilient to the current economic climate where owners continue to try to lower costs and balance their books. Due to this, there is a growing trend of handing over the management of crew and operations to companies such as V.Ships, who have the experience and expertise to keep things 'above water'.
"The shipping industry has fallen on some hard times of late," Alessandro tells us, "particularly in the offshore sector. This is where quality ship managers like V.Ships come in, providing first class marine operations, all the while cutting costs with our unrivalled purchasing power, seafarer recruitment network and our wide range of complementary shipping services, to provide a one stop shop solution to ship owners."
It may sound clichéd, but you have to respect the classic thinking of V.Ships with their motto-esque approach to their role, not only as an industry leader, but as a resource to their clients. With four pillars of conduct, SAFE, RELIABLE, EFFICIENT AND COMPLIANT, the company's motto is "Performance Assured", which reflects their ability and commitment to quality and consistency across all their operations.
"Indeed, if V.Ships are anything, they are solution providers, bringing their clients the answers they need for vessel management requirements both today and tomorrow," he says.
In an industry renowned for its difficulties, the 'know how' that V.Ships is able to offer its clients has been one of the many reasons why the company has such a strong foothold on the market. Every day it demonstrates the experience that has driven this company up to its current position, from small details like the best places to get staff, to the big solutions like how to lower cost operations while spreading overheads across 1,100 ships.
To achieve this kind of all-encompassing service V.Ships operates a ship management team that is comprised of a network of 18 ship management offices, supported by the main team based in Glasgow, Scotland and with 600 staff in total, they provide technical support, risk management, procurement, financial expertise and experience to their customers.
"Over 30,000 skilled crew members and 300 superintendents across V.Ships," Alessandro says, "with approximately 200 total onshore staff for V.Ships Offshore,"
He goes on to explain that they encourage and fund their staff to partake in courses and sessions that can help develop their existing skills and diversify their expertise. There is something else that they need from each employee however.
"We require our staff to be like us," he says, "which is to say open, honest and clear."
Ship management services are delivered to a fleet of cargo-carrying vessels and the fleet itself is very impressive, including tankers for crude fuel, chemical and LPG/LNG and a range of bulk carriers, including a large number of self-dischargers to VLOCs. They also have a number of specialised vessels, such as seismic vessels, cable layers, FPSOs and diving support/subsea units. These mechanisms are highly suited to service the growing offshore market and the demands found within.
It isn't enough to merely have the machines for the job, however impressive they may be, so underpinning the expertise is proven procedures and a management cell structure that focuses on team work, robust client reporting and a bespoke information management system ShipSure. This has been designed to ensure an integrated approach to the multi-discipline and varied tasks that need to be performed on a vessel around the clock. To support this, 230 superintendents are on standby to assist.
Annually, or prior to a vessel entering dry dock for warrantee claims, The PACT FOCUS service is offered. A condition monitoring engineer sails with the vessels for almost a week and performs a complete diagnostic of the ships. Each vessel is different and so customised solutions are a given but the aim is to plan and prioritise a ship's repair work in the dry docks to ensure that its time spent off-water is as short as possible. The onboard machinery, hardware and software are fully checked and the tools used to do the checks are the latest monitoring equipment available and far more sophisticated and accurate than the human eye. At the end of the week, when the ship is docked, the PACT Focus is able to provide the maintenance foreman with a list of things, in prioritised order, that need to be addressed, thus increasing efficiency and reducing dry time.
"SeaTec Condition Monitoring application"
Being at the cutting edge of the latest technology is something that V.Ships has become synonymous with and latest developments and innovations are some of the things that they like to be known for. The most recent example of this would be the new mobile 'app' launched by SeaTec. SeaTec, who offer state-of-the-art inspection services, have created this mobile application that allows the users to gain instant information regarding their fuel and used oil analytics. The app will be free to download for all V.Ship clients.
Part of SeaTec's commitment to continue as pioneers in the field, by continually enhancing their products, services and client data access, this particular application is designed to meet real-world requirements of the fuel and oil analysis end-users.
Basically, the 'app' can allow users to receive instant alerts on any abnormalities detected in the fuel or oil, allowing them to take immediate action instead of waiting for an inspection and discovering that something had gone wrong and that the time to remedy the situation has passed.
Yet another incredible effort to increase efficiency in this industry.
Some of the notable app features include up-to-date statuses of the samples received, alerts on critical results, mobile access to the reports such as lube oil, fuel oil and OWS and full details on orders placed. It can help you track bottles that remain on board and make provisions for feedback and enquiries.
SeaTec have said that future developments will also include a data-mining feature that will allow the comparison of performance statistics between different items of equipment, proving that it is best to use the right tool for the right job. What's best is that this app is available right now, for immediate download and is available on Android, iPhone, iPad and windows. To download it from the V.Ships website, just visit the digital version of this article on the website.
Additionally, Alessandro reveals that they have rebranded as a group, "V.Ships Offshore have just taken delivery of the Ceona amazon, a state of the art, flagship vessel from Ceona," he says, " V.Ships Offshore are consolidating and reinforcing our position in Brazil and expanding our operations to Mexico."
According to him the rebranding will help convey the idea that while their individual departments offer a diverse array of services and specialise in specific areas, that they are part of the same family. If all goes to plan this will also ensures consistency while reinforcing their "one-stop-shop solution" image which is one they are keen to impress on people.
"The awarding of the management of the Ceona Amazon highlights the capabilities of V.Ships in the offshore market and our commitment to the safe operation of state of the art vessels, anywhere in the world," he says, "As a result of multiple successful operations in Brazil, V.Ships Offshore has decided to take advantage of our expertise and qualified personnel in the region to continue to provide services to more vessel owners in the region."
In the same vein they identified Mexico as the ideal market to enter next, we feel that we have a lot to offer in that area, in a way that can be profitable for clients there as well as for ourselves." He concludes.