Nothing says boss like a big car. Despite what sports car owners may think other drivers simply are not intimidated by low profile speedsters with over-sized engines and bucket seats. They're annoyed by them. In heavy traffic everyone will get too close to a sports car, they will not let you go at an intersection and everyone will try to bring the car to a standstill. It's not jealousy. It's justice. But when you're in a pick-up truck of this sheer size and looking down at the rooftops of landrovers and range rovers you get respect in the same way a bison will get respect from a herd of sheep.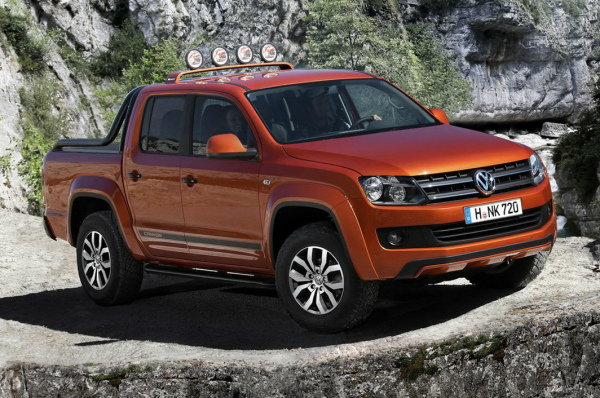 The Volkswagen Amarok blurs the line between a builder's wagon and a family car, with off-road ability, a big load bed and a spacious five-seater interior.  They used to be a rarity to see on UK roads, reserved for owners who needed them for work duties rather than as an everyday car but pick-up trucks are becoming more common. They are just as popular in Britain as they are in South Africa and almost as popular as they are in America.
Day to day, the Amarok is probably even more usable than some of the pick-ups toted out by manufacturers  these days. A well built and spacious interior, a huge load bed with a shutter cover which makes it useful not only to builders and sporty types but families as well.  Also as a commercial vehicle it benefits from the usual tax breaks.
I was using it to move house, the second time this year and true to British weather there was sunshine throughout the packing procedure followed by torrential showers. If it weren't for the shutter I would still be drying out my bedding and clothes.
HOW DOES THIS BEAST PERFORM?
With a 2.0 litre diesel engine, there is loads of power when travelling with a full, heavy load although the engine can't match the economy of the latest diesels you'll find in modern SUVS which is mainly due to its size. Of course, if you've been driving an older pick-up you'll be impressed by how far the Amarok can get on a tank.
It's also very stable. All of the Amarok family from the basic Startline, Trendline and the Canyon special edition come with four wheel drive that keeps the vehicle stable to the ground. As tall as the car is it is just as wide and so on even the sharpest bends the tyres don't leave the road. I didn't get the chance to take this off-road which I'm frankly a little saddened about because it would have been a lot of fun. This car was made for offroading, while the height gives you a fantastic view of the whole road over all the other cars, it's design means that the chassis and mechanics are well above the reach of any roots, stones or rocks.
RUNNING COSTS, MILES PER GALLON
With an economy of 35mpg and £210 road tax it's not the most economical SUV on the roads today however the VW Amarok is more frugal than the Mitsubishi L200 and only slightly behind the Toyota Hilux while being able to carry more. The most economical version of the Amarok can manage economy 36.2mpg and CO2 emissions of 205g/km, for road tax of £285 but bear in mind that if you load it up with cargo, economy takes a bit of tumble.
The more powerful version costs the same to tax, and economy drops only slightly to 35.3mpg this is also the only engine that can be combined with an automatic gearbox which fortunately has no impact on economy.
Looking into things reveals that VW also offer a range of servicing packages to help save money on maintenance, while the warranty covers you for two years, with no mileage limit, and for a third year up to 100,000 miles. Which would suit me for another five thousand moves!
INSIDE AND DRIVER COMFORT
For a car of this size you would be disappointed to find anything cramped on the interior. Designed, as it was for Americans, the inside is vast with more than enough head space for you to wear a Stetson and the seats are widely adjustable for the bigger than average driver.
The engine is not quiet- at all- but again, I didn't want a diesel of this size to be quiet. You don't get into a bottle orange 4×4 that can be seen a mile away in traffic and expect to get a kitten of an engine.  Starting the engine gets birds flying from the trees and animals fleeing in panic however when cruising on the road at top gear it settles down considerably irrespective of the load. On the same note as the gruffness of the engine the suspension can be bouncy when the bed isn't loaded up, however when considering that this is a bloody great big pick up that can carry 1,145kg of load if you're not planning on making use of it properly you shouldn't be driving it at all. You wouldn't buy a work horse and put it in the Grand National.
PRACTICAL?
Assuming that you either work in an industry or have a lifestyle that demands a load bed the size of a pool while still offering room for the family you won't find a more practical beast for the job. Working best when it has a load on this is the dream car for a managing director of a construction firm who wants to have the look of an impressive car with the style of something a bit more executive. Five people will fit comfortably inside with headroom and legroom to spare, even if they were all wearing cowboy hats and boots and assuming they don't mind being under the shutter you could fit another four or five people in the 2.5 square metres of bed space. If this is the case and you find you have some luggage to carry the Amarok can tow up to 3000 kg. It would be a mission to overload the Amarok as even with a full cabin, a full bed and a trailer to tow its electronic stability control system has been fine tuned to keep the vehicle completely stable while pulling a trailer.
It is however a tall car, a very tall car, I'm six feet five inches tall and even I had a bit of a jump to get inside so I would definitely suggest going for the optional grab handles and running boards to make getting in and out less of a climb.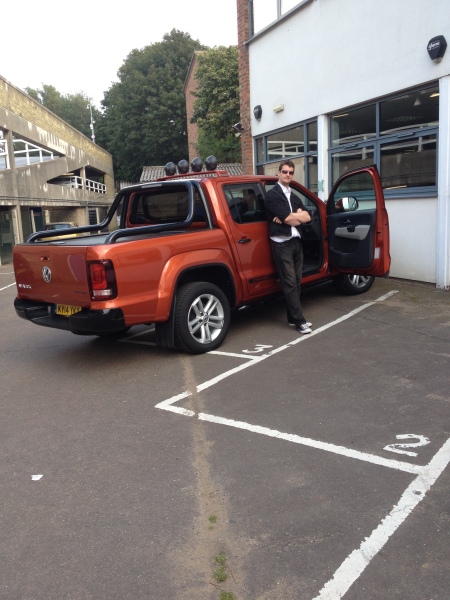 FUN YES, IS IT SAFE?
Don't forget this is a VW and may feel like a tank when you're driving along the British countryside but it's more car-like than many of its rivals. So it's comfortable and very easy to drive but it's still a tank. It's solid on the inside and out and has been built with hard-work in mind. If you were involved in an accident with another vehicle there is a possibility you might not even feel it. The warranty applied by Volkswagen that covers the Amarok for the first 100k miles adds some peace of mind as well as dual passenger and side airbags also its fitted with ISOFIX children's seat mounts and hill-hold assist (meaning no back roll.)
PRICE
More expensive than the Mitsubishi L200 and the Toyota Hilux the VW badge is packed with better features than the pair of them. The top spec Amarok comes with a number of gizmos and equipment including a climate control and heated leather seats. Sat-Nav, electronic windows and 12v plug for charging electronic devices are available in all models.
Prices start at £34,788 for the Canyon, representing a £626 saving if you were to buy a Trendline model and order the standard equipment on the Canyon as extras.
CONS AND CONCLUSION
I found the parking took some getting used to. Especially in Britain. The Amarok was not designed for British roads that were originally measured for cars the size of MINIs and VW Beetles and parking spaces designed for vehicles of less girth. Add this with the 360 degrees proximity alerts the car turns into a nervous, shrieking wreck the moment anything gets within an arm's reach of it and with a bonnet as wide as a yacht everything on the road is within arm's reach.
People may also make unfair comments about driving this in Britain because British drivers just aren't ready for something of this size. I had an entire household to move and this took at least four trips to move everything from one house to the other and the final trip was at 3am on a Thursday morning. After driving backwards and forwards across a hundred and twenty odd miles after a full day's work and knowing that I would be back at the office in under four hours I was grumpy, tired and grateful for the automatic gearbox and the volume of the CD player. On one of the narrow B roads leading off from the A47 to my new home I turned the corner and came face to face with a BMW i8 a sports car that has no place being on a B road at 3am in the morning.
Believing that he deserved the right of way he flashed his high beams at me.
After this affront I first considered just driving forward and cleaning the remnants of the BMW from my grill in the morning but decided against it. Instead I calmly reached to the left of the steering wheel to my own high beans and unleashed the full strength of the Volkswagen Amarok's highbeams and roof top spotlights that vaporized the BMW and the driver into dust. This could have been an error in judgment though as I had to wait for the road to stop spitting before I could drive across it.
 .
NOTE: No actual BMWs or roads were damaged in the writing of this review and if they were there was nothing left of them to find.