Expedia.com, one of the world's largest full service online travel sites1, recently unveiled several major updates to its award-winning Expedia® mobile apps, in response to recent company research on mobile travel behaviors. The updates enable a more complete, one-stop travel resource, featuring access to an enormous selection of flights, hotels and now rental cars, as well as a number of local activity options in top U.S. destinations.
Recent Expedia app updates include:
Rental Cars: With Expedia mobile app customers increasingly citing rental car bookings as a "wish list" feature, the company added the ability to book rental cars.
Local Activities: Expedia added local activities in top U.S. destinations to help travellers book excursions, get tickets to shows, and undertake other activities across a range of ages and interests. This feature, and rental car availability, are currently available in the U.S., and will be rolling out to the Expedia app in the UK, Canada and other markets in the coming months.
Book Now, Pay Later: The Expedia mobile app now offers more choice in hotel purchases with "Book Now, Pay Later," which enables customers to reserve a room (for select hotels) without worrying about payment until check-in.
Vacation Package Savings: Travellers can save up to 55 percent on hotels by booking a qualifying flight first with the Expedia app and then booking their hotel stay within the next 10 days. Customers can search hotels that are eligible for extra discounts by tapping the dedicated messaging under qualifying mobile flight bookings in the "Trips" section of the Expedia app.
New Travel Collections for Tablets: Browsing potential destinations just got more colourful with the latest collections on the Expedia tablet app. Users in the U.S. will notice a new collection dubbed "Fun for all ages," and global users will appreciate a rich selection of "Global National Parks."
Redesigned Launch Screen: Expedia app users around the world will notice a fresh new look on the start screen, now featuring big, beautiful travel imagery and colourful tiles, as well as a more dynamic layout to bring additional travel content and services in the future.
"Data is the heart of Expedia," said John Kim, Chief Product Officer at Expedia.com, "and mobile is a contextual access point to our data. Our top priority right now is providing consumers access to all our lines of business. Travellers are mobile by nature, so we strive to offer the tools that will support their adventures throughout all phases of their trip: from booking, to physically travelling, to enjoying the vacation. Consumers tell us what they want in their mobile offerings, and we've been steadily delivering. Our latest updates, like the ability to book cars and activities in addition to hotels and flights, help provide the content that mobile-savvy travellers demand."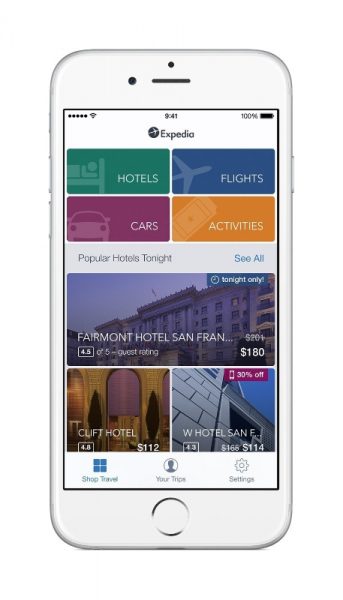 Recent Expedia mobile research found the following:
More than 1 in 5 Expedia flight and hotel searches occurred on mobile devices in 2014.
Nearly 30 percent of Expedia customers in the U.S. used two or more types of devices to search the site in November 2014, while five percent used at least three devices, affirming the growing trend of multi-device usage among travelers. This signals an increasing demand for mobile-friendly sites and apps, and was one of the motivators that encouraged the company to build an app for Apple Watch.
More than 1.6 million Expedia customers in 2014 who booked travel on PCs used the Expedia mobile app to view their trip itinerary, which is more than double the previous year.
The "Trips" page within the Expedia app receives approximately 250,000 views per day on average, demonstrating Expedia mobile users' reliance on this personalized itinerary feature to help guide their travel experience.
Since the company launched Expedia mobile itineraries with real-time travel notifications in 2013, the Expedia mobile app has helped save countless travellers hours and undue stress during their trips by delivering roughly 5 million gate change alerts, 12 million flight check-in reminders and more than 12 million hotel check-in and check-out notifications.
"There are so many travel apps available that it can be hard to navigate which ones will save you time and effort. More than anything else, we love hearing from customers that, 'The Expedia app told me my gate changed before any other service!' Or, 'I didn't speak the language, but I pulled out my Expedia app and showed the driver the name and address of my hotel and he got me there safely.' Or, 'My Expedia app told me it was time to check in so I made the upgrade list and got bumped to first class!' These seemingly small notifications and features help save time," said Jerald Singh, Head of Mobile at Expedia. "But perhaps more importantly, they help establish peace of mind that your app is operating on your behalf. Pair that with gorgeous design and engaging interactions tailored to each device, and we're confident Expedia will continue to deliver a winning combination."