Standard Pacific Homes, one of the US's leaders in homebuilding quality, today announced the naming and dedication of 'Ron Foell Park' located within Greenwood, a planned community that is a part of Tustin Legacy, the area's newest master-planned community that sits on the 1,500 acre site of the former Marine Corps Air Station in Tustin. Ron Foell, Chairman of the Board of Standard Pacific Homes, co-founded the Company with Art Svendsen in 1965.
Guided by Foell's leadership, Standard Pacific Homes has become an industry leader and recently announced plans to merge with Ryland Homes to form the fourth largest homebuilding company in the nation. Ron will retire from his position as Chairman of the Board of Directors when the transaction closes which is anticipated for fall 2015.
Bearing his namesake, the six acre Ron Foell Park pays tribute to the area's natural landscape and offers recreational activities for all generations. The naming of the park marks the 50th year since the company first put its name on a 54-home community called Summerfield Homes in Tustin, CA.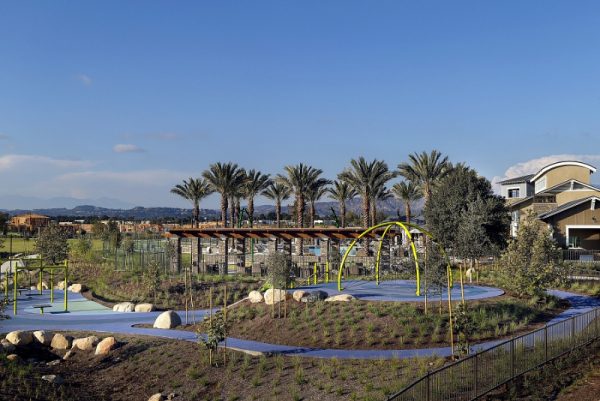 "The naming of Ron Foell Park holds tremendous significance as Greenwood in Tustin Legacy is situated just one mile from where Ron Foell and Standard Pacific Homes debuted its first-ever community fifty years ago in 1965," said Mayor Chuck Puckett. "The new park will create a dynamic center for recreation in the heart of Tustin."
"Ron's leadership at Standard Pacific Homes has been instrumental in shaping the landscape of the housing industry," said Scott Stowell, President and CEO of Standard Pacific Homes. "Naming the park in his honor is a wonderful way to celebrate his legacy of building community."
Ron Foell Park is situated at the center of Greenwood in Tustin Legacy. The park is comprised of two distinct sections with over five acres dedicated to the public. The focal point of the park is a large, multi-functional lawn outlined by heritage trees to provide shaded areas. The space also includes an amphitheater for concerts in the park, a basketball court, two bocce ball courts, an 'Adventure Zone' with two children's play structures, 1.4 miles of interconnected walking trails and picnic pavilions.
Within Ron Foell Park is The Residents Only Legacy Club. The Legacy Club features amenities for Greenwood in Tustin Legacy residents including a clubhouse with a catering kitchen, a covered outdoor living space, a resort-style pool and spa, an interactive water play area, fire pits, barbeques and private restrooms and showers.
Greenwood in Tustin Legacy offers home shoppers four neighborhoods, Sheldon, Huntley, Crawford and Stafford, where innovative new home designs incorporate luxurious design details that meet the tastes and preferences of today's discerning move-up buyers. The designs feature Great Room centered floor plans, gourmet kitchens, outdoor living rooms and spa-like master suites. Prices range from the low $700,000s to the low $1,000,000s.
---
Related: NFS Technology Group partners with Braemar for major golf resort in Morocco