What does it take to make a good tour operator? Surely it is so much more than merely directing a person to a destination and hoping for the best; there is a psychology to it. A philosophy which includes a lot more than mere R & R, because what people respond best to is not only entertainment but also education. We go on holiday so that we can be changed.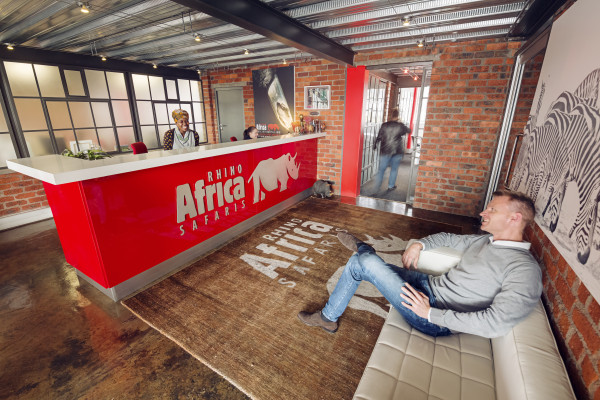 Rhino Africa is a tour operator business with a mission. Established on the 1st of August 2004 by one man, it has taken flight and proved that with a team of likeminded and impassioned people anything is possible; you need only decide what you want.
On a recent trip to Cape Town I was fortunate enough to steal some time from CEO David Ryan and Co-CEO Guido Juan Pablo Dunckel at their city centre offices to discuss their company and see the behind the scenes operations of the business.
Donnie: David, you founded the business in 2004, has the focus changed at all since then?
 David:  We started out as a specialist tour operator to Madagascar and the business was founded on expert knowledge of the products and destinations we offered. The next destination was the South African Kruger region and we grew from there out to what is now about 40 unique destinations across East and Southern Africa and the Indian Ocean Islands.
Donnie: That is very impressive, are there any other markets outside of tour destinations that Rhino Africa are involved in?
Guido: In terms of geographical reach, we mainly operate in Europe and the USA. That's where our initial focus lay because our English-speaking abilities allowed us to easily tap into English-speaking markets; most importantly the USA, UK, Canada and Australia. Over the years we have added more and more languages and destinations to our operations, so now we are operating in five languages and advertising in over 30 different countries.
David: At our heart we are a tailor-made tour operator: we build tailor-made itineraries to East Africa, Southern Africa and the Indian Ocean Islands. We specialise in the direct market, meaning that we build itineraries and connect clients directly with product and suppliers, as opposed to being a traditional operator which would go via multiple channels. Therefore, we have a lot more of an influence on the prices we are able to offer. Our consultants are experts in both destination and product, which means they can impart excellent knowledge to clients directly, servicing the clients' exact requirements and needs around uniquely designed travel packages. Whether clients are coming on honeymoon, to get married or on an anniversary trip or a family holiday, we make sure we use our knowledge to tailor-make their experience to their reason for travel.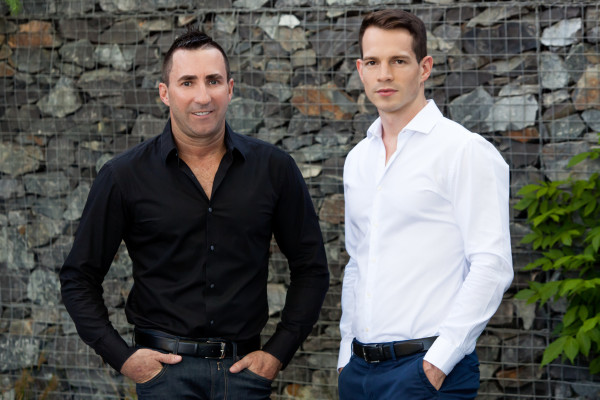 David and Guido.
THE SPECIAL QUALITY.
Now, South Africa is a country known for its majestic holiday destinations and so there are a number of reputable tour operators operating within the country. But you can't help but get the feeling that there is something special and unique about the company and its set up. There seems to be a long-term intelligence in the way that the business operates, something apparent within the very architectural, open-plan lay out of the offices with the technical website engine at the ground floor, marketing and sales on the middle and payments on the top. In the really well designed canteen and the ping pong table downstairs, there is a sense that relationships and personal involvement mean a great deal to them.
DAVID: There are a number of unique things about our business. One is that we're an online tour operator, so we don't use traditional channels. Furthermore, as discussed above, we contract suppliers directly. For the client, what's unique about us is that we are present in Africa and are on the ground during the most critical part of your itinerary process, which is the actual travel process: we are not hampered by time delays due to time zones and distance. Through our location on the ground and our contracting strategy, our relationships with suppliers are direct: when there is an issue or a change in an itinerary for whatever reason, we are able to act on it very quickly. We don't have to go through multiple channels to react.
GUIDO (adding): We always try to put the client first – everything David has described is centred around this idea. Internally, we also try to do things differently – we put a very strong focus on the workplace culture that we have developed.
DAVID: Our ideas around talent, internally, are very client-centric. What makes us unique as a business is that we're not owned by a big tour operating company that owns a range of properties, so for us it's always about the client's requirements and the client's interests. We are not a brand that has to fill our own beds (or any specific beds) before we fill others, so we have the leeway to do things differently: there is no conflict of interest between the client's requirements and our own requirements. Being independently owned and managed, we are not beholden to anybody in terms of selling specific products or margins. Thus margin becomes a factor of our business rather than a determiner – we never have to choose margin over client experience.
Donnie: As a business revolving around building relationships with people and creating memories and meaningful experiences for people, are you involved in any social programmes outside of the normal 9-5?
GUIDO: We recognise that our business thrives on the way that we interact with the people, the land and the wildlife that we sell to our clients. So a consciousness has emerged of how we interact with the individual parts of the ecosystem. Over the years, Rhino has involved itself in numerous grassroots projects, both in terms of financing and in active operations. We have started Khumbulani orphanage and daycare centre in Khayelitsha and we have seed financed an organisation – the Good Work Foundation – that promotes digital learning in rural areas. We provide financial support for organisations that keep track of endangered species and tag and monitor animals: the Save the Rhino Foundation and Wildlife ACT. There are also very specific fundraising efforts that we carry out ourselves – for instance, Challenge4ACause, our annual cycling event we organise in Namibia, that has riders travelling through the wild places we value so much in order to raise money to preserve it.
DAVID: Holistically, as a business we know that Africa is faced with many challenges; from education to wildlife preservation. One of the aims of our business is to be part of the solution: our corporate sociaI responsibility projects, in the grand scheme of things, are small but important. But this sense of wanting to be part of the solution goes far beyond the few specific projects we have mentioned – there is a greater vision at play. We all know that the tourism industry is probably the one industry that can generate job creation across Africa. Unlike many operators that sell Africa, where the revenue and margins generated don't stay on the continent, our business operates here, our employment comes from here, and our tax revenue stays here. In this way we make a tangible difference.
THE RHINO AFRICA FAMILY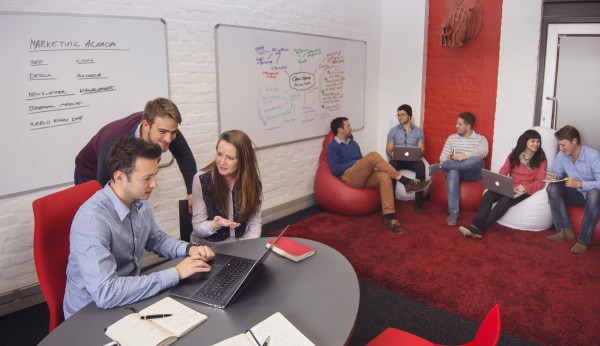 Rhino Africa office strikes as a pretty cool place to work, not only are the offices designed to make fantastic use of the picturesque landscape of the Cape Town city scape on one side and the Cape Town mountain ranges on the other, but there is an open feel of communication around the office.
Donnie: How do you encourage creativity in your staff?
DAVID: I would say that we definitely have a culture of work hard/play hard. We are in a very privileged position because our business is about building other people's holidays: what we do is fun, interactive and engaging and the culture of the people who work at Rhino Africa really reflects that. We know that we are responsible for people's happiness and we take that pretty seriously.
Recently, the South African Rand has suffered a significant drop against the US Dollar and the British Pound, bottoming out to all time lows. It has been nothing short of a crucifixion for many industries who rely on import and export. How does the tourism industry fair?
Donnie:  Is the travel industry currently buoyant?
DAVID: The tourism industry as a whole is very buoyant – if you look at South Africa in particular, the depreciation of the Rand has made us a very internationally competitive destination. But the tourism industry, like any industry, always faces challenges. The exchange rate depreciation in itself is a challenge because you get a different value proposition in terms of the way rates are structured. Ebola, xenophobia, terrorism and visa regulations cause declines in occupancies. On the whole, however, the demand for wildlife tourism will always remain and will always increase. There will be challenges along the way, and overcoming them is about how the industry comes together.
GUIDO: We look at things from a long-term point of view. We don't spend a lot of time thinking about the buoyancy of the market – the Rand goes up and the Rand goes down. External factors will always affect us: what's important is that we really believe that tourism can be a transformative industry, an industry that leads to distribution of income and creation of employment across the board. That's why we're excited to be in this industry, why we feel that this industry is and always will be one of the core pillars of many African economies.
DAVID: The beauty of Africa is that tourism is a massive opportunity. Southern and East Africa aren't the only great wildlife destinations. West Africa hasn't even come online yet. There are parts of North Africa that haven't really come online as mainstream tourism destinations yet either, for various challenges of their own. Currently, Africa as a whole only attracts 4% of the global tourism spend, so there's really an opportunity that exists: we are coming off an extremely low base. Ours is an industry that it is literally still in its infancy. It has a long way to go, with untold potential for the continent if it is embraced. Whatever the challenges, we can navigate them together; in this, the long term view is what's important, not a focus on buoyancy.
Donnie: Key to any company's success is its employees and how you look after staff is often directly representative of how you look after customers. How do you support the staff at Rhino Africa?
GUIDO: We are now approaching a total of 150 employees.  What we are trying to put together is a team of stars, where everyone is coming from a best-in-class background and is a specialist in whatever they do. People are the single biggest asset to our organisation and it's all about employing smart, self-sufficient individuals who are excited about developing their own fields within the greater tourism industry – whether this is in web development, marketing or sales. Within each sector of our business we strive for excellence and this is what each manager tries to impart.
DAVID: The complexity of our business lies within the different teams that form it. On the surface, we are an online tour operator that does tailor-made itineraries for travel to Africa, but that goes way beyond just having an operational team that engages with clients; we have to be best in class at online marketing, at content production, in product and in operating. There are many different facets to the business that require vastly different skill sets. You almost have ad agencies, tour operators and web development companies all coming together and being orchestrated to work as one team. And then you multiply and complicate that by doing everything in 5 languages as well!
Donnie: How important is individual staff development to your company?
GUIDO: It's the single most important thing for our company. Our most vital job as CEOs is bringing the right talent into Rhino Africa and putting people into positions where they can become the best versions of themselves. We want to empower people to think individually, to be happy and to produce the best possible output.
Donnie: and on the other side of the coin, how do you ensure your customers are satisfied with the quality of your products?
DAVID: We have an intense feedback and engagement programme with our customers from the time they visit our website, to them making an enquiry, to the periods before, during and after their actual travel. Our consultants are encouraged to look after our clients from the very beginning all the way through the booking and travel process, with multiple check-ins throughout. In many respects we also ask our clients to rate us – using tools from TrustPilot to TripAdvisor. It goes without saying that in a world of social media, you know if you are meeting clients' satisfaction or not. With 30,000 clients a year you might sometimes miss the mark, but these occasions are the real tests of your character: how do you deal with unsatisfied clients? And how do you rectify what's left them unfulfilled?
GUIDO: There is a lot of interaction and a lot of measurement involved – we try to work out what it means if a potential client leaves us within minutes of just being on our website – are they not finding what they are looking for? Why would an enquiry not translate into a sale? Along with the user feedback we collect, we measure everything we can in order to improve our business
DAVID: For us, customer satisfaction doesn't only apply to people who travel with us. It applies to who anyone who has an intention to travel; if they don't book with us, we want to know why that is the case.
Donnie: As mentioned briefly above, South Africa is not wanting for lack of tour providers, in the face of such competition how to does Rhino Africa manage to not only stay ahead of the group but in its lead?
DAVID: We're continuously working on our own efficiency and on improving the client engagement and interaction process. Keeping up with technology is key and on the other side of that, we make sure we are the pioneer in product and destination. As destinations open up and become more accessible across Africa, we try to make sure we are at the forefront of that.
GUIDO: From an organisational point of view, it largely comes down to culture. One of the key pillars of our culture is innovation – we foster an innovative spirit in all of our employees. We motivate each other to challenge the status quo and to provide better solutions to existing problems. We try to create innovators across the board by hiring a lot of young people with fresh ideas and energy.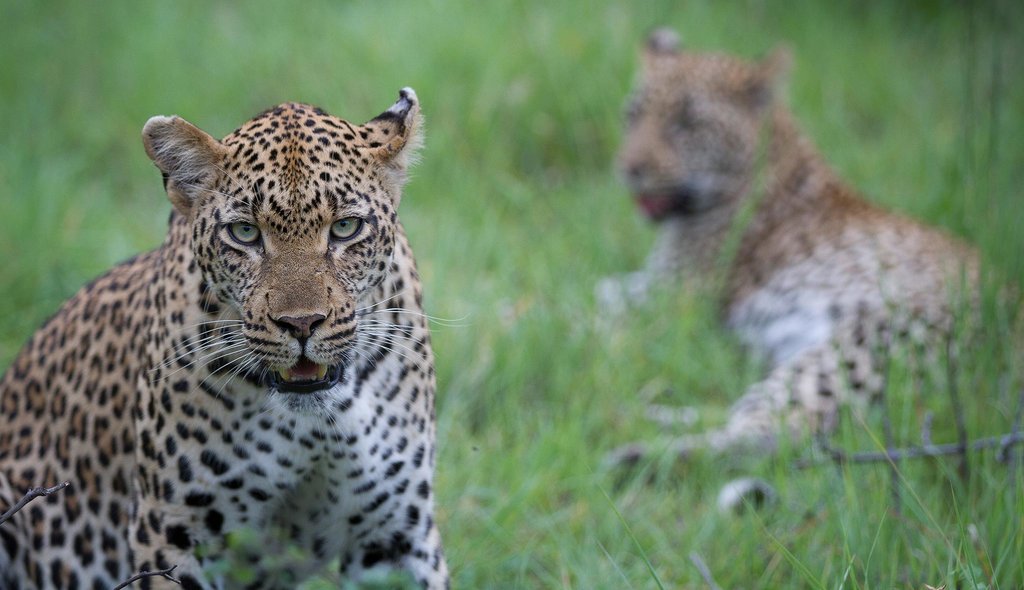 Donnie: we are firmly into 2016 now. Rhino Africa has undergone a lot of growth recently at a spectacular rate and has firmly shown that there is still a lot more that we can expect. What is happening at the moment that is keeping you at the edge of your seat?
DAVID: Over the last two years, Rhino Africa has been through a significant rejuvenation process. We've looked at how we've done things over the previous decade and we've spent a lot of time working on improving our processes and efficiencies. So undoubtedly one of the most exciting things happening right now is the rollout of the systems that we have developed to improve these efficiencies and processes. Key among these is the development of business intelligence – something we're envisioning as the conductor between all of our various departments, making sure they all work together in harmony. It will be exciting to see how these developments will improve our business, and in so doing how they will deliver a better user experience for our clients: from the Rhino Africa website right through peoples' pre-, during- and post- travel experiences.  
GUIDO: Another thing we're excited about is seeing how our current team works together – we've put of lot of time, thought and training into assembling this group of people and now we get to see them play. It's very exciting because now our investment starts to fall into place. We are at a point where everyone knows their role and position, and that's when great things start to happen. It's like we've been practicing for the World Cup and now we are on our way!
DAVID: Beyond our vision – of being the authority on African travel by the year 2020 – we are also excited about what our NGOs are doing. We've started many initiatives over the years and they've all grown thanks to the dedication of our clients and our partners and our own people. We've just appointed our first Corporate Social Responsibility manager to co-ordinate these processes, but more importantly to get involved with our NGOs in order to fully understand their own visions and what our role is in their agendas. For instance, our intention for the Good Work Foundation is to have 100,000 learners enrolled in our digital learning programs by 2020. We are currently sitting on 8,500 learners and we now have a targeted plan as to how we're going to get to 100,000. We can also now actually put a financial model together based on our last five years of experience with the Foundation. On the wildlife side, we are also excited to become an integral part of the strategic vision for partners like the Save the Rhino trust or the Wildlife ACT Fund, in their efforts to conserve African wild dog populations. We want to help our partners to achieve their visions and goals.
Donnie: Finally, just in conclusion, can you sum up in a sentence why it's so rewarding working with Rhino Africa?
David: Simple, it's a case of bringing innovation and a pioneering spirit to whoever we collaborate with. Giving your best usually gives the best results.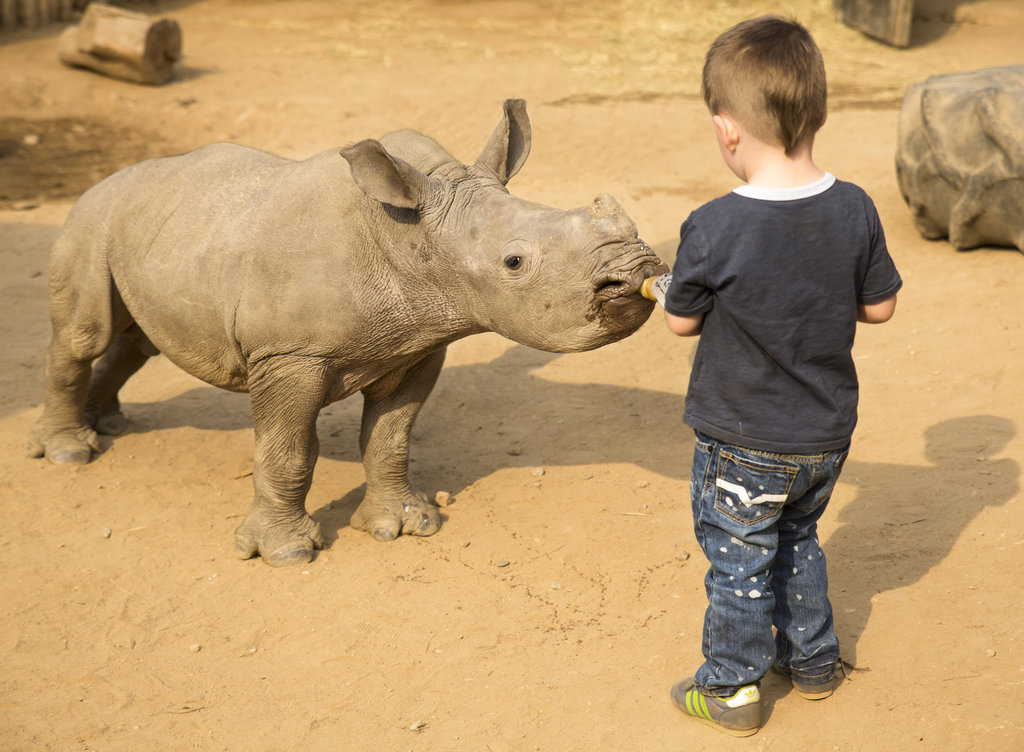 ---