Hong Kong Applied Science and Technology Research Institute (ASTRI) and Comba Telecom Limited (Comba Telecom), a subsidiary of Comba Telecom Systems Holding Limited (Hong Kong stock code: 2342), announced today they will jointly establish the ASTRI-Comba Joint Research and Development Laboratory, focusing on Smart City and Smart Home technologies.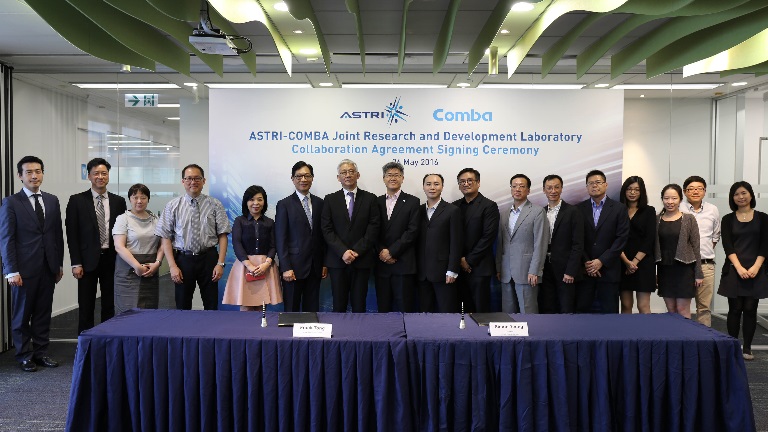 At the signing ceremony, Dr. Frank Tong, Chief Executive Officer (CEO) of ASTRI and Mr. Simon Yeung, President of Comba Telecom Limited signed the collaboration agreement under the witness of Mr. Ming-yam Wong, BBS, JP, Chairman of the Board of Directors of ASTRI.
The agreement will facilitate an integrated and strategic cooperation between ASTRI and Comba Telecom to achieve the following objectives:
(i)    deepening research and development on the advanced technology in Smart City and/or Smart Home;
(ii)   exploring new application of the existing technologies in Smart City and/or Smart Home;
(iii)  developing new solutions and processes in the field of Smart City and/or Smart Home;
(iv)  talent cultivation for both parties
Speaking at the ceremony, Mr. Ming-yam Wong of ASTRI said, "The Joint Lab marks a new milestone in our cooperation with Comba and together, we would move ahead to contribute our efforts in the transformation and betterment of Hong Kong and beyond with our Smart City and Smart Home technologies."
Mr. Simon Yeung of Comba said, "As a listed company incorporated in Hong Kong, Comba Telecom strives to develop its global telecommunications business. Leveraging on this valuable cooperation opportunity with ASTRI, we believe that ASTRI's professional expertise and Comba's global business platform and R&D strengths will boost innovations in Smart City, as well as technology development in Hong Kong and global society which is in line with the government's policy."
---
About Hong Kong Applied Science and Technology Research Institute (ASTRI)
Hong Kong Applied Science and Technology Research Institute (ASTRI) was founded by the Government of the Hong Kong Special Administrative Region in 2000 with the mission of enhancing Hong Kong's competitiveness in technology-based industries through applied research. ASTRI's core R&D competences in various areas are organized under seven Technology Divisions, namely Communications Technologies, Electronics Components, IC Design (Analog), IC Design (Digital), Opto-electronics, Security and Data Sciences, and Software and Systems. Five areas of applications including financial technologies, intelligent manufacturing, next generation network, medical and health, and smart city are identified for major pursuit. For further information about ASTRI, please visitwww.astri.org
About Comba Telecom Systems Holdings Limited
As one of the leading wireless solution providers in the world, Comba Telecom is primarily engaged in the R&D and manufacturing of wireless products including RRU, antennas and base station subsystems and wireless transmission and access systems. The Group also provides complete turnkey solutions and services to its global customers. Headquartered in Hong Kong, Comba Telecom's global operations include manufacturing bases in mainland China, R&D centers in China and the USA and more than 40 offices worldwide. Comba Telecom has been included into several indexes including MSCI China Small Cap Index, Hang Seng Composite Index (Information Technology Industry Index, MidCap & SmallCap Index and SmallCap Index), Hang Seng Global Composite Index, Hang Seng Internet & Information Technology Index, as well as Hang Seng Corporate Sustainability Benchmark Index. For further information, please visit: www.comba-telecom.com.