With the renewal and transformation that are trademarks of the spring season comes the much anticipated unveiling of the completely redesigned guest rooms at Le Germain Hotel Toronto.

Welcoming guests in Toronto's entertainment district since 2003, Le Germain Hotel Toronto has emerged from an extensive makeover thereby providing guests with an even more stylish, convenient and comfortable experience than ever before. A total of 118 rooms have been revitalized with tasteful new furnishings, lighting, conveniences and more, all thoughtfully selected to create an environment which is as inviting as it is contemporary. The hotel's hallways were also updated to complement the fashionable new look and feel of the rooms.
The nine-month redesign phase was unique in that it directly involved the hotel's guests. "We value the comfort of our guests above all else, so the best way to ensure that the new room design addressed their needs and preferences was to make them part of the transformation process," says Christiane Germain, Co-President of Group Germain Hotels. "We invited guests to experience and give feedback on a model room in the hotel over the course of 3 months before the start of the renovations. Their valuable input enabled us to refine the room design in terms of ergonomics, lighting, comfort and overall aesthetics. We are even more pleased to unveil the new rooms knowing that they were designed to deliver exactly what our guests value and appreciate most."
No detail was overlooked in the transformation, which was led by LEMAYMICHAUD Architecture and Design. Dark and light tones and a carefully selected combination of textured finishes provide dramatic yet inviting contrasts, all enhanced by an intelligent concealed LED lighting system that creates a warm, diffused effect. Deluxe accents like the felt-inspired material made of 95% recycled matter, called Svelte, covering the wall behind the headboards and Corian® countertops add elegant finishing touches.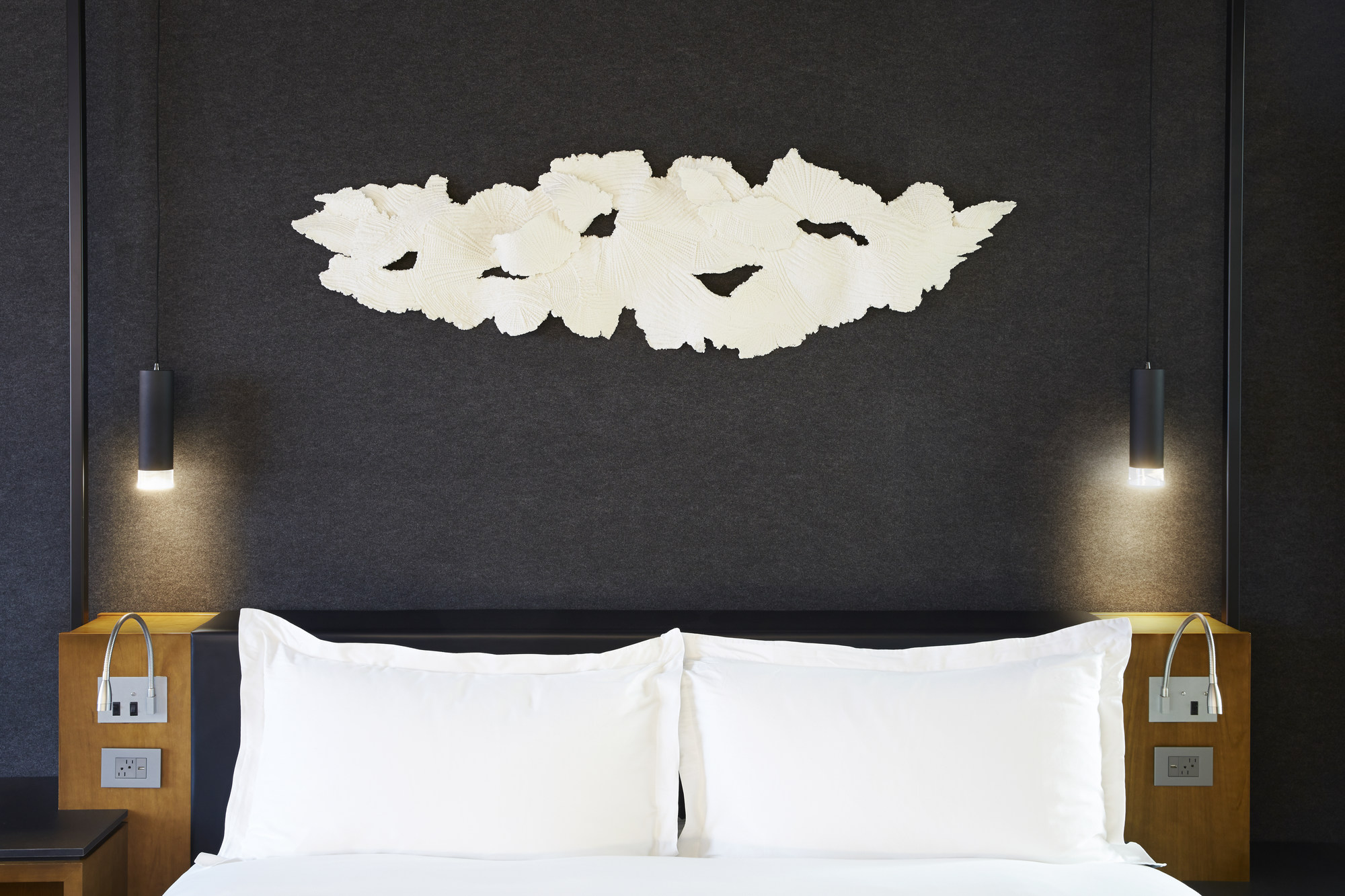 "From the irresistible bed to the oversized spa-style bathroom and the work station, Le Germain Hotel Toronto's guest rooms are now welcoming havens of comfort and modern design," states Nicolas Lazarou, General Manager of Le Germain Hotel Toronto.
An artful top note in every room
Punctuating the unique character of the redesign is a one-of-a-kind art installation on the wall above each bed. Commissioned by Group Germain Hotels, Canadian artists Ann Bartok and Olena Kassian from BARKAS hand-made every one of the 120 airy, featherweight sculptures, of the series called Cloud 9, which anchor each room and further elevate the contemporary atmosphere.
Group Germain Hotels pioneered the boutique hotel concept in Canada with the opening of their first property in Quebec City in 1988, and was one of the earliest boutique-concept hotels to emerge in the city of Toronto. With the new renovation, guests of Le Germain Hotel Toronto can still expect all of the hotel's signature features that they've enjoyed for more than a decade, like its convenient urban location, library-style lobby and discreet, personalized service.
Photos of Le Germain Hotel Toronto can be downloaded here.
Le Germain Hotel Toronto media kit can be downloaded here.
Learn more about the original artworks by BARKAS on our blog here.
---
About Le Germain Hotels
Le Germain Hotels were founded on elegance and authenticity. Whether in Calgary, Toronto, Montréal, Québec City, Charlevoix and soon Ottawa, staff at Le Germain properties have a single goal: to make every person feel like a treasured guest in an environment where comfort and design go hand in hand, and where personalized yet discreet service is of the utmost importance.
About Group Germain Hotels
Group Germain Hotels is a family-run Canadian company that owns and operates Le Germain Hotels and Alt Hotels across Canada. Ranked as one of Canada's 50 best-managed companies, it is renowned for its exceptional approach to hospitality and the unique style that characterizes its hotels. Since the first Group Germain Hotel property welcomed its first guest in 1998, the company's 800 employees have now hosted close to 4 million overnight stays.