Creative Eateries brings the world of dining to Singapore. Famously an island that imports all of its ingredients, with no agricultural industry of its own to speak of, Singapore is (excuse the pun) a hungry market for good food. We spoke with Bonnie Wong, COO of Creative Eateries, to see how this company has managed to bring so many nations' styles and flavours to one island.
Founded by Mr Anthony Wong in 1992, Creative Eateries began with just one premises – the Hot Stones Steak and Seafood Restaurant. The 1990s saw a popular trend for hotel restaurant dining in Singapore, and Wong's restaurant stood as an alternative choice. This desire to stand apart from the crowd lives on in the spirit of Creative Eateries, which seeks to fill any and all gaps in the market with its wide array of cuisine options. We spoke with Bonnie Wong, COO of Creative Eateries, who along with her sister Bernadette is passionately continuing the family business. She explained that the company is defined by its "multi-brand strategy", which allows it to provide restaurants that specialise in Western, Thai, Japanese and Chinese cuisine, separately, with appropriate branding for each. "Our mission is to spread joy and delight to everyone's taste buds through creative concepts and fulfilling customer experiences," Bonnie explained.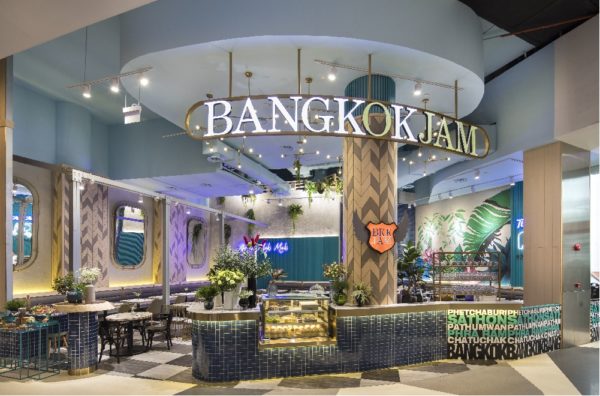 To better cater to everyone, these restaurant divisions are also split into tiers (such as premium or mass market), thus allowing Creative Eateries to reach customers at every consumer level. With so many levels and divisions, the list of restaurants represented by Creative Eateries is unsurprisingly long, including Hot Stones, Fremantle Seafood Market, Vineyard, Barossa, TongKong Riverboat Dining, Patara Fine Thai Cuisine, Talay Thai, Siam Kitchen, Bangkok Jam, Tajimaya Yakiniku, Shabuya, ROCKU Yakiniku, KURO Izakaya, Eat at Taipei and the newly established brands Flaming Don and Typhoon Café. That's a mouth full! Every one of these restaurants is designed with care, combining their menus with skilled interior design to create a fitting atmosphere and deliver an immersive experience: "These concepts identify and fill gaps in the markets. With variety, dedication and expertise as its hallmarks, the Group seeks to deliver the best experience possible to all of its restaurant guests and clients." However, despite the variation between each location, there is also a continuity in their quality, as each one is connected under the ideals and overall guidance of the Creative Eateries umbrella.
In total, Creative Eateries represents 47 outlets. Of these 47, 34 are based in Singapore, ten in Malaysia, two in Taiwan and one is opening in Cambodia next month. "By using the multi-brand strategy," Bonnie explains, "The Group saturates the food and beverages (F&B) market by filling price and quality gaps, increasing the visibility of the Group as a whole, and providing more alternatives to consumers. As a result, the Group is better positioned in capturing greater market share and providing opportunity for growth in the highly competitive and saturated F&B industry, which would otherwise be limited if we only had one or two brands."
Expansion plans for the company are currently focused on opening more outlets in Cambodia and Malaysia, in order to strengthen Creative Eateries' presence in those markets. However, they also plan to venture further into franchising by branching out to countries in South East Asia such as the Philippines and Vietnam. On top of all of this, the company hasn't forgotten where they come from or where the backbone of their company lies; they are also planning to open new outlets in Singapore, as well as to re-visit and refresh those already in place.
This may all sound busy enough, but for Creative Eateries, it is only half the story. Alongside its restaurants, the Group's catering division has established itself as one of Singapore's premier caterers. "With a variety of cuisines on demand, end-to-end capabilities such as décor, equipment, rental and staffing, and a knack for customization, Creative Eateries Catering prides itself on its ability to create unforgettable events centred on outstanding food." If you want proof that this division is as good as it claims, it's got it: firstly, it is the official caterer of Singapore staples such as The Esplanade, Singapore Expo, The Star Theatre, CHIJMES, and even the Arts House and National Art Gallery. Secondly, it has also catered many prestigious events, such as Food Hotel Asia, the Singapore Grand Prix, Singapore Dance Theatre Gala, People Association and countless others, including events attended by Prime Minister Lee Hsien Loong and President Halimah Yacob.
On top of successfully running a catering division worthy of these accolades, the company even manages to run a second catering wing, called Shiok! Kitchen Catering. This second wing is halal certified and operates out of a 12,000 square feet central kitchen, which "gives the Group a competitive advantage, as our ability to cater to the halal community in large-scale quantity allows us to support international events like the Singapore Airshow 2018."
Given its unique approach to both sides of the business, we asked Bonnie what truly set Creative Eateries apart from its rivals. She felt that it was in using these two halves in combination that the company best showed its strength: "Being a multi-concept and cuisine Group, we can't peg competitors on a macro level. We rival on a brand level. However, as a Group we have the capability to offer different services and menus for a different occasion to the exact same customer– e.g. for corporate catering we can do events at our restaurants or one of the many venues we're official caterers of. Therefore, we keep regular customers excited with our new products, and challenge ourselves to improve and innovate."
This constant innovation is crucial in a market as fast-moving and demanding and Singapore's, where trends are variable and competitors are many. "While food cost is largely well maintained, the same cannot be said for customers' preferences. These ever-changing demands and needs are why we constantly come up with new brands – to meet consumer needs and fill gaps in the market." Another challenge that the vast, many-facetted company faces is employee numbers – a significant challenge when you run as many restaurants as they do. "Manpower remains a constant challenge for the F&B industry, hampered by changing foreign worker employment policies. We are now actively getting involved with hospitality schools to groom young local Singaporeans through vocational training and restaurant excursions that give students a glimpse of what a career in F&B looks like. We feel that fuelling their passion for F&B will help the industry in the long run."
Creative Eateries currently employs 320 members of staff full time, with around 600 employed part-time. Given that finding staff is currently a challenge, the company makes sure to make the most of the talent that they find: "We make it a point to recognise and incentivise staff for their excellent service through the STAR Award (internal service awards), and we also believe in promoting from within."
Moving forwards, with their popular concepts, strong business model and well-cared-for team, the future looks positive for the ever-ambitious Creative Eateries. One development on the company's horizon is a transition over to a new Business Intelligence tool, which will enable the company to be more data-driven and to gain better customer insight – a useful ability when keeping up with such fast-changing trends! This transition should be complete by 2019. Another programme that the company relies on is cloud-based procurement platform EzyProcure: as the business expands, managing a larger orders and inventory becomes inevitably complex, and the use of technology such as EzyProcure becomes key to increasing efficiency and, indirectly, reducing costs.
In terms of expansion and physical development, Creative Eaters opens its first franchise in Cambodia next month and is also planning to re-design and rejuvenate some of its existing restaurant brands. It also has several new outlets planned for Singapore that should open in Q3/Q4, including Eat at Taipei and Suki-Ya in the SAFRA Toa Payoh.
"We plan to penetrate the region with winning concepts through franchising and like-minded partners, to meet the growing demands of the middle market. We believe that growth is necessary to ensure the longevity of the Group; growth rates seem more promising in the Southeast Asian region, so we plan to continue our growth there, using Singapore as a showcase for our concepts."
Whatever style and flavour of dining you prefer, Creative Eateries seems to have your needs covered! With an array of international menus, a range of service tiers and even event catering, the Wong family company seeks to share their passion for food with everyone, whatever they are looking for. If you visit or live in Singapore, the chances are that you might walk in to one of these many restaurants – give them a try, and experience what makes Creative Eateries so successful for yourself!