When you're running an Airbnb business, it's important that your property looks great in order to attract more customers. After all, who wants to stay in a place that looks dull and boring? On the other hand, you don't want to go too crazy with the design either, since that could turn some of your customers off.  Luckily there are some useful design tips for upgrading the look of your Airbnb property.
1. Size It Up
When it comes to interior design, one of the most important aspects is that the size of furniture works within a room. Having too many small pieces can make a room feel cluttered, and having furniture that's too big can make a small room look even smaller.
Look at each room your Airbnb offers, and focus on the main furniture pieces. The most dominant piece of furniture in the bedroom, for example, should be the bed. If you're not sure how to figure out what size to get, consulting a bed size chart might prove useful. Of course, knowing the dimensions of your rooms is an important first step when deciding on furniture size.
In a similar wain, consider what couch to get for the living room, and what size table would be a perfect fit for the dining room, or the breakfast nook. Once you decide on the main pieces, knowing how to fit any additional furniture that you want to get in each room can be easily figured out.
2. Get Inspired
Designing for other people is hard, and more so when you don't even know who you're designing for specifically. It can easily make you want to just go with your personal style, or leave your Airbnb in a bland design state. This is where looking at different interior design trends can prove to be just the thing! It can give you an idea of what options are there, and what might work with your space if you feel stuck.
Now, you don't have to stick to just one style throughout your Airbnb. You can use various styles in different rooms to give the feel of variety, but keep all the room designs consistent. Consider the location of your property and the building style, and try to incorporate some of that into the design.
If the place was built in a specific style, like brutalist architecture or with a colonial style, you can use that as your design starting point. However, you should always feel free to go in any direction – there are very few styles that don't play well outside of their typical zone.
3. Be Picky
When designing your Airbnb property, it's important to keep the place looking clean and welcoming. A cluttered design can be off-putting for potential customers, so try to keep the amount in check.
Having a nice vase on the wall shelf can bring an interesting touch to any room. A bouquet of colorful flowers on the dining table will create a great vibe as well. On the other hand, a collection of ceramic figurines or wine bottles is likely to be thought of as tacky. Of course, it doesn't mean you go really bare either, since that can make the place feel cold and unfriendly.
But if there's anything you're not sure about, err on the side of caution. You'll most likely do just fine without it. As a general rule of thumb, things tend to look good in threes. For example, having a vase, a picture frame and a coffee table book on a side table would be just fine. Adding that fourth item might prove to be too much, though.
4. Fresh Coat Of Paint
Painting your walls a nice color can make a world of difference. A new paint job can transform even the most boring, drab Airbnb into something worth showing off. Add some fresh paint to an old room, and it'll look completely different.
You can even extend the color you choose throughout the property. For example, if the dominant living room palette is blue, you can play on the variants and complementary colors in the other rooms. A gray with a blue undertone for the bedroom can be a fun way to bring cohesiveness to the design while still having some fun.
Don't forget that you can use color to make a ceiling look higher, or a wall look bigger. Sometimes a contrast between colors can create a great impression.
5. Practicality
Interior design is a lot about personal taste, and there's nothing wrong with that. However, when you're trying to upgrade the look of your Airbnb property, it's important to keep practicality in mind as well.
Remember that the people will likely need some storage space. Having storage solutions, like a unit next to the desk, or even under the bed can be very useful. Putting them in places where they don't fit naturally is likely to only hinder the design. Also, try not to forget about space for electric equipment. Having outlets at convenient spots will enable people to easily plug in their chargers and other devices without having to look around to find a spot.
Aside from that, remember that while a white couch can look great – it can be a pain to maintain. Stick to colors that look nice and are easy to clean in case of spills. There's nothing wrong with attention-grabbing patterns and designs but stick to things that won't need a lot of maintenance in the long run.
6. Get The Lighting Right
Lighting is also an important aspect of interior design which can make or break the look of your Airbnb property. It's pretty hard to change the lighting options in each room, but you can choose lamps or chandeliers that match the style of the overall design.
Just remember that you don't want to go over the top with lighting. It's important to be able to clearly see things in the room, so if you prefer brighter lights – make sure there are also shades nearby or smaller lamps. Also, make sure people can easily adjust them depending on what they're doing at the moment. Using overhead lights in the bedroom when they're trying to rest isn't ideal.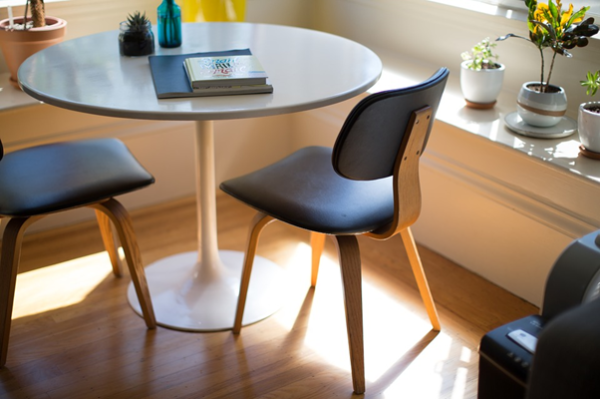 While it's important to look at the overall design and the impression of your Airbnb property, it's also important to keep practicality in mind as well. Being able to make the most of what you have with smart storage solutions or choosing furniture that complements the room's usage is key for success. Designing for other people requires even more forethought than decorating your own home, so take your time when deciding on what to do, and prepare to create the most amazing Airbnb property ever.