If you're looking to improve your manufacturing processes, then updating your technology is always going to be a key factor. However, if you want to get truly innovative, then you might want to look further than being up-to-date, you might want to be on the cutting edge. To that end, it's always a good idea to keep an eye on the rising tech trends, as well as those developments still in the pipeline. Here are a few of the latest worth knowing about.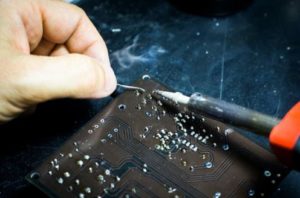 Robotic automation continues its pace
There isn't a year when automation and robotics are not one of the top trends in the changes of the manufacturing landscape. However, the increased development pace of sophisticated AI is not only changing other industries, but it's making manufacturers a lot more likely to adopt them, as well. This coincides with ongoing labor issues in the manufacturing space. With the sector shedding roughly half a million jobs in the last year, it should be no surprise that increased investment in automation and robotics is there to take up the space. The agricultural robotics industry, alone is set to grow to $6.7 billion by 2032, as shown at https://www.idtechex.com/en/research-report/agricultural-robotics-market-2022-2032/837. 
The digitization of processes
There are a range of factors being tackled to combat the ongoing labor issues in manufacturing. Attracting the latest generation of workers is more important than ever and one of the steps being taken to do just that is to change how we complete processes in the industry. Digital incentives play a bigger role now than ever, and one of those is the step to digitize processes that were previously done manually, making them a lot more suited to the modern generation to whom most of their daily life has already been digitized in one way or another. The process is slow. Fewer than 5% of manufacturers in a survey have managed to go paperless with their processes, but more are making the move.
The rise of 5G
While the average consumer might think of 5G as nothing more than an upgrade to the internet on their phone, those same superfast data speeds can make for big differences in the manufacturing world, as well. Being able to transmit a lot of data in a short amount of time without the use of cables and without having to invest in as much security is going to allow for a range of benefits, as shown at https://tecknexus.com/5g-manufacturing/. This can include uses such as remote inspections and troubleshooting, better wireless asset management with improved tracking for items, as well as all manner of upgrades to industrial automation. As such, manufacturers are likely to start looking more closely at where 5G infrastructure is in place when setting up their workplaces.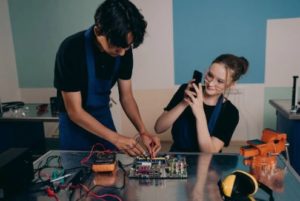 Product as a Service cements its place
Digitization is a process that is affecting businesses across the board, and this includes the production line. Manufacturers and customers are set to have a deeper relationship with customers, instead of being there only for purchases and repairs. The Product as a Service model, or PaaS, or Servitization, is set to use digital technology to bring a new level of focus on the service provided by manufacturers. This can include the easier arrangement of lease agreements, as well as subscription-based services that allow manufacturers to add extra value to what they offer to customers. As such, this could change the entire financial model of manufacturers, from one based on sales to one that incorporates more ongoing revenue.
The internet of things
The Internet of Things (or IoT) has already been gaining use in manufacturing spaces. The ability for tools, equipment, and machines to communicate wirelessly with one another can bring a whole lot of benefits to a manufacturing site, especially one that's leaning into automation. However, predictive IoT is set to play a bigger role in what's known as Industry 4.0, a set of standards and practices used across different manufacturers, that are increasing the connectivity of the manufacturing floor, as you can see at https://txidigital.com/industries/industrial-internet-of-things. This predictive IoT can, amongst other things, give a better idea of when equipment is in need of manufacturing, or when new bottlenecks or interruptions appear in the production line.
Digital twins
One of the uses of the IoT in particular that has caught a lot of interest is the concept of digital twinning. Effectively, this means creating a digital simulation of any physical object, piece of equipment, or process. The digital twinning of the production floor is allowing manufacturers to create much better simulations of processes, as well as products, allowing them to test various dimensions and conditions. This is even being used to simulate and address problems within supply chains, which many manufacturers have been having issues with ever since the rise of the pandemic. Digital twins are playing an increasing role in simulations and evaluations, and their effectiveness may prove to become an ongoing trend for manufacturing going forward.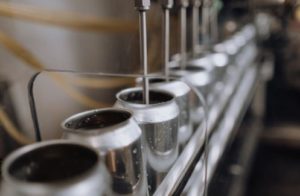 Sustainability comes to the foreground
The role of environmental, social, and governance issues is becoming more of a hot-button topic in manufacturing spaces. As more manufacturers cast a skeptical eye at the environmental impact of their processes, more are looking towards what sustainable processes they can start to incorporate. One issue that has become particularly prominent is that of carbon-neutral practices. Of course, this is in part due to coming and expected changes in ESG requirements from governmental organizations and the need for compliance, but consumer pressure on these matters is playing a role, as well. Either way, the market for sustainable developments in the manufacturing space is going to open up some opportunities for those who can provide them.
You don't necessarily need to implement every new tech into your manufacturing and production lines. However, keeping track of the latest developments can well help you find that one improvement that could help you change things for the better, innovating in your own field.