To fully test the SKODA Octavia Scout, Donnie Rust took it to the four corners of Britain. Over 2200 miles worth of driving from Norfolk to Cornwall, Cornwall to Scotland and then back down to Norfolk. #NEVERMISSASUNRISE 
"It's 2am and I'm driving the Skoda Octavia Scout through one of the most remote and terrifying areas of Great Britain. An area known for its hostility, dangers and venomous wildlife," I say, "It's essential to have a reliable vehicle here because to be lost is to lose and in Lowestoft they eat their wounded."
The Skoda Octavia Scout is a smoothly comfortable contradiction. Ever so slightly more rugged than the Octavia estate, which got my attention in the first place, the Octavia Scout still looks like a city car but desperately longs to be an off-roader. It's the kind of car that makes you want to misbehave, like a tuxedo that makes you want to go jump in the mud while laughing maniacally.
This may not be as responsible a review as SKODA probably wanted, but seeing as my tweet sent below was very well received I suppose that it will be okay if I reveal how much fun their car actually is.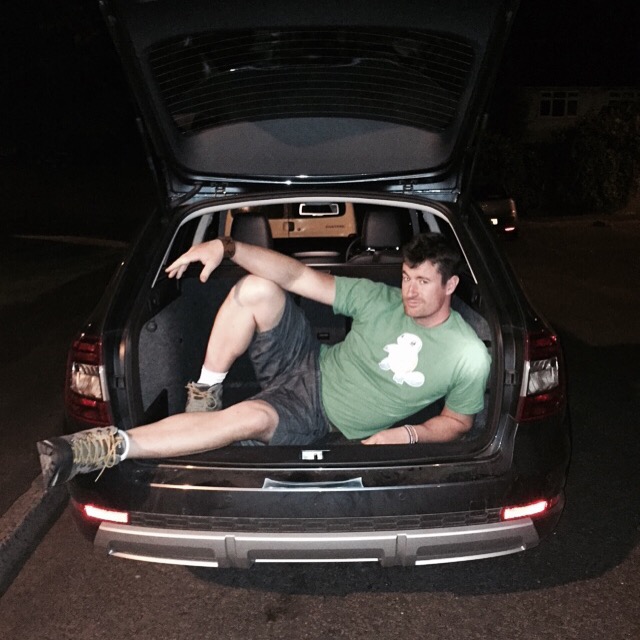 EAST. 
Racing against daylight I took this car on a 2200 mile journey. To begin with I took it from our base in Norwich to Lowestoft, Ness Point, which is the most easterly point on the UK mainland, and caught the sunrise there before anyone else in Britain got the chance to see it. Deceptively, Ness Point is nestled within an industrial area, surrounded by rigid grey concrete lines and windmills, the sunrise is at 04.31 am but you have to wait a little bit to actually get a decent shot of the sun and then run before the locals awaken.
Lowestoft is only a forty-minute drive from Norwich  and as such didn't offer many opportunities for me to get to grips with the car's handling. It drove smoothly, with steering, braking and acceleration appropriating with the slightly shift of hand or foot, but in all fairness these are expected of SKODA and are as unnecessary to mention as saying that the car had four wheels and a bonnet.
However, for a car that is as long as the Scout it handles like a much smaller vehicle with the four wheel drive kicking in to eliminate the "heavy backside effect" that usually makes station-wagon-esque vehicles drive and feel like an old man's car.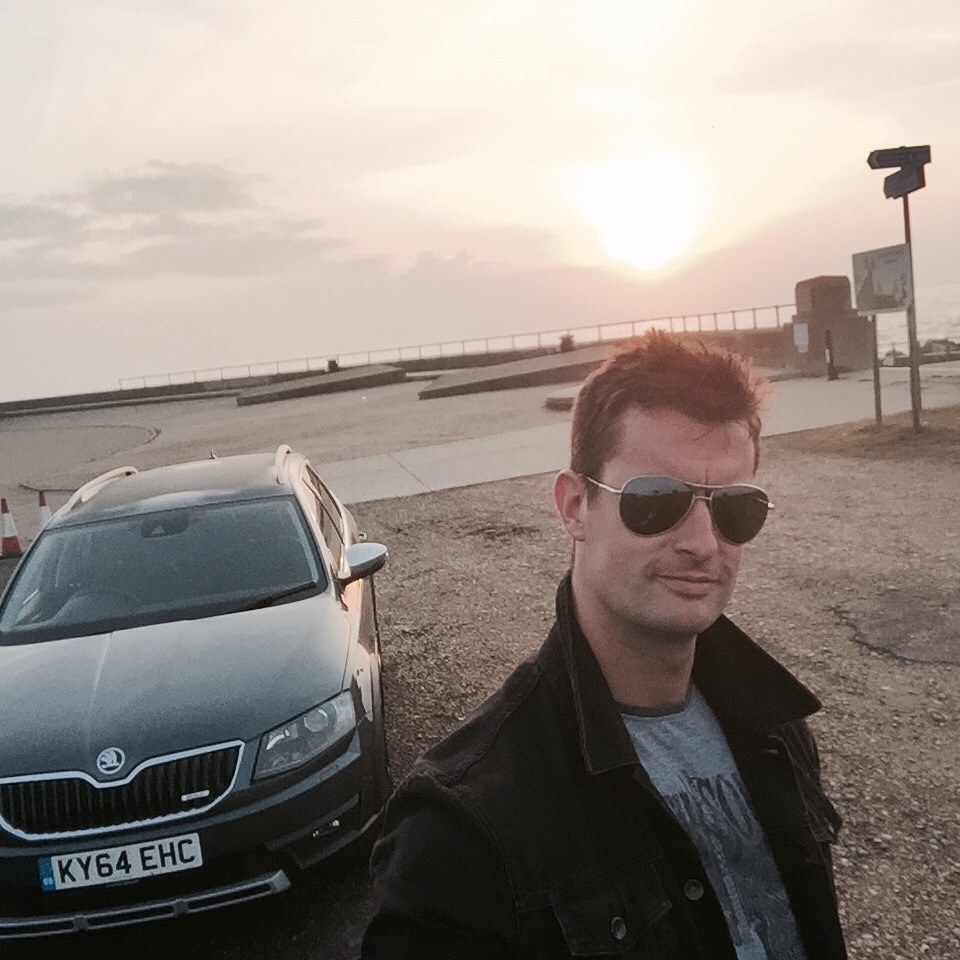 In the picture below you will notice that the car is also at its cleanest and fits in perfectly with the contrasting rough concrete lines of Ness Point Lowestoft.
SOUTH
Once Lowestoft was finished I headed cross-country, for a mild 434 miles to Lizard Point, Lizard, near Helston in Cornwall, the most Southerly point of the British mainland. It's a tiny arrow tip point at the bottom end of the island populated by rolling grassy banks, salty winds and tiny villages where the only Premier Store doesn't accept credit card payments and closes at 5.
Staying at Henry's Campsite, a cute, colourful campsite/caravan park tucked away, a stones throw away from the town centre I got to test out the accuracy of the power steering.
All cars have power steering and we take it for granted until we find ourselves stuck in a tight spot. The entrance to Henry's Campsite is a terror for new drivers or for experienced drivers reviewing a £50k car, but the Scout comes with steering so accurate and assured I could have weaved it through the eye of a needle!
It's worth mentioning here that my camping was a disaster while I was there. The tent pitch offered me an inch of topsoil before hitting rock and with the considerable wind in the region I ended up wearing my tent like a sock half way through the night! To add insult to injury, when I woke up I found my tent had been violently ravished by a wayward pack of snails.
So it was easy to get up at 3.30 am on the second morning and drive the car past sheep fields and through narrow snake bend roads until coming to Lizard Head Car Park and a beautiful view of the entire length of the ocean and Lizard Point lighthouse. Here the sun rose over the escarpment behind me and offered very little in decent views so I hightailed it out of there. Speeding through Cornwall styled roads until hitting a beautiful sunlit area just outside of the village Lizard.
Beneath the surface the Scout rides on the familiar MQB platform that underpins the likes of the SEAT Leon ST and VW Golf Estate, but the 181bhp 2.0 litre engine, lifted straight out of the sport VRS model, is the main difference. This was what I had, with the six speed DSG gearbox and it offers significantly more grunt than the smaller models; 0-62mph in 7.8 seconds and with enough of a gruff start that at the crack of dawn I saw many birds taking to the skies.
The Scout is also very well equipped for tackling tough off-road terrain as both variants come with Haldex-5 all-wheel drive. For economy purposes, during driving on the main roads, the vehicle opted for front wheel drive but the moment I hit those hilly, twisty roads of Cornwall, the car automatically recognised that the vehicle was struggling and applied the four wheel drive. This transition occurred so seamlessly that I didn't notice.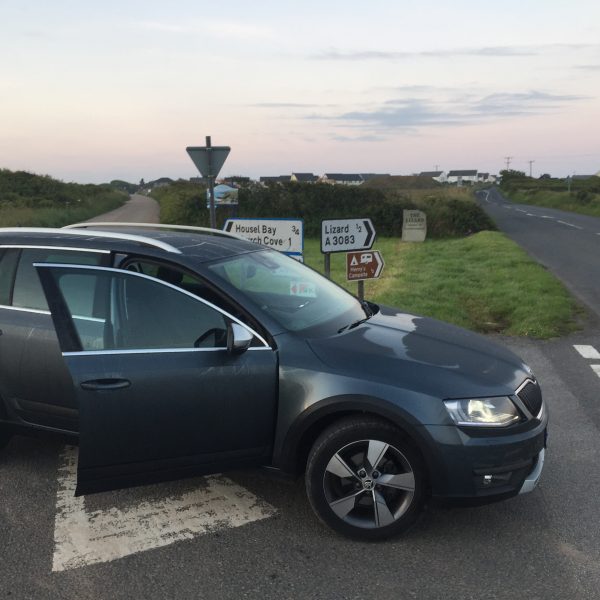 Second sunrise caught and captured, I congratulated myself with a deplorable Starbucks Coffee and headed North… to go West.
WEST
 Ardnamurchan Lighthouse, Ardnamurchan Point is the most westerly part of the United Kingdom and is straight out of a Stephen King book. I had booked ahead for Ardnamurchan Caravan Park, which was unnecessary as with it only being the start of summer this area has perhaps 17 tourists in total. It all exists amongst a handful of snake-back roads, interspersed with cattle grids and boulders, with heavy black clouds above and poor visibility thanks to the mist. It is utterly rural.
To get there is also a twelve and a half hour drive, offering the best opportunity for me to get truly acquainted with the SKODA Octavia Scout.
STYLING
Briefly. As with the previous Scout, the Octavia reveals its off-road pedigree styling in the form of black plastic trim for the bumpers, wheel arches and sills, a hardcore front skid plate, plus wing mirrors and roof rails in silver, with chrome window trim, which gives the car an executive feel. Look at the pictures if you want to know what it looks like, I spent too much time in the car to have much to say about its exterior.
In total I drove 2200 miles in five days; that is a lot of time to be stuck in a cabin space and what amazed me was the space. This is a car that takes spaciousness very seriously. Some people may say that Skoda has never set the world alight with cutting-edge design but I disagree. I think that the no-nonsense, squared off edges, simple lines and smart appearance gives an understated beauty to the vehicle.
Over 12 hours of driving and my back didn't ache at all, thanks to the lumbar supported seats. This aspect, I think, is often overlooked. Tall people or those with lingering back-injuries, which I have both to contend with, usually find long drives difficult because of being in one position for too long in a seat not designed with long-term-comfort in mind. I was camping on the ground and driving literally from sunrise and my back didn't even have one of those niggling twinges. The ride may have been jacked up by 33mm, but it's still very easy to get in and out thanks to the wide door openings, meaning no twisting pains.
Long drives don't work well with complicated dashes and I was grateful that the layout of the console was so simple. Unlike a Mercedes or a BMW that offers you more on the dash which becomes a waste during a long drive where you inevitably rely mostly on the basics, the Scout offers a simple, straight forward method of operating everything from navigation to the radio to the set-up of your phone on hands-free.
I have, on occasion, had to stop driving in a Mercedes and frequently in a Renault just to spend some time shouting at the dash, therefore it is a credit that in the Scout I got on with it so smoothly that the console and the on-board computer felt exactly like the right tool for the job.
Between Cornwall and Ardnamurchan the roads vary from four-lane highways cutting through vast vistas of rolling hills to mountainous climbs. I strongly believe the Skoda enjoyed all of this more than me and it definitely felt more at home in this furthest West point in Britain, where whales occasionally break the surface and the rain comes in from every direction.
Here my camping had not improved. The entire west coast of Britain must be made up of rock because there was less topsoil and more shale! I ended up bending six tent pegs into horseshoes, which the campers amongst us will appreciate was…. annoying…
The following morning I went to Ardnamurchan lighthouse, accessible via a precariously windy road, overpopulated with deer, badgers, sheep and ill-tempered goats while offering nothing in the way of sunshine. Just an impenetrable grey.
Clearly I am far too optimistic to expect the sun in North West Scotland?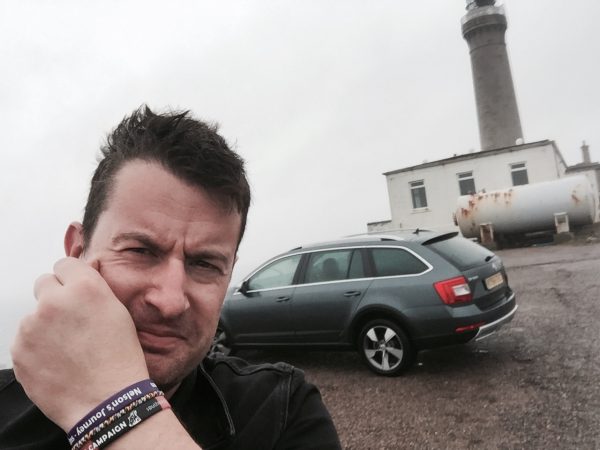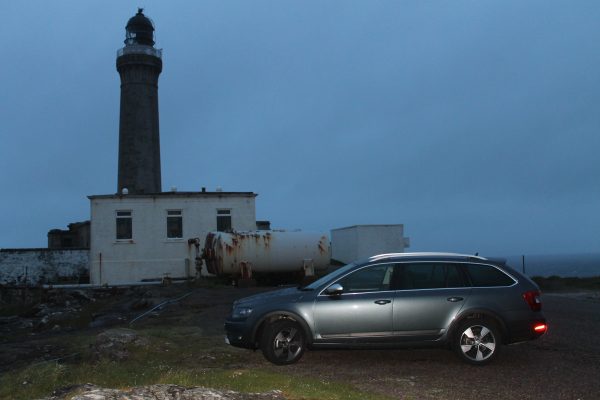 Nevertheless. Third sunrise done… kind of. I headed north East to Dunnet Head, Dunnet Head, Brough, Caithness, north North Scotland. It was only 256 miles away.
THE NORTH
One of the things worth mentioning is that by this point I had only used two and a half tanks of fuel and this was not your ordinary driving. You don't get ordinary driving in these extreme tips of the country. The further from the cities you venture, the further from civil roads you find yourself. I kept in third gear to avoid ploughing off-road into the Scottish highlands, because as fun as that may sound, when it's an accident your bound to hit a rock (edit: You're always bound to hit a boulder in Scotland). And let me tell you, you will never brake as hard as you will when you come face to face with an angry Highland Cow or when you see lambs pronking around.
It was in fact very quickly apparent that economy was not going to be an issue with this vehicle. Doing on average 57.7 miles per gallon, with a full tank of diesel putting me back £56.52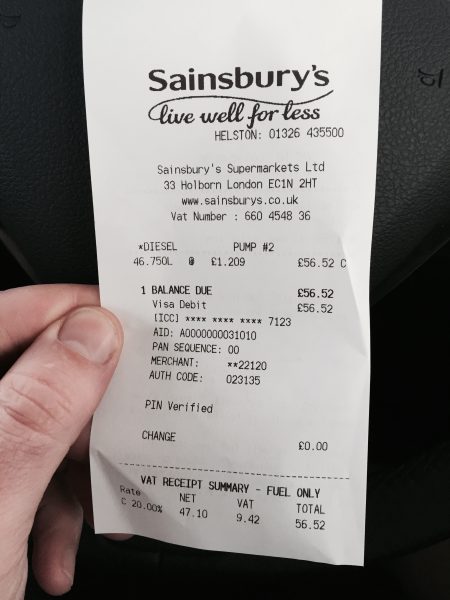 Beat that.
DUNNET HEAD
Since the North part of Scotland is the artery that feeds the Scottish oil and gas industry, the roads to Dunnet Head were not only spacious and accommodating but surprisingly flat. I drove through villages that were named after bad chest infections and my Satnav took me onto ferries and through forests of equally bizarre and foreign sounding names.
Other things to mention; if I had a family this would be a great car for it. Loads of room in the back, which I was using for drying out my tent (I put it in there after a very surreptitious examination for stowaway invertebrates), and the driver's cup holder is able to accommodate everything from a Star Bucks Vente latte to a can of Redbull without spilling a single drop.
The mechanism for the windshield sprayers works along with headlight cleaners, which when you hit Scottish rain and mud is akin to discovering you are bulletproof and can fly. The roads leading to Dunnet Head may have been more civil but the weather was not and it threw everything it could at the Scout. From lashing rain to aggressive midgets (edit: he means midges) and flocks of astonishingly accurate seagulls, the windshield wipers had their job cut out for them.
That night I treated myself to a hotel room, because the next day would prove the hardest.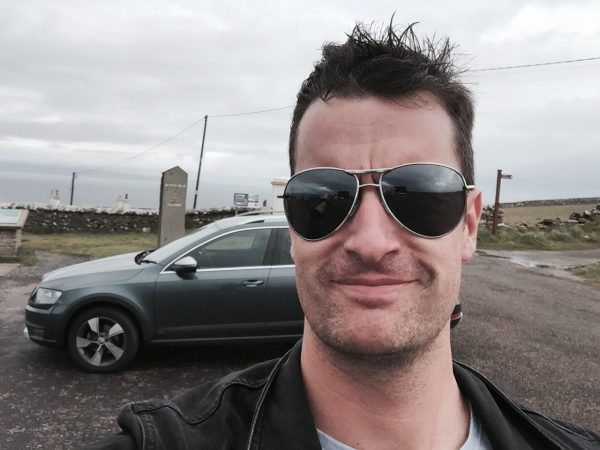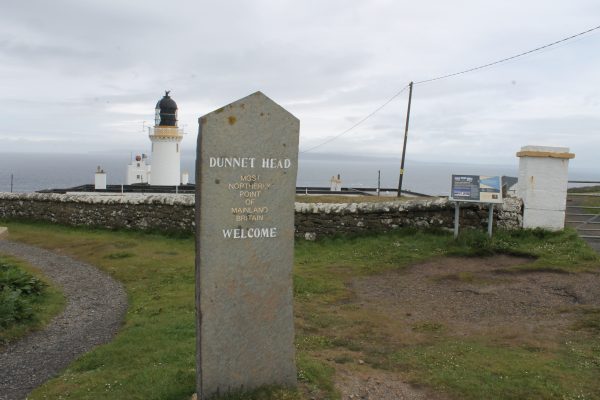 Dunnet Head, accessible by meandering roads upon a flat and far more hospitable landscape offered wonderful views of the distant horizon but gave me less sunshine than Ardnamurchan so I stayed, gloated over the sheer rugged handsomeness of the Scout and then aimed myself south.
SOUTH TO NORWICH
The final stretch was 22 hours in length, a fact that the editor may choose to delete from this article at a later time. There are some things that I discovered:
"Shuttup and Dance" by Walk the Moon is only entertaining the first sixteen times you hear it, the same can be said for, "I got bills!".
Gene Simmons has a "Rock night" on Radio 2 and offers a surprising choice of music
The Skoda Octavia Scout has a "Driver Warning" system that turns on the moment the driver starts driving erratically. This could involve not changing gears for too long or moving the steering wheel irresponsibly. It is a useful system that I foresee eventually being recorded and used to ban drivers from the roads.
Most importantly, I rediscovered the A68 – a length of road with many long stretches across rolling hills. Leading through Bishop Auckland, Consett, Corbridge and Jedburgh this road is fun. Fun. And here the Scout rolled up its sleeves and went for it.
CONCLUSION
Dependable, the Octavia sits on VW's MCB platform with reviews from many independent drivers heralding it as a benchmark for useful driving. It proved reliable in every weather condition and was eager to impress. Already one of the most practical estates, the Scout has a very strong foundation to build on.
In all fairness, the Octavia Scout could be the car to make SKODA one of the must have vehicles for the executive wanting to enjoy city and rural life in equal measure.