The new fully electric Mercedes EQC 400 is an elegant and comfortable family SUV, with an adventurous sporty flare. In the recent spike in fuel prices, it is no surprise that many people will be turning to electric cars as a new normal in the coming years.  
In my time with the Merc EQC, I travelled the breadth of the country, from a wedding in Nottingham, to family fun in Newcastle, and back across to a break in the Lake District.  Therefore, having had the opportunity to really put the EQC to the test for an extended period, I can comfortably say that the future of electric cars is looking bright, even if a few adjustments are needed for it to be fully proficient.  
Upon first look of the car, it oozes sophistication and swarveness, with a well-designed and fluid exterior that reflects its highly advanced technological interior. The wheels alone reflect the kind of precision and detail that Mercedes have undertaken, with 21 inches of rubber and steel that not only make the car appear robust and powerful, but make the drive easy and comfortable. The sloping of the roof at the back also contributes to the sleek appearance of the vehicle, reflecting its frisky sporty side.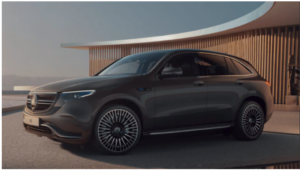 Once you climb into the roomy and airy interior cabin, you can't help but marvel at the dash display and interior features. Such goodies include a 10.25-inch central display that is touch enabled, offering a diverse but easily accessible MBUX operating system. Another highly efficient feature is the brilliant rear-view camera, that makes reversing ten times easier, and helps get over the slightly restricted visibility of the rear window. (Due to the fancy sloping roof) 
But enough of the techno gadgets – how does it actually feel and drive? The car's interior was incredibly roomie, providing lots of space for both you and the rest of the family. The option of heated seats is also perfect as we approach the winter months. In terms of the drive itself, it offers four different driving modes depending on what mood you're in. Its default is the standard 'comfort mode' which provides an easy and relaxing drive, however if you're feeling a bit more fruity you can shove it in sport mode, which boast 0 to 62mph acceleration in 5.1 seconds, something highly that is impressive for a family car of that size.   
One thing I would highlight to look out for is the driving range that it offers. At full rapid charge of the vehicle, I found it to only do a range of 186 miles, and when the car is fully loaded (kids and all), it only achieved 135-140 miles at full charge. You might find that if you trickle charge it at home over an extended period of time (say, 24 hours +) it may better, but overall, this is an area that could be improved. Particularly when the alarm goes off at 30 miles, after which the miles begin to disappear… fast. This means that you really have to plan out your journey. When I was travelling across the country, I found that I did about six full charges. Prices of the charges greatly varied. Rapid chargers on the motorway were by far the most expensive, and although charging points at supermarkets were cheaper, they took much longer. So in hindsight I believe I would own a hybrid version rather than fully electric. This however, more of an issue of the infrastructure available rather than the car itself, but it is something important to consider.  
Overall, Mercedes have been able to achieve a fully electric car that is silent, elegant and beautiful, whilst still being a Mercedes beast of motor.