Colin King is the founder of Education Quizzes, a website that provides fun, educational quizzes for children. Following its creation seven years ago, Colin is now 60 years old and the charismatic head of a company that keeps growing. Endeavour Magazine spoke to him to find out what it's like to be a successful entrepreneur later in life.
Starting a business isn't something many people think of doing late in their career, but Colin was inspired by a niche business he and his wife set up in 1999.
"We started a small business selling products to jigsaw puzzle enthusiasts. It's still going, but my nephew keeps it moving forward. We actually now sell five times more products in the US than in the UK. The products are made in China and they're all unique, plus we have the intellectual property rights so you can't find them anywhere else. It's the perfect business for the web: there aren't that many jigsaw puzzle enthusiasts so you can't justify the shop space, but there is a market."
It was this venture that got Colin interested in internet business and opened his eyes to its possibilities.
"My wife and I have an army of nieces and nephews and we wanted to do something with them on the Internet. There are a lot of games and fun things but nothing that's really educational. That's how we got the idea for Education Quizzes."
Colin went on to note,
"They combine the fun value of quizzes with the educational value of the national curriculum. We showed teachers our idea and started with things for 11-14 year-olds. They loved it and since then it's grown exponentially."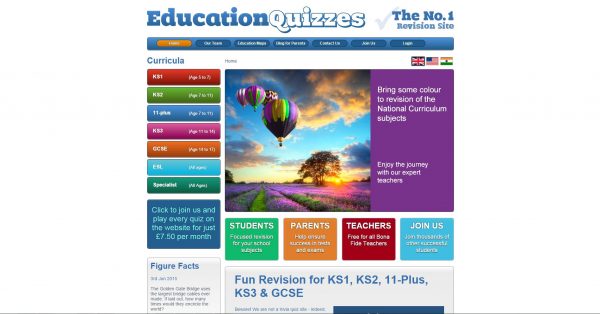 Stories of incredibly successful young entrepreneurs, like 16-year-old Ben Towers, are surprisingly common and at sixty, Colin is at the other end of the spectrum, but he thinks that when it comes to starting your own business, it pays to be older.
"It takes a lot of time and money to get a business off the ground." He said. "We've invested approximately a quarter of a million pounds in Education Quizzes and that's come from our pension funds. When you're older you're more likely to have the money; we couldn't have done this when we were younger. Facebook may have happened overnight, but when it comes to online businesses, most of them take time and investment."
Colin continued to highlight that it's not just the available starting money that's valuable; it's also the wealth of life and professional experience that an older person can bring to a new venture,
"When you're older, you're more likely to evaluate opportunities and get the right people in to help. We outsource everything including the coding for the website and the quizzes. Even though we don't have that specific knowledge, we've found people who do. We've pulled together a lot of specialists and bought the expertise we needed, which the Internet facilitates. It's much easier, now, to find someone who can do exactly what you need."
This recipe of combining outsourced talent has clearly been a successful one as Education Quizzes now employs 22 people and has expanded into the US and Indian markets.
"It's much bigger than we expected it to be, three years ago. The BBC put a lot of links to our site because we supplemented BBC Bitesize, which is the biggest education site in the UK and over two to three years, we climbed higher up in the search rankings and people began writing good things about us.
Colin is under no illusion about how much this has helped the company and continues to state that,
"There have been articles in national newspapers and that means people trust us and are willing to pay £7.50 a month for our services. We won the East Midlands Online Business Award and having authoritative people see and like the site is a clear sign that you're doing the right things."
So what makes Education Quizzes so successful? Colin says it's down to the fact that it pays attention to its target market, kids, and simply put, it has a good product.
"We keep the site as colourful as we can as we want to keep children interested and the engaging quiz format works, especially for revision purposes. Each quiz is on a particular topic, so if there's something they need to work on, they can just focus on that."
But having a good product doesn't have a dramatic impact if no one knows about it. Education Quizzes has developed numerous successful marketing strategies to make itself visible to its key demographics.
"Last year, we started giving teachers access to the site, so all the kids in their class can play quizzes for that class subject, free of charge. This has worked really well for us as kids like the site and want to play quizzes for their other subjects at home and tell their parents. We've found that giving it to teachers instead of selling it has really worked. It's about creating a big network and that's what the Internet is all about."
Education Quizzes are at the forefront of their field, but what is education like as a market? Clearly it must be lucrative, but with the promise of significant profit and growth comes increased competitiveness and ever-changing demographic demands.
"800,000 children go into the education system every year. It's a huge market and that's quite exciting. We do have competitors, but they tend to focus on one subject so it's really only us and BBC Bitesize that cover the full curriculum."
Having successfully identified a niche for the company, Colin continues to expand on the education sector,
"The education system is entirely different from when I was at school. I did five O-Levels and now it's very common to do 11, 12 or even 13 GCSEs. It is a very political area and there's always talk in the press about the Government making big changes to education, but it doesn't affect us too badly. About 80% of the curriculum stays the same from one year to the next and Key Stage Three hasn't changed much at all. At the moment, GCSEs are marked by different exam boards and each one puts an emphasis on different subjects, which is incredibly difficult for children to get to grips with. The Government is saying, ultimately, it will become one big exam board. The way things are going is working in our favour as there's much more emphasis on exams than coursework now and our site is better equipped for that."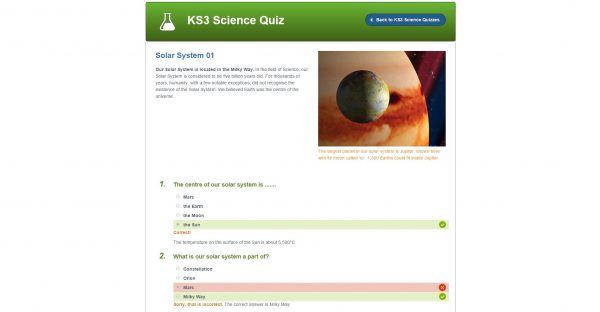 With the market going their way, Education Quizzes has taken advantage of the situation and already made 2015 a successful year.
"In the UK, we've been developing quizzes for more GCSEs subjects. This year we also launched sites in India and the US. Last year America put the Common Core curriculum into place, which means all states have to teach English, Maths and Science to a certain standard. Before it was different from state to state and we couldn't have worked with that."
But Education Quizzes isn't going to stop there. It has ambition and big plans for the future,
"The thing that I'm most involved with at the moment is developing a teaching site for languages. For learning a language, a website is perfect as it can be multimedia, with videos and sound and you can go at your own pace. We're starting with Spanish because it's one of the most widely spoken languages and is commonly taught in the US, while also becoming more popular over here, so we can cater to both markets. The technology is still being developed and there's going to be a thousand lessons. It'll launch about this time next year, but it won't be complete for another two years as it's a big project. We've put a lot of money into it and we won't start recouping that for some time, but we think it's the natural progression of our business."
With Education Quizzes' future looking bigger and brighter than ever before, Colin still has no plans to retire,
"Britain has an ageing population and you're not old now until you're into your 80s. The days of retiring in your 60s are over as people just can't afford it. Annuity rates used to be twice what they are now, so what you thought before was a good pension, now isn't enough. I'm not doing anything physical and even when you're in your 60s and 70s, it's very easy to sit at your desk. Hopefully I can keep doing this and it'll keep me young for a few more years!"