THE ANATOMY OF A GENTLEMAN 
While BMW, Mercedes, Lamborghini and especially Renault have approached vehicle manufacturing from a position of prerequisite style first, VOLVO has always originated from a position of essential driver and passenger safety. I think that this makes the VOLVO the essential gentleman's car.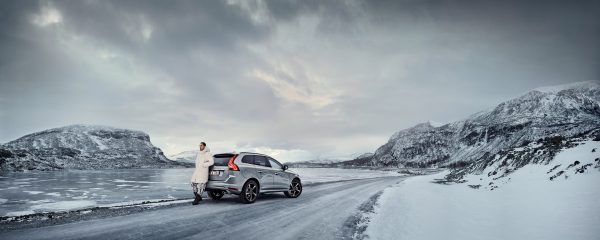 Most men either walk the walk or talk the talk, but few men can do both. We call these particular individuals gentlemen and the reason why they attract such attention from the opposite sex and respect from their peers is because they are mysterious, understated and above all else in control. The same can be said for cars.
The Volvo XC60 represents a basic requirement for a gentleman who knows what is important: the ability to protect what is important to him.
 Like a gentleman, the VOLVO XC60 D4 does not brag about how fast it is or how powerful the engine is, which is more potent than the BMW X3, Audi Q5 and the Land Rover Freelander 2. And, like a gentleman there is no need to remind anyone about the engine size, which will take the D4 from 0-62mph in eight seconds flat or hammer on about the low CO2 emissions that make this car one of the cleanest on the roads.
A GENTLEMAN'S INSPIRATION
The more I drive VOLVOs the more convinced I become that the designers are utter gentlemen. The quintessential gentlemen of old, the men who had standards that were not defined by rabble but by a code of conduct. I further administer that these gentlemen have put their time and energy into determining what a gentleman would require in a car. And like a gentlemen, this is revealed in the small details and too-subtle-to-notice considerations. As a quick example: the doors are designed for driver and passengers to be able to get in and out easily without any back-twisting acrobatics- a gentleman would have thought about this for when he is bringing an entourage of companions in evening dress.
A gentleman would also have thought about how the XC60 would look when arriving at a function or an event. For this the Volvo XC60 had a facelift that brought it up to date with the rest of the Volvo range and the main visual improvements are at the front where the bonnet and grill have been given a sleeker, newer look. This means that along with the mountain of safety features crammed into this car, you get a style that doesn't look out of place when compared to premium rivals of the afore mentioned BMW X3, Audi Q5 and even the Range Rover Evoque.
With a body favouring curves and subtle creases rather than imposing straight lines and too much rugged plastic body cladding, it looks  quiet and confident and like the sort of vehicle that clearly has the strength to muster a shout but has no need to ever raise its voice.
Inside, everything speaks of value and long lasting quality. Simple controls upon an elegant floating centre console design offer switches and controls that are assuredly sturdy. The climate control uses an intuitive pictogram for the air distribution and the seats are some of the most comfortable I've ever sat in and a comfortable seat is exactly what's needed to impress a lady. After all, a sports car may have a roaring engine but if it can't make a lady comfortable, it's a no go.
WALKING THE WALK
Of course, it is pointless being understated if you can't give the goods when needed. The Volvo XC60 is very comfortable and quiet inside and its efficient range of engines won't hurt your pocket and while the electric power steering feels artificially heavy and gives very little feedback on twisty roads, the 4×4 version is surprisingly capable off-road.
All the engines deliver decent performance, but the new 2.0-litre D4 diesel provides the best blend of pace and efficiency. It feels particularly strong in the mid-range, where it benefits from a muscular 400Nm torque output. However, it's not the most refined engine, clattering noisily at idle and sounding strained when extended. Still, it settles down to a background hum at speed.
While it may not be able rival a Range Rover Evoque for go-anywhere ability, the Volvo XC60 is more than capable of tackling muddy country lanes and flooded roads thanks to its four-wheel drive system, high ground clearance, strong diesel engine and hill descent control. This becomes particularly handy when you're escorting a lady into the countryside and want to get the heart racing with an example of your calculated and expert driving skills.
Similarly, the Volvo XC60's new eight-speed automatic gearbox is a big improvement on the old transmission, which was jerky and slow to respond. The high driving position gives great visibility and makes it easier to get a lady into and out of a car without her having to worry about damaging her dresses or flashing her undergarments. I know for many this may not be a reason to purchase a car, but it's as if VOLVO engineers and designers had an intrinsic understanding of what this chariot would be used for and I am fully expecting a thank you from them for mentioning it.
IMPRESSING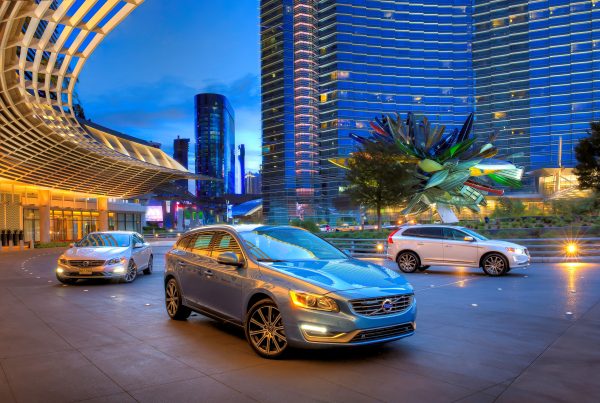 A lady needs to be impressed. As a gentleman it is important to ride that precarious line between excitement and safety and to do that control is very, very important. This has been worked into the design of the Volvo XC60 and created a natural choice. Without being garish or arrogant about it, the safety features that extrude throughout the D4 are cleverly incorporated so that if you're not told they are there, you won't find out until the car miraculously saves your life in an accident.
In fact, VOLVO's reputation for overwhelmingly present yet stealthily unseen safety protocols is such that some people believe they are protected by the hand of God instead of the genius of some of the most forward thinking engineers, designers and mechanics on the planet.
As was explained a recent launch of  the VOLVO XC90, the XC90 younger and bigger brother, VOLVO have an aim for 2020 that nobody will die or be seriously injured in their cars or because of them. Every scrap of technology around the car has been shaped around this vision and what you have is a vehicle designed to be entirely self-sacrificing in the light of protecting driver, passengers and pedestrians. There are frankly too many safety features to mention in one article and even then it wouldn't do it justice, but they are immense and mind boggling in sophistication.
To scratch the surface, the model we had came with entry-level SE versions getting five different electronic braking aids, dual-stage airbags, traction control, hill descent control, an inflatable curtain for side impacts, a range of security features and Volvo's City Safety system is also included, which will automatically apply the brakes if it senses a collision and the driver doesn't react in time. It is worth mentioning that the system only works at speeds under 19mph so don't go testing it on the motorway.
A PRACTICAL GENT
As a gentleman, I know the value of good boot space and you'd be surprised at how opportunistic a truly gigantic boot space can make a man. The VOLVO XC60's boot is 494 litres and that's if you don't cram it. Cramming it to the roof would increase it to 655 and if you fold the seats forwards the boot space increases to 1,455 litres, which gives a huge amount of space to fling yourself around in if the need arises.
Incidentally, while a gentleman would never discuss such a thing, the suspension of the car is fantastic and near silent. However, if you find yourself having to move out of the boot space in a hurry the boot doesn't open from the inside… something that the VOLVO's designers neglected to work into their design.
IN THE CABIN
The XC60's 40/20/40 split rear seats are handy and they fold flat so sliding objects in and out is no problem. It's worth noting that headroom isn't great for taller passengers in the rear, but there's plenty of legroom and it doesn't feel cramped, either.
While I wasn't spending that much time in the back I also noticed that the door bins in the back were a little small but I don't think this would cause a family any trouble as there are many places for a family to store their bits and bobs as well as numerous cup holders and handily situated USB sockets located in the lidded armrest between the front seats for charging devices and toys.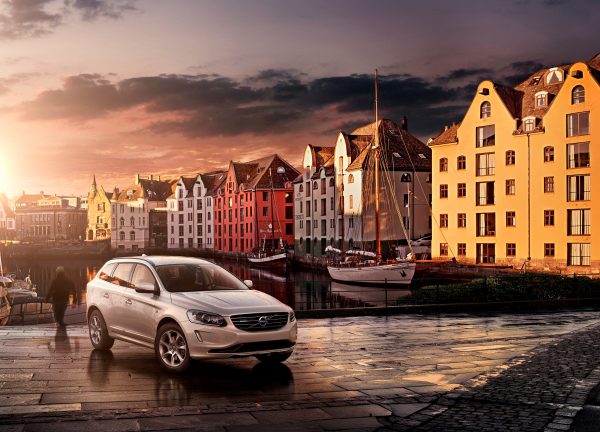 EXPENSE AND ECONOMY
I am loathed to return a press car with a full tank of fuel but I won't lie, it was exhausting trying to expend an entire tank. There are two engine types you can have, the D4 and the D5. The D5 is the stronger of the two but I've heard it was a bit rough so I went for the notoriously efficient four-cylinder D4 with a 2.0-litre 179bhp unit.
The D4 engine returns 62.8mpg and emits just 117g/km of CO2. If you want the added security of the all-wheel drive system, then the CO2 emissions do jump to 139g/km and fuel consumption increases to 53.3mpg.
According to the online specs, the only petrol engine available is the 300bhp T6. Despite its impressive power output, it's also very thirsty with a fuel economy of 26.4mpg and CO2 emissions of 249g/km. It also doesn't feel as fast as its impressive power and torque outputs suggest.
The Volvo XC60 with the diesel D5 engine is only available as a 4×4, but thanks to start-stop technology and the six-speed manual gearbox, it returns 139g/km and 53.5mpg. With the automatic gearbox, it returns 44.1mpg along with 169g/km of CO2.
PRICING
Starting with a price in excess of £30,000 this isn't a cheap car but then again it has absolutely no reason to be. Any gentleman would recognise that you can't put a price on quality and confidence and with the Volvo XC60 you're not only paying for a car, you're paying for its ability to protect you at all costs. And between those doors you are safer than in the hands of God.
---