The Dutch Caribbean Island of Curaçao stretches just 40 miles from southeast to northwest, but its historic capital of Willemstad is home to an important, dynamic and ambitious business. Curaçao Drydock Company Inc. (CDM) offers ship repair services, its main activities being yard (Ship Repair, Engineering and Conversion) and PRS (Port Repair and On-Voyage Services). Endeavour Magazine spoke to Chief Commercial Officer Mr Miraldo Martie to learn how the company has served its worldwide clients for over 50 years – and continues to do so.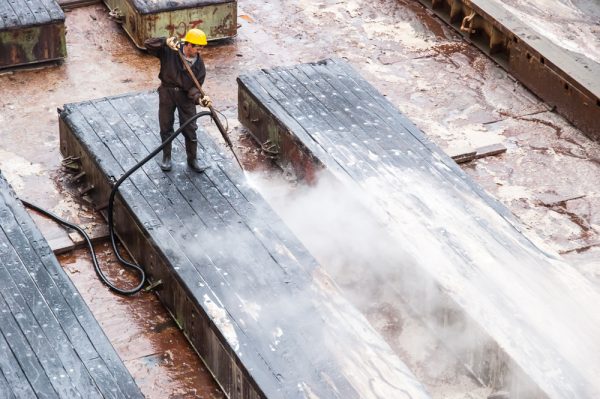 The CDM's years of service have given the company extensive experience in a wide variety of vessels: tankers (oil, product, chemical and gas), bulk carriers, containerships, ferries, tugs, cable layers, AHTS and pipe laying barges. Additionally, the CDM is proud to be entrusted to take care of specialised vessels such as cruise ships, Navy and offshore support vessels, and very soon also LNG carriers.
With an effective quality management system independently verified by certification ISO 9001:2000, the CDM performs all ship repair services in a safe and stable environment and has held ISPS accreditation (International Ship and Port Facility Security) since the end of June 2004. The shipyard itself is safely located in the Caribbean, well outside the hurricane belt. Curaçao offers year-round favourable weather conditions and as a constituent country within the Kingdom of the Netherlands, it also has a juridical and politically stable climate.
As the CDM strives to be the first choice ship repair yard in the Caribbean and South America's Region, Mr Martie reveals their recipe to success, "We believe our commercial success depends upon offering quality and value to our customers within an attractive time frame, supported by an effective quality management system certified by Lloyds and according to the ISO standard. We seek to maintain the highest achievable standards of safe work habits and our business is conducted in a way that preserves the environment. We provide employment possibilities and, by generating foreign currencies, contribute to the growth of Curaçao."
FACILITIES
The CDM has an impressive portfolio of facilities to provide its services, including three docks up to 150.000 DWT, 2000m alongside repair quays and sheltered deep-water bays. The Antila graving dock can support even mega cruise ships with a deadweight tonnage of 150,000 tons; the smaller Beatrix graving dock has a deadweight tonnage of 28,000 tons and the Curaçao floating dock has a lifting capacity of 10,000 tons. Three repair wharves of approximately 2,000m of repair quays outfitted with 13 cranes each with a lifting capacity up to 75 tons and six repair shops can service a huge number and variety of vessels.
Hull and internal treatments such as ballast tank treatment, grit blasting, hydro blasting, internal blasting and paint, anti-fouling and vinyl coating are part of the yard's daily work. The CDM regularly provides chemical, tank and underwater cleaning; the latter using automatic underwater cleaning equipment or rotating nylon brushes handled by certified divers. In addition to these, the company also has the facilities to provide more specialised services.
The CDM can undertake electronic, hydraulic, pneumatic and other automation, working on all kinds of specialised electronic equipment. From radio communication to navigation and instrumentation, teams of nautical and electronic engineers from the CDM and associated firms service the automation and instrumentation of various installations in automated engine rooms. Maintaining emergency beacons and universal TV receivers, no job is too big or too small. As a full member of I.S.E.S. (International Ship Electric Service Association), the CDM has immediate access to a worldwide supply network for spare parts and equipment to ensure a swift and efficient job.
The company's light and heavy machine shops have a covered area totalling 45,850 sq. ft, with two overhead traveling cranes apiece. Here, the CDM uses lathes, carousel lathes, universal milling machines, radial drilling machines, horizontal boring machines, planing machines, electronic balancing machines and special equipment including an injector grinding machine and laser beam aligning equipment for mechanical repairs.
A pipefitter shop, fitted with automatic hydraulic pipe bending machines and electrical welding equipment, services all repairs and renewals of pipelines, heating coils and sanitary installations, handling Ferrous and non-Ferrous materials.
Another shop is fully equipped to repair and maintain both fixed and controllable pitch propellers of practically all sizes, with up to 44 ton balancing machines, pitch measuring equipment up to 7m, special welding equipment and all necessary grinding and polishing tools. Specially trained operators and technicians carry out all major repairs and conversions under the supervision of all major classification societies and according ISO standards.
The CDM has adapted to keep up with changing times and uses innovative and modern techniques to provide its clients with a first class service. The company practices Metalock, the engineering method of effecting cold repairs of cracked, fractured or weakened machine parts of pressure vessels made of cast or forged materials and is an authorised representative for the engineering technical service, supervision and application of pourable cast resin Chockfast epoxy chocks. In addition, the CDM provides steel repair and conversion with a CAD CAM system connected to two fully automated ESAB burning machines by means of a PCI system. This provides flame cutting, shaping, gouging, welding and annealing. Independent specialists Wilson Walton International perform audio gauging, giving accurate Ultrasonic thickness measurements.
These impressive facilities are supported by an extensive stock of materials and parts, including on average 1500 tons of steel plates and structural steel sections and a large stock of electrodes, pipe material, propeller blades, valves, manometers and thermometers – all Lloyd's and ABS approved materials. The facilities and equipment are operated by a highly skilled workforce; something that Mr Martie is proud of.
STAFF
"All our Senior Project Managers and Heads of departments have an engineering degree," he explains, "Part of our supervisory staff have engineering degrees and others have decades of experience in ship repair. All are regularly sent abroad to familiarise themselves with the latest technical and organisational developments. All of our craftsmen have at least a basic Dutch education and most have followed specialised courses either abroad or at the shipyard's own training school, which gives initial courses, upgrading courses, supervisory and safety and environment awareness courses."
The CDM's personnel are also known for their multilingual skills, with English, Spanish, Dutch, Papiamento, and Portuguese all spoken at the shipyard.
THE FUTURE
The Curaçao Drydock Company was established in 1959 and it has seen many changes in the marine industry and to the Island of Curaçao itself. Although another shipbuilder will likely start a small shipyard in Curaçao, the CDM's size and facilities mean that it is not a competitor. The number of vessels calling on Curaçao has averaged just over 3,000 per year since 1990 and despite a slight slump after the Economic Depression, numbers remained steady and are now even starting to improve. Mr Martie is sure that the company will continue to serve thousands of vessels for many more years to come, "The Curaçao Drydock Company is the place to go when it comes to ship repair services and it is our privilege to serve."