Overseeing all aspects of the country's aviation in Africa the Civil Aviation Authority of Zimbabwe are responsible for managing the first-impressions of international and national tourists receive coming off of the planes and stepping into the airport. Through economic reform and political difficulties CAAZ have been given the unenviable task of maintaining the appearances and operational functionality of these gateways, no matter what.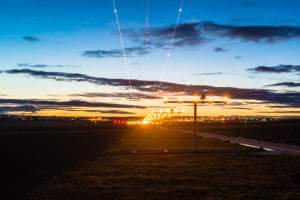 Responsible for all aspects of the country's aviation CAAZ operates, develops and manages 8 airports in Zimbabwe, three of which have been strategically placed to take advantage of the major tourism pull. These would include Harare, Victoria Falls, JM Nkomo and the other five airports Masivingo, Hwange, Kariba, Charles Prince (Named after airport manager Charles Prince) and Buffalo Range.
In the airports themselves CAAZ provides the overall management of the facility and has several concessionaires who handle air cargo, passengers, car parking, fueling, airside shuttle bus, cleaning services and so on. Additionally, CAAZ provides air navigation and other technical services that are important to all aircraft flying into or out of Zimbabwe. From the air traffic control point of view CAAZ constantly manages the airspace, and so do have air traffic controllers at all those airports who control and monitor the aircraft movement with the latest technology.
CAAZ also offers consultancy services in aviation safety and security within the region. As part of its regulatory role, CAAZ also serves as the governing body for enforcing laws and regulations related to aviation issues and are responsible for ensuring that stakeholders comply and commit to all regulations and meet obligations. As a central voice for the industry this is particularly essential role of the authority that has proved critical for the smooth running.
Taking on responsibility for issuing licenses and permits, as well as verification for various activities including aircraft registration, personnel licenses, aircraft operations and airline schedules, CAAZ said: "The firm is dedicated in bringing more visitors to Zimbabwe, hence relentless participation at local and international destination marketing campaigns in collaboration with Zimbabwe Tourism Authority and other tourism players, with a goal to bring visitors to Zimbabwe."
They have also established memorandum of understanding and partnerships with the private tourism industry through collaborative marketing campaigns to help play a role in building the image of Zimbabwe. This is a collective effort where everyone plays a role in getting the positive message out there to people who have perhaps not heard much about Zimbabwe, or heard only negative things.
The CAAZ participates at route development and airport marketing forums (Routes World, Middle East and Africa). Furthermore targeted airlines are constantly engaged with, electronically or directly at relevant forums.
Also, as part of a plan to attract airlines to Zimbabwe, The Civil Aviation Authority of Zimbabwe does offer an incentive scheme to new airlines or existing airlines expanding into new routes. This incentive is all about convenience and includes a 40 percent discount on air navigation, landing and parking for a period of twelve months from the commencement of operations.
The upgrading of J.M. International airport which has been completed and the still in progress, Victoria falls International Airport  can be used as perfect demonstrations of outstanding commitment to the development of aviation in Zimbabwe.
In 1999, 34 different airlines flew to Zimbabwe but then during the period of hyperinflation and the subsequent sanctions came into play CAAZ lost just over half of those airlines, most being the long haul intercontinental flights. European carriers left Zimbabwe as a destination and the traffic dropped to 8 airlines at the height of the troubles in 2007 and 2009. But now, the industry as a whole is on a recovery path and CAAZ have grown their numbers up to 15 airlines. This upward trend is expected to continue onwards beyond 2016.
Now of late, it has started getting some of the international players coming back and setting up routes again. A lot of regional airlines have continued to fly to Zimbabwe and some airlines have even grown the number of frequencies in fact; Kenya Airways, Ethiopian Airways and South African Airways have all increased frequency of flights to Zimbabwe. A big plus, is a brand new international airlines to Zimbabwe, Emirates who are now flying to Harare daily.
The concerted effort to become one of the most attractive tourism destinations in Africa seems to be paying off, as CAAZ is experiencing continuous growth in passenger and aircraft movement since recovery in 2011.
HIGH FLYING FUTURE
Victoria Falls International Airport began refurbishments in 2013, to facilitate the operation of wide body aircraft to the airport as well as increase the passenger handling capacity of the airport.
The upgrading project, which completed and opened to the public in 2016 entailed construction of a new international airport passenger terminal capable of handling 1.2 million passengers per annum and a four kilometre long runway capable of handling long haul flights.
Also, with such renewed optimism surrounding the Zimbabwean aviation industry, the Authority is conscious of not lagging behind. As a result, management is currently going through the procurement process for new ICT and air navigation systems which will cost several millions. Coupled with efforts to continuously improve infrastructure, things are looking positive.
As far as their future is concerned, the company as a whole is very buoyant, considering that they are almost going at double pace having come from a position that was artificial due to the past economic situation. Now they are expecting to experience a jump in growth to catch up and then grow healthily afterwards and they also want to capture the growth markets and attract more airlines from those regions, hence are looking at creating more employment opportunities in Zimbabwean aviation and related industries.
Increases of up to 40 percent are expected thanks to their infrastructure improvements and as their business directly benefits in increased demands, from tourism to movement of goods. The positive image that is now growing on the international stage for Zimbabwe has already created potential of business.
After all, Zimbabwe is still a country worth visiting.