Global company OCS was established over three decades ago in 1984 and is an undisputed industry leader in the marine and offshore services universe. Listed on the Oslo stock exchange, the organisation is a joint venture between Planet Investment & Ventures and BW Offshore, the world's second largest floating production system provider.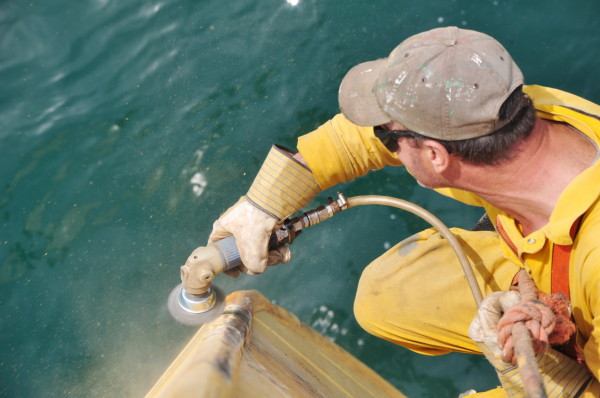 Looking at the company's operations, it is evident that thanks to the global spread of their group companies, OCS Services DMCC, OCS Services India and OCS Services Pte Ltd, the sun never sets on the company's ever growing empire.
"With our offices in Dubai, India and Singapore we have clearly established ourselves as a world class company for the oil and gas industry," says Graham Bland, the company director.
He elaborates that their long term associations with leading oil and gas operators and contractors in 23 countries across Asia, the Americas, Europe, Australia, and Africa has provided them with a footprint extensive enough to allow them to adapt and expand to support their clients across markets, industry verticals and project types. It is this that has given them the well-used term, "The OCS advantage."
"We do not compete with those who know the price of everything and the value of nothing," he explains, "At OCS, our focus is 'creating and delivering value' for the client's operations and for their companies and their brands."
And the proof is in the pudding, as OCS offer the lowest total system cost and as a vendor are committed to ensuring maximum uptime while remaining competitive in the overall context. It is thanks to this, Graham explains, that they are able to cater to over 40 leading E&P clients.
WHAT OF OCS
30 years of experience have established a confidence within the company to deliver above standard levels of service and OCS is able to offer all the essentials to guarantee a long and fruitful relationship with their clients. It all stems from the highly competent and resourceful technical team who are supported by 1800 extremely motivated, trained and experienced personnel and lead by a team of ex oil and gas marine field personnel.
Established in 1984 as a technical manpower service provider catering to the offshore industry in India, OCS has, over the years, established a global footprint and expanded their scope of operations to provide comprehensive offshore services including project management capabilities in the areas of Total Corrosion Management Services (TCM) and Maintenance, Repairs and Overhauling Services (MRO) to become an integrated service provider for oil and gas companies worldwide.
Considering the technical understanding required to properly service this industry, OCS has also established itself as one of the leading total integrated crew management companies in their field. Offering comprehensive selection, training and deployment services for positions and roles across cadre in the oil and gas and marine industries, "Our manning services include end-to-end technical manpower and crew management services for rigs, drill ships, FPSOs, production platforms, vessels, corrosion management, maintenance, repairs and overhauling etc. for the upstream and marine industry," he says.
After all, business is all about building and maintaining relationships and Fabtec Marine & Offshore Engineering Sdn Bhd has, on numerous occasions in the past few years, worked with OCS Services Ltd for their various project requirements including things like fabrication, installation and renewal of piping and steel structures and providing qualified and expert personnel for work on board FPSO's.
OCS Services operates through two divisions; Marine Services and Oil and Gas Services. Marine Services provides the industry with crew management and other support services including ship management services, while Oil and Gas Services provide total integrated crew management, maintenance, repairs and overhauling and total corrosion management services.
But what areas do these divisions readily service?
OFFSHORE
Offering services to the offshore industry has always been a major element of the OSC Services offering and their total integrated crew management (TICM) system provides an end-to-end manpower management solution that covers all bases and enables the customer to outsource complete personnel-related processes.
Along with this, OCS offers comprehensive recruitment and back office support by providing and maintaining a highly efficient and effective crew on board. This crew is selected in-line with the client's requirement and the selection process at their end is modified and customised to address the client's specifications.
"We employ a multi-pronged approach towards strategic resource development by nurturing, training, developing and absorbing human talent and converting it into dynamic human energy," says Graham.
MARINE
The marine division of OCS is internationally known as Nortrans and with the experience and expertise gained over the years, this branch provides a wide range of services that include total crew management, technical support management, ship management, insurance and shipbuilding facilitation and  supervision.
"We also operate as a one point solution for the maintenance, repairs, overhauling requirements and a total corrosion management of our customers," Graham adds, "To all areas of the oil and gas industry.
PROJECTS
A recent case study highlights exactly what the defining qualities of OCS Services are and why they have such a solid reputation for excellence. The Deep Water Frontier (DWF) promised an interesting challenge from the start, as their client was one of the largest offshore drilling contractors in the world with the most versatile fleet of mobile offshore drilling units that help companies extract oil and natural gas.
Since their client was engaged in the business of offshore drilling, their drillships had to venture into hostile, deep-sea environments and due to this their vessel's hulls were prone to suffering various types of damage due to corrosion and barnacle deposition. Therefore, the maintenance of the hull of these drillships was very important. But it offered a challenge as these drillships come at a huge day rate and any damages to the same would prove to be exceptionally costyle, especially if they incurred downtime.
The utmost care is required to handle the maintenance work of such ships, hence their client required a corrosion maintenance provider who is resourceful and experienced enough to complete the task efficiently, within a short time period. This is why they chose OCS and in fact awarded them with the entire contract. The job was inspected afterwards by DWF Captain and Jotun paint technician.
Such projects are a challenge for whatever company takes on the contract, Graham explains, and OCS Services is not infallible. What makes the company unique and more importantly, capable of handling such challenges, is its willingness to think outside the box, to encourage creative thinking and to take the bull by the horns.
After all, you don't get to be the best by stepping backwards when faced with a challenge.