"I spent all morning on VIRRY with my two boys and we love it. We fed a lion and watched a rhino live all from our living room sofa. It's a safe, educational and utterly compelling way to learn about the animals we love. Get on it, it's brilliant!" Dominic West, Actor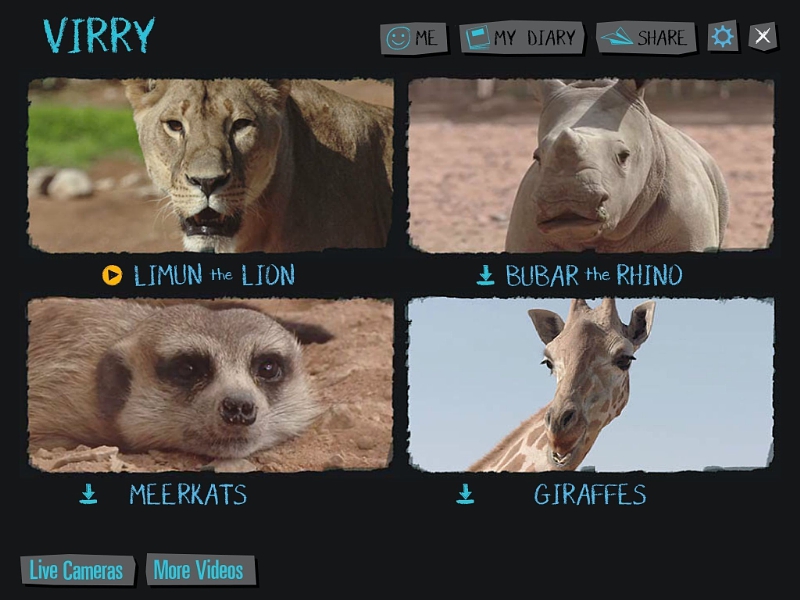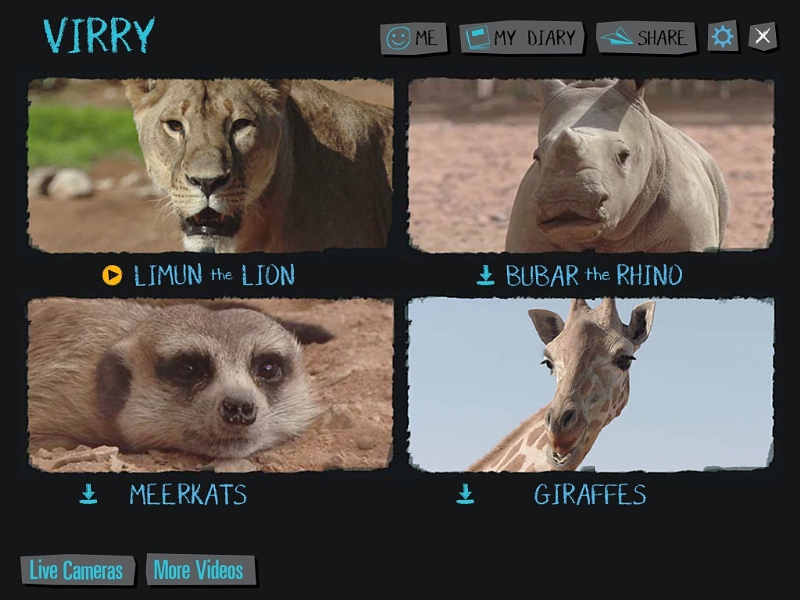 BAFTA award-winning independent children's app VIRRY announces this stunning wildlife experience is available on iPhone and Apple TV from Thursday 14 April 2016.
VIRRY connects children with wild lions, rhinos, giraffes and meerkats, bringing them into homes through live interactive high definition footage. Children learn and grow by exploring a vivid world of real animals where they feed, play with and care for them. And the move to Apple TV means a new, fully immersive big screen experience that nurtures kids' learning through nature.
VIRRY Creator Svetlana Dragayeva says: "After our hugely successful launch on iPad last year, the move to Apple TV harnesses cutting edge technology and creates a compelling learning experience, we are extremely excited about what this move means for the next generation's learning, development and knowledge of the natural world."
VIRRY in 2015:
– Winner of British Academy Children's Awards (BAFTA), Interactive – Original
– Webby Awards People's Choice, Best App for Kids and Family
– Lovie Awards People's Choice, Best App for Kids and Family
– 5 stars rating from UK Educational App Store
VIRRY in 2016
– Webby Awards Nomination Best Streaming Video Mobile and Apps (other organisations nominated in this category include CNN, PBS Kids and HBO Now)
– Webby Awards Nomination Online Film and Video Travel and Adventure (other organisations nominated include Fusion Network and Conde Nast Traveller)
Winners announced on 26th April 2016
VIRRY Features:
•    Live high definition footage of animals direct from their home in Al-Ain Wildlife Park in UAE
•    Fresh daily content and highlights from each animal enclosure
•    Interactive games and pre-recorded videos to inspire kids
•    Profiles on more than 15 wild animals, fish and insects including the following:  Albatross, Basilisk, BushBaby, Caribou, Cheetah, Dolphin, Collared Lizard, Flea, Flying Fish, Mantis Shrimp, Monarch Butterfly, Salmon, Springbok and Trapjaw Ant
•    Learning-based content that introduces conservation and ecologic issues.
Bringing Wild to Life
VIRRY is designed to develop key educational and developmental objectives in children aged 3-7. It was created in collaboration with child development experts to build a caring connection between children and endangered animals, and to teach important life skills.
Animals are filmed and broadcast from Al-Ain zoo in UAE (with more partnerships to come in 2016), with interactivity brought to life by an international team of academics (including Prof Gail Melson, leading academic on the human and animal bond fromPurdue University, USA ) award-winning film industry professionals, wildlife experts and technology specialists. The result is an exceptionally deep educational technology experience guided by nature.
Device requirements:
* iPhone and iPad
* Requires iOS 7.0 or later
* 211 MB
Requirements for Apple TV:
* Apple TV 4
* Requires iOS 8.0 or later
* iPhone and Apple TV should be connected to the same WIFI
---
ABOUT VIRRY
VIRRY is the BAFTA winning children's independent app with an unusual development approach firmly rooted in sciences – formal (computer), natural (Zoology), and social (psychology), a marked development characteristic for Virry's creators has been the necessity to balance the virtual (app) and real (wildlife) to create a fresh experience for animal loving 2-7 year olds.
ABOUT FOUNTAIN DIGITAL LABS
Established in 2013, Fountain Digital Labs is a company that creates exceptional mobile apps that inspire, inform, entertain and educate people. It has a truly collaborative international team of more than 15 people across 4 countries with its head office situated in central London.