Leading personal watercraft manufacturer Rickter-RRP has just launched its model lineup for 2016 – featuring the top-of-the-line XFS Ninja Competition freestyle jet ski reinforced by TeXtreme®.
For the 2016 XFS NINJA Competition, Rickter collaborated with Formula One composite engineers to develop a new layup that is lighter, stronger and stiffer as a result of using TeXtreme® Spread Tow carbon fiber fabrics.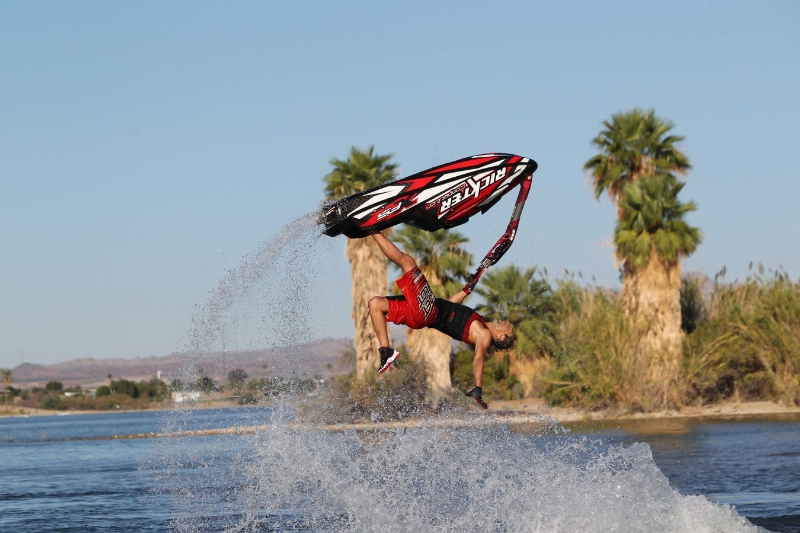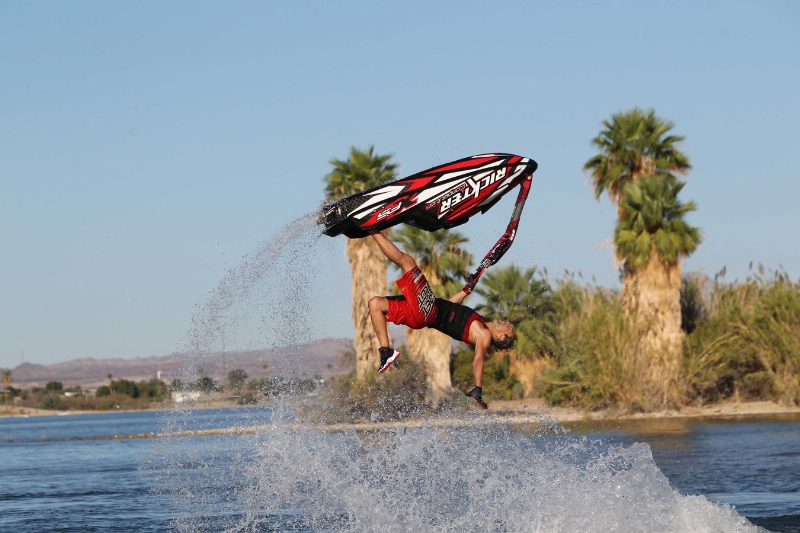 TeXtreme® differs from conventional carbon fiber materials due to its unique, proprietary production methods. Its track record of contributing to winning product releases – by companies including Bauer Hockey, Prince Tennis, Cobra Puma Golf and Bell Helmets – has demonstrated the real-world performance improvements that can be achieved using TeXtreme® Technology.
TeXtreme® is based on spreading tows (yarns) into tapes that are weaved into a fabric that is much thinner than conventional carbon fiber fabrics, with straighter fibers that optimize and strengthen the composite while delivering lighter weight.
"By creating a hull that is lighter and at the same time stiffer makes a totally new unit in terms of riding. The weight savings achieved from using the TeXtreme® Technology is unrivaled by any other carbon fiber material out there," says Rick Roy, founder and owner of Rickter-RRP.
Rickter is now offering reinforcement with TeXtreme® as an option for 2016 on the EDGE FS, EDGE FR, XFS, and RC-1. The 2016 XFS NINJA Competition comes with TeXtreme® only. Rickter also designs and manufactures TeXtreme® reinforced exhaust chambers, hood scoops, ride plates and flow guards.
In addition to the use of TeXtreme® in personal watercraft, its innovative technology applied in Formula 1, NASCAR and America's Cup racing; in the manufacture of bicycles, golf shafts, tennis racquets, surfboards, rowing shells, skis and snowboards; and in various industrial and advanced aerospace applications.
Product video – Rickter-RRP- Introducing the 2016 XFS Ninja Competition
---
About Rickter
Rickter-RRP is founded by freestyle legend World Champion Rick Roy from Canada. His passion for design and relentless quest to perfection transformed Rickter-RRP into the leading aftermarket hull manufacturer in the personal water-craft industry. Today customers from all around the world riding and enjoying his designs and quality work thanks to well spread Rickter-RRP distributors and dealers network including professionals' like; 2015 IFWA Free Ride World Champion Mark Gomez, Abraham Hochstrasser, 2015 IJSB Amateur Class World Champion Tanner Thomas, Freestyle legend and 2015 UIM Aquabike Freestyle World Champion Rok Florjancic and many more professionals.
About TeXtreme®
TeXtreme® Spread Tow reinforcements are the ultimate choice for making ultra-light composites. TeXtreme® Technology is flexible and tow-size independent, which enables the development of optimized reinforcement solutions tailor-made for specific application needs. Utilization of TeXtreme® Spread Tow carbon fabrics and carbon UD tapes by manufacturers of advanced aerospace, industrial and sports products confirms that 20-30% lighter composite parts can be produced with improved mechanical properties and superior surface smoothness.
TeXtreme® is a registered trademark owned by Oxeon AB. Founded in 2003, Oxeon has quickly established itself as the market leader in Spread Tow reinforcements with its products marketed under the brand name TeXtreme®. For more information, please visit http://www.textreme.com.