They're known throughout the world, but can they become a staple in Africa? We spoke with Pizza Hut about one of their most exciting, and successful, periods of expansion, as they reach out into a whole continent of new territories for the beloved pizza brand.
Founded in 1958 by Dan and Frank Carney in Kansas, USA, Pizza Hut International has since become a well-known global brand. From family outings to late-night orders, Pizza Hut has been a presence in many people's lives. In some countries, the Hut is just one contender among many, but in others, it is one of the kings of the QSR industry. The brand was established in South Africa for many years, but took a few years' hiatus as it looked into rebranding. Now, for the past four and a half years, it has undergone a resurgence, with restaurants spreading not only back throughout the country, but also the rest of the continent:
"Our aim is to grow in scale and become Africa's pizza brand of choice," says Ewan Davenport, General Manager of Pizza Hut Africa. "It's been an incredible journey so far. Ultimately, in the first four years, we got ourselves to over 100 stores across Africa, and over the next few, we're looking to reach in excess of 200 stores. It's an exciting journey that we've embarked on and we're really accelerating."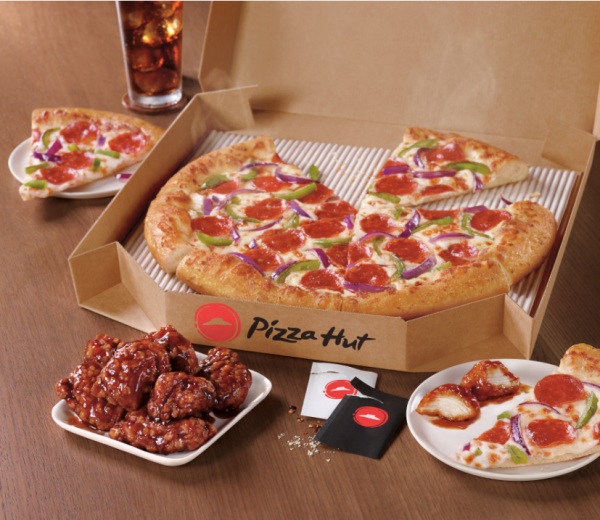 Pizza Hut Africa currently have locations in 14 countries, which will have reached 16 by the end of 2018, with roughly a 50:50 ratio between their locations in South Africa and the rest of the continent. Over the next couple of years, they aim to expand their number of countries reached to 25.
"We've got stores to continue to build here in South Africa, but we're also entering a number of new markets by the end of this year, including Sudan, Nigeria and the Ivory Coast, to name three. We also have additional stores going into countries where we're already present, such as Tanzania, Zimbabwe, Zambia and Mozambique."
The Hut's expansion originally branched out from South Africa to travel up the East African coast, but stores are now also established in the North and West. All countries are of course different, and as Pizza Hut has established itself in new territories, it has found that the reception and culture towards the brand varies – particularly between South Africa and the rest of the continent. Whilst South Africa already has an established QSR market and more affluent consumers, the market in Africa's other countries has some key differences: Lee-Ann Cullingworth, Chief Marketing Officer, explained; "From a South African perspective, the business is very much a delivery, takeaway, carryout experience, but in the rest of Africa it is very much a dining experience. It's quite a special occasion. There is a delivery aspect, but there is much more of that dine-in need in the African market, where consumers will go with their family and see the experience as a treat."
A Pizza Hut experience comes in many guises, and has existed in many evolutions and styles over the years. Speaking for myself in the UK, many a day out as a child used to end in a sit-down, dine-in experience in Pizza Hut, with queues often trailing out of the door to get in; in my teens, the Pizza Hut buffet was a frequent staple, thanks to its central location in the city and the delicious all-you-could-eat trips back to the hot plates for seconds and thirds; as a young adult, my partner was a waitress with the chain for many years, and pizzas would often be brought home after her late shifts; today, as a slightly wearier adult, ordering a delivery is a perfect solution to staying up too late and having a few too many drinks with friends. My relationship with the brand began with balloons and trips to the ice cream machine, and has evolved into leftover slices for a welcome hungover breakfast, and in the same way, the restaurant's presence in the UK has grown and shifted focus with me. Originally a vast family dining brand with no takeaway option, takeaway and delivery are now key parts of the business here; in Africa, excitingly, both aspects are launching and flourishing at the same time, allowing Pizza Hut to explore how it does service like never before.
Ewan told us: "In many of our African countries, not many global brands are prevalent in any way, so the concept of casual dining is quite unique and unusual, but, that isn't to say that people don't get it." In fact, some of Pizza Hut's stores in wider Africa are seeing better business than their South African locations. Lee-Ann went on to explain that this dine-in experience is a little different to the traditional assumption: "Dine-in usually means waiter service, but the concept we are launching in Africa is not that: you order at the counter, and you can casually eat at the table." This sort of smart casual dining experience is a concept that is present in many of the QSR industries, but is new for Pizza Hut. They are also launching a series of other brand changes in Africa, such as a more open kitchen that allows diners to see the pizzas being made.
Trialling these new features are exciting opportunities for Pizza Hut. However, when asked what they feel the keys to success for the brand in Africa are, Ewan had this to say: "Success in Africa is largely focused around two things: the first is having an established supply chain, and the second is your affordability." Many of the lowest GDP per capita countries in the world are in the African continent, making the Hut a premium brand for many of their African customers. Hence, whilst the experience is casual, it is a special occasion, and one that customers expect to be delivered at a high standard.
A part of delivering this standard is, as Ewan said, down to the supply chain. Pizza Hut is a subsidiary of Yum! Brands Inc., one of the largest restaurant companies in the world, and both Yum! and therefore Pizza Hut have an incredibly high food quality and safety standard. "We will not change or reduce our standards anywhere in the world, which means we have to ensure that we have a very strong and capable supply base. Whilst we're establishing our businesses in each of these new countries, there's a significant amount of work that goes into the supply chain infrastructure, including a lot of supplier development and investment to get the product up to the standard and quality that we need." By coming in and working with local suppliers to develop their businesses, Pizza Hut not only guarantees ingredients for its products at the standard it requires, but it also empowers these local businesses and has an ongoing positive effect in the area.
This not only allows Pizza Hut pizzas to reach their standard and maintain the consistency that is essential to any QSR chain, but it also allows them to compete for their goal of being Africa's tastiest pizza. They already know that in customer tasting, they score very favourably against their competition. This, plus their focus on being accessible and affordable, are two out of their three strategies for appealing to customers, and the third is speed, of service or delivery.
Of course, this would not be possible without the right staff. Shaista Imam, Chief People Officer, was excited to talk to us about the Hut's African team: "In Africa, we have a small but mighty team. An organisation will only be as good as its people. It's critical that we have franchises, marketers, store managers and servers with the right mindset. In terms of staff training and recruitment, we have a mantra here that is "People capability first", and at Yum! we absolutely believe that. We take training very seriously." To facilitate their expansion, Pizza Hut has taken on 3,000 new members of staff across the continent. Believing that no customer experience can exceed that of a team member's experience, the company takes the support of these staff as seriously as its training. They have partnered with local NGOs who help youth come off the streets and find employment, hiring many into their restaurants, and they have also launched an initiative to sponsor their Restaurant General Managers (RGMs) through a four-year business degree.
"This is a huge commitment from Pizza Hut," Shaista tells us, "And I'm really excited because it grows our individuals. As you can imagine, education in Africa is really important." The support does not come with any compulsory time with Pizza Hut following graduation, following the model used by Starbucks, KFC and others in the US; the support in hugely beneficial for the development of workers in the areas where Pizza Hut operate, and it also inspires many to choose to stay with the company simply because they feel cared for within the team. In fact, this feeling travels all the way through the company, as Ewan shared: "We have senior team members who started with us for their first job at 16 as a delivery driver, which is really quite remarkable. I've not seen anything like it at my previous companies."
Another potentially life-changing initiative from Pizza Hut Africa is the Slice of Africa drive; an initiative that continues the company's global dedication to literacy by travelling 200,000kms across 12 countries to deliver Pizza Hut Red Reading Boxes to the children who might not have access to books otherwise. The push is traveling in a triangle sharp across Africa, hence the "slice" in its name; at first, the journey launched a series of events to promote the drive and encourage donations of books, and next year, it will be travelled again to deliver them to children in need, hopefully helping to combat the high level of illiteracy in the continent.
Helping education and spreading joy, Pizza Hut seem to be taking Africa by storm, and are only going to keep growing. "Africa is a continent where, if you really get it right, you can have thousands of restaurants, but you really need to get it right." It seems as though they've achieved that formula, and this month will be the test they are most looking forward to: "This month, we'll be launching in Nigeria, which is a country with 180 million people, and an incredible excitement is being generated about our launch there at the moment. If we can land the Pizza Hut brand in Nigeria, then we really do think that the sky is the limit."