Most summers, I will ride a motorbike through Europe with a few mates on a short break. We leave our partners behind and head off into the sunset, quite literally. Past trips have been used to review gear and new bikes; however, this year's remit was slightly different: we would still have some gear to review, but I was tasked to find and ride a cheap bike to see if it's possible to make the same trip on a budget bike. Our destination was Colmar, North-Eastern France, in the heart of the Alsace. It is situated between the magnificent Vosges mountains – wine-growing slopes and open plains that offer a vast palette of varied landscapes and fabulous local wines for the avid motorcyclists.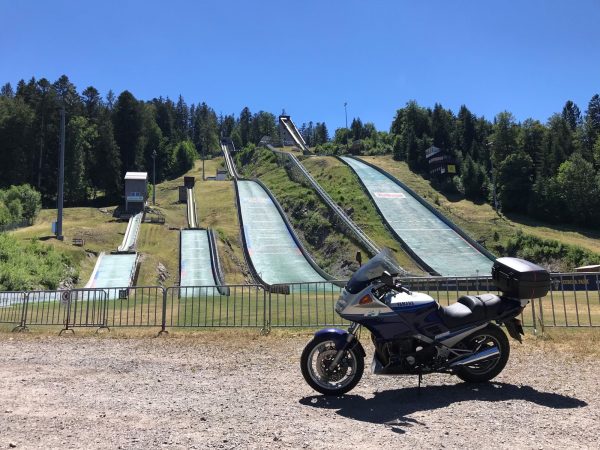 I loved the idea of the budget bike challenge and was keen to begin my search. I had a long list of bikes I wanted to look for, but after trawling through the papers, websites and selling pages I struggled to find anything of interest – well, nothing, to be honest. My list went out of the window and I desperately looked for anything that might work, as the bikes I saw would have struggled to get me home, let alone be capable of a 2,000-plus miles round trip. There was so much high-priced rubbish for sale that I began to think that this challenge was a step too far until I got a call from a local garage with whom I had put the feelers out. They had a trade-in with an MOT which they thought I might want to see. Thankfully the garage was only 15 minutes down the road, so it was well worth a look, and at this stage, I didn't really care what the bike was.
As it turned out, it was a 1995 Yamaha FJ1200, which is a big 1200cc 4-cylinder 125bhp sports tourer. In its day, it was capable of 0-60 in 2.8 seconds, its first gear wouldn't run out of steam until after 75mph and it had a top speed 160; this could be perfect. I first saw the bike sitting dirty, rejected and uncared for in a corner of the garage. I took it out for a ride, and it felt ok, if a bit slow and plodding with a tendency not to go around corners, but I put this down to its age and that I am used to the performance of a modern bike. It had a short MOT and it was rideable, so I handed over a bartered £1250 and rode it home.
I am ok with tools, but over the last ten years I haven't done much spannering, as the new bikes I ride never need much doing to them. However, I was confident that I could fettle with the FJ to get her ready in the four months I had before the MOT and the trip started.
The first free weekend I had, I armed myself with a big cup of coffee and opened my garage door to see what I had gotten myself into. The initial signs were good, as the bike had oil in the engine and not on the floor, brake pads on the discs and not too many rounded nuts and bolts. Looking at the MOT history online, the bike had only covered a few hundred miles over the last five years; although this kept the mileage down, it can cause its own problems, such as deterioration and seizing – a bike likes to be used. I soon found my first problem, as the rear brake calliper was locked on and the wheel couldn't move without a huge effort. I took the brake calliper off and found that the brake pistons were grimed up and seized solid. I looked into the cost of a calliper rebuild kit, but this worked out to be more expensive than buying a good used calliper off eBay, so I went for this easier eBay option. Unknown to me, I had lucked in on a bike that has a huge following, with many second-hand parts readily available. Once the used calliper arrived, I fitted it, bled the brake line and took the bike for a spin. By removing the drag from the back wheel, the FJ felt like a new bike with blistering acceleration, pulled like a freight train throughout the whole rev range and was happy to go around corners.
When you take on an older bike like this, you need to be prepared to try and do some of the work yourself, unless of course you have very deep pockets, because the cost of garage labour will soon add up and often will break these projects. I did lots of jobs on her to make sure she was trip ready, and at one point my wife accused me of having an affair as I spent so many hours in the garage! But without knowing any history of this bike, I had to assume that everything needed checking.
To make the FJ roadworthy was fun and became a hobby for me that I found cathartic and rewarding. I would never have guessed that I would have gained so much enjoyment from doing it. This was a big part of motorcycling that I had been missing out on by riding new bikes.
The MOT day came and the bike flew through it. I was delighted.
After numerous trips through Europe, I have developed what I feel is the best way to pack up my gear and get out of the UK. I squeeze my gear into a waterproof canoe bag bungee strapped to the seat, and also have a tank bag. That way, I can avoid using panniers, as there are bound to be roadworks somewhere with delays, which are a problem with wide panniers, but a narrow bike can filter through quickly and easily. We headed off at 7.30 pm, almost riding into the sunset, to catch our overnight ferry to the Hook of Holland. It only took us a couple of hours to get there and strap the bikes onto the ferry.  We had a cabin where we dumped our stuff, and we headed up to the bar area to have the first holiday drink. It is a great feeling to go to bed in the UK and wake up in Holland. We skipped breakfast, as that would be on the road at our first petrol stop. On bikes, you tend to have to stop between 150 and 200 miles to refuel, so it is a good chance to grab a drink and stretch. The helmet intercoms we brought with us to test paid dividends within the few metres after leaving the port, as one of us had to stop to remove a fly from his eye. Without the intercom, we may have not noticed and might have ridden off without him. We were literally just out of passport control and we could have already been a man down without the PackTalks.
The first day took over 500 miles to get to our destination in Colmar, France. My mates said it was a ball-breaker of a ride, but it wasn't for me, as the FJ was an armchair.  I had also bolted a couple of old footpegs to the forward crash frame so I could stretch my legs out, cruiser style.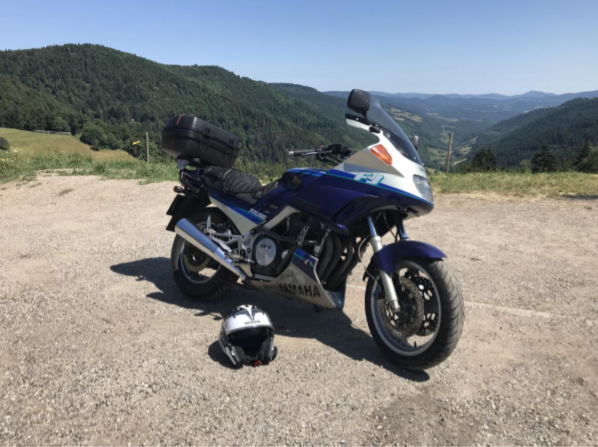 The trip was a riot and we were blessed with wonderful weather, great food, local wines and laughs aplenty. Riding through Holland, France, Germany and Switzerland's beautiful countryside on my old FJ was perfect and she didn't miss a beat. I didn't ride her sedately or indeed any differently than I would a modern bike, and she did everything I asked of her. In lots of situations she was better than the new bikes on the trip. 'Fudge', as she became known, was the most comfortable by far, she was fast when needed, relaxed at low speed and handled very well – particularly in the tight, twisty mountain passes. The only noticeable difference between the new and old bike was fuel consumption: the modern bikes were about 17 euro to fill the tank and the same distance would cost me 23 euros.
The challenge set was to see if it is possible for a budget bike to do a long European tour, and in my experience with Fudge the answer is most definitely yes. If you add in the satisfaction I took working on her, I would have to say this was one of the most enjoyable trips I have had so far. Fully comprehensive insurance on her is just £65 per annum, so she's not going anywhere and now has a prized place in my garage – I am smitten with the old girl.