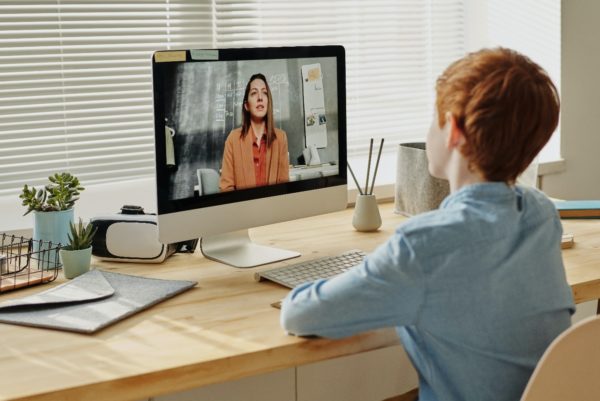 Several industries worldwide were disrupted by the Covid-19, with education being one of the main targets. From elementary schools to colleges and universities, the pandemic impacted everyone, including students, faculties and management. Fortunately, the evolution of the education world during the crises was astounding.
Just as institutes worldwide were forced to shut down overnight to prevent the virus from spreading, schools adopted several alternatives almost instantly. While most trends revolutionized the education world after the pandemic, a few of these also left a negative impact. So let's look at the ups and downs in the education industry during and after covid.
Positive Trends:
Adoption of Hybrid Learning:
The most significant educational change during and after Covid-19 was perhaps in the learning mode. Before the pandemic, the concept of online education was far less common. But the sudden contingency led to the adoption of online education until the pandemic was under control.
Though students went back to school following the vaccination of the majority of the population, the trend of online education continued. Institutes adopted hybrid academic models allowing students to study flexibly at their own pace. It also enabled caregivers to get involved in their children's education.
Focus on Collaborative Learning:
With online learning becoming a major trend, many schools adopted collaborative learning. In both remote and on-site classes, students and teachers engage in a group now where everyone gets a chance for role-playing.
This requires teachers to join programs to improve their social skills. For example, courses such as Online MS in Educational C&I Program are now in demand as they focus on developing both leadership and collaborative skills in teachers.
Similarly, teachers are finding innovative techniques to enhance participation, such as formal and informal debates, brainstorming sessions, and peer modeling.
Use of Online Management Systems:
Most of the pre-covid educational era survived without online management tools. However, with everything pushed remotely, they became necessary for the academic industry.
Several online management tools are now a part of every institute. These are useful for exams, students' attendance, assignments submission, fee management, and schedule management. While these tools are beneficial for the administration, for the most part, they also enable teachers to monitor their task's progress.
Demand for Tech-Savvy Staff:
Pandemic made online learning essential, which required both parties, including teachers and students, to be familiar with the technology. Initially, teachers received training on online communication tools such as ZOOM, Microsoft Teams and Google Classroom. Several studies were conducted to see how teachers adapt to this new digital world. One of the journals, Education Week Research Centre, highlighted that 8 out of 10 teachers believed their technical knowledge improved during distant learning. However, this was not enough for the new ed-tech world.
The basic communication software, which was sufficient initially, became the minimal teaching requirements post-covid. As more institutes adopted a distant learning mode, more technical skills were considered mandatory. The expertise required by management also included digital teaching software like the online whiteboard and work planning tools.
Emphasis on Mental Health:
The high mortality rates and sudden shifts in schedule lead to intense stress and anxiety in students. On the other hand, the fear of getting laid-off was the primary concern for teachers. Luckily, the education industry identified the need to emphasize mental health.
Both schools and universities are now focusing on the mental well-being of their students and teachers by introducing one-on-one counseling sessions and conducting awareness programs. Some schools have also introduced mental health kits for teachers, students, parents, and caregivers. Also, we can see a shift in perception from grades to constructive learning.
Improvised Learning Materials:
The pandemic urged institutes to rethink their curriculums and materials. More emphasis is given to technical education, soft skills, and emotional intelligence.
With remote learning being a major contributor, many schools are now teaching multiple languages, including Chinese, Spanish, and French. Recognizing personality types and finding a personalized solution are now mandatory in several institutions. Also, the curriculum now focuses on optimistic learning making art an essential subject.
Apart from the improved learning material, institutes have also changed their ways of conducting lessons. Quizzes, games, and 3D modules are an imperative part of teaching.
Negative Trends:
Reduced In-Campus Accommodation:
COVID-19 has the same economic impact on the education industry as many others. The pandemic was a significant financial blow for the universities that depended mainly on international students for their income.
Since in-person classes were unlikely to be offered for some time, many prospective students postponed or chose to study from their home countries. Although on-campus studies are resumed now, students opt for online degrees and certifications.
This results in a net loss for educational institutions that generate a significant portion of their income from student accommodation.
Increasing Education Disparities:
Though remote education is yielding many positive outcomes, it has its drawbacks. The post-covid world has exacerbated poor learning outcomes and socio-economic inequalities among learners from low-income families.
In most parts of the world, this has posed additional challenges for vulnerable students, including those with disabilities or belonging to economically disadvantaged backgrounds. Students who do not have sound internet systems or digital gadgets face difficulties and deprivation from quality learning.
Final Thoughts:
Despite being most impacted by Covid-19, the academic industry made a tremendous comeback with better strategies. Post-pandemic, the new education world focuses more on flexibility, collaboration, communication, and mental health. However, a few areas like digital accessibility and technical teaching still require more attention.