The 500X is the first real success of this 500 styling working on a car, other than the 500.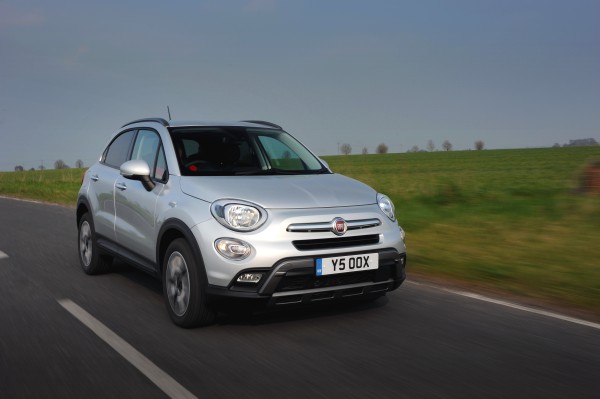 A stylish and characterful addition to the crossover class it has an appeal to a wider range of buyers. We'd go for the 1.4-litre petrol because it's a great all-rounder, it rides better and is more relaxing to drive than the diesel. What's clear is that the 500X is that it's arguably the most desirable in its class and provides stiff competition to the stylish Nissan Juke, Renault Captur and MINI Countryman.
The retro Fiat 500 has been an outstanding success for Fiat. Last year, more than 44,000 500s were sold in Britain (the best year to date for 500 sales) and by the end of 2015, we Brits will have snapped up a quarter of a million of them. With a success story like that, it's no wonder Fiat is desperate to stretch the car's appeal to more models. But while the 500L MPV is generally agreed to have been a little wide of the mark, Fiat hopes its new 500X will strike the right balance of being an up-scaled 500 but also a credible crossover in its own right. This is our first taste of the 500's crossover cousin in the UK.
Things get off to a good start with the styling. It's fair to say the 500's cutesy styling didn't translate very well to the 500L MPV, but the five-door crossover wears the 500's retro clothes well. At the front, the 500's circular headlights are stretched into a more teardrop shape and the 'moustache' badge and chrome trim arrangement is pure 500. In profile, the 500X has a similar stance to the city car but the muscular rear wheel arches, swooping roofline and 162mm (179mm for all-wheel drive versions) ground clearance are all new. To give the 500X a broader appeal, there's the choice of the city look for a more up-scaled 500 image, or Cross and Cross Plus models that have a more rugged feel.
Climb inside and it's clear to see Fiat has carried over the 'big 500' approach into the cabin, too. The 500's classically-styled dashboard has made way for a more grown up one that features a smart-looking 6.5-inch colour touchscreen. A chunkier steering wheel is also new as are plusher soft-touch plastics, and while there's some scratchy trim further down the dashboard and cheap-feeling leather on the seats, it's a far cry from patchy Fiats of old. The 500's boiled sweet-like buttons, quirky metal door handles, round headrests and pool ball gear knob are present too, as is a slab of body-coloured plastic across the dash.
Thanks to a lower seating position, the 500's annoying 'perched' driving experience is gone and there's plenty of room up front. Rear passengers up to six-foot won't be too cramped either due to good levels of knee and headroom, but the 500X is no load-lugger. The car's curvy but bluff rear end puts the 500X behind rivals like the Renault Captur, which has 100 litres more volume at 455, plus the 500's rear seats don't fold completely flat. Total boot space with the seats down rises to 1,000 –235 litres down on the Captur.
Fiat is offering the 500X with a 138bhp 1.4-litre petrol and three diesels – a 93bhp 1.3, 118bhp 1.6 and a 138bhp 2.0-litre – three transmissions including a nine-speed automatic and the choice of front or four-wheel drive. We tested the front-wheel drive 1.6-litre diesel in Cross trim and with a combined fuel consumption of nearly 70mpg and CO2 emissions 109g/km, it's this car that'll be the biggest-selling diesel.
There's plenty of power and the engine's healthy 350Nm of torque kicks in low down the rev range, making overtaking easy; it's just a shame that the engine is a bit too noisy and, thanks to being heavier, makes the already hard ride even firmer. We'd opt for the 1.4 turbo petrol that is smoother and far quieter than the diesel even if it only returns 47.1mpg and CO2 emissions of 139g/km in comparison. It's also £1,500 cheaper and would be more enjoyable to live with.
Curiously, the 500X is most at home on fast-flowing country lanes. There's taut body control, plenty of grip, accurate but artificial-feeling steering and, unusually for a Fiat up to now, a smooth-shifting six-speed gearbox. Entry-level Pop cars get 16-inch wheels, Pop Star and Cross models gets 17s and 18-inch alloys come on Lounge and Cross Plus cars. Around town, the 500X crashes into bumps and jitters across surfaces that are anything other than super-smooth, so the 17-inch wheels are a must. Country roads and motorways give a refined ride though, so it's a mixed bag.
Prices start at £14,595 but to get our test car's rugged look, you'll be looking at £18,595 for the 1.4-litre petrol or £20,095 for the 1.6-litre diesel. While the Renault Captur is cheaper to buy and the Jeep Renegade (the sister car to the 500X) better off-road, the 500X is arguably the most stylish in the class and successful repackages the 500's charm in an even more fashionable package.
Key specs
Price: £20,095
Engine: 1.6-litre 4cyl turbodiesel
Transmission: Six-speed manual, front-wheel drive
Power/torque: 118bhp/320Nm