In any given day we move seamlessly from role to role, place to place. Our active lives mean we need to adapt as quickly as possible to all the different situations our days present to us. Wouldn't it be great to have just one pair of glasses for all climates, all seasons, and all light conditions?
HOYA is proud to announce its latest innovation in photochromic lenses — HOYA Sensity. Light reactive lenses that provide unparalleled performance and outstanding user comfort. The lenses adapt to their surroundings so your eyes don't have to: they darken to sunglasses outdoors and quickly fade back to full clarity indoors.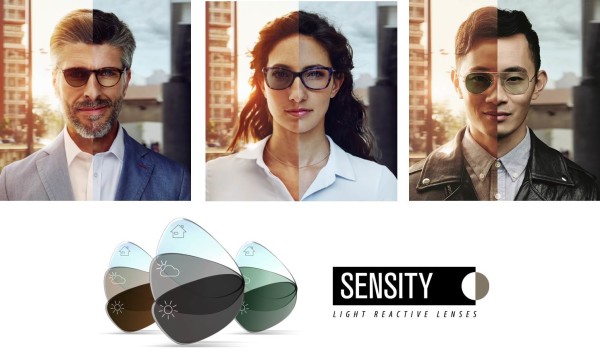 The main wearer benefits:
Offe

r

comfortable vision in all light conditions
Perform consistently in all climates, regions and weather circumstances
Darken swiftly to sunglasses outdoors faster than ever before  (up to 45% darker after 90 seconds)
Fade quickly back to full clarity indoors as soon as the ambient light intensity diminishes (up to 23% lighter after 

one

minute)
Provide 100% UV protection
Provide excellent glare reduction & superior contrast
Are available in three stylish colours: bronze brown, silver grey and emerald green
HOYA has been active in the field of photochromics since 1969 and has always been striving to develop the best photochromic solution possible for every light condition. Sensity light reactive lenses take photochromics to a new level by incorporating all-HOYA technology to ensure quality and durability. It is available in a wide range of single vision and progressive lens designs.
Sensity provides the highest user convenience as well as the best protection. So whatever your day looks like, you'll always have a solution at hand.
Try Sensity light-reactive lenses at your optician's today.
---
About HOYA
HOYA is a Japanese multinational med-tech company and leading supplier of innovative and indispensable high-tech and healthcare products based on its advanced optics technologies. HOYA is active in two main business segments: The Life Care segment and the Information Technology segment. The Life Care segment deals in health care related products such as eyeglass lenses and operates retail shops for contact lenses, as well as medical related products such as intraocular lenses for cataract surgery and medical endoscopes. HOYA Group comprises of over 100 subsidiaries and affiliates and over 35,000 people worldwide.