Constructed during the time of British colonial rule and known as Rhodesia Railways until 1980, The National Railways of Zimbabwe have had to meet the growing demand for railway logistics head on.   Riding the rails of their former self, the national parastatal of Zimbabwe operates some 3,400 km of railway lines with both passenger and freight services and plays an important transit function in the southern part of Africa.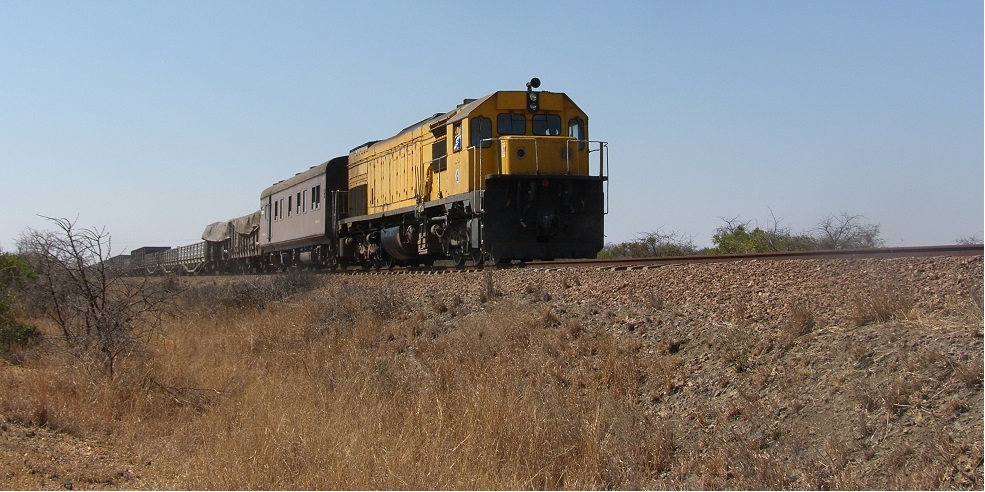 We spoke with General Manager, Lewis Mukwada, regarding the various services that the National Railways of Zimbabwe offer, "Our mission is to promote the transformation of the economy and the lives of the people of Zimbabwe through the provision of a seamless, efficient, reliable, cost-effective and safe bulk transportation service of goods and passengers in the country," he says.
The transit function that the company provides stems from the strong linkage that they enjoy with neighbouring countries. Towards the north, at Victoria Falls, the system links to the Zambia Railways, crossing at the Victoria Falls Bridge. Toward the Indian Ocean, the system links to the Beira Railroad Corporation in Mozambique. A second line towards Mozambique reaches Maputo. To the west, a connecting line link ups to Botswana Railways to reach South Africa, eventually arriving in Durban and Cape Town. A direct line to South Africa from Bulawayo was opened in 1999 by the Beitbridge Bulawayo Railway.
"We operate about 3,400 km (2,100 miles) of railway lines, all of 3 ft 6 in (1,067 mm) providing passenger and freight services," Mukwada tells us, "The gauge is standard for all of southern Africa and we use a combination of electric, diesel and steam locomotives,"
The steam locomotives are still used in Zimbabwe and have proven so popular with tourists that there are plans to refurbish several more steam locomotives, "However, funding is constrained," he laments, "And diesel-hauled freight transport is a higher priority."
RAILS OF THE ECONOMY
According to sources, the NRZ has also suffered during the general decline of the country's economy. The company is seriously indebted, making it impossible to solve this situation without external help. Goods transport has declined, from 18 million tonnes in 1998 to 2 million tonnes in 2010 and coupled with neglected maintenance, a lack of spare parts and overdue replacement of equipment, this has led to a situation where only part of the railroad network is in good condition and equipment problems have led to reduced service. Steam locomotives were reintroduced in 2004, as coal is in relatively good supply, while diesel must be imported and electricity shortages are common. There have also been a number of major accidents and deaths, which have further hurt the situation. Mukwada does not believe that ignoring these problems is the solution, instead, he believes that the only way to combat this crisis is with a forward thinking attitude and by utilising the resources available to them.
While the transport of various goods from the agricultural, mining and manufacturing sectors of the country is something that will always make use of the rail network Mukwada highlights how it is the use of their Rail Leisure brand that he feels will help bolster the current state of the company.
"The tourism business has undergone dynamic expansion of unrivalled nature over the last several decades," he explains, "This has mainly been due to the dawn of a 'borderless' world and improved quality of information regarding the most beautiful places to travel around the world and Southern Africa in particular. It is from this realisation that we introduced the Rail Leisure portfolio."
Specialising in a portfolio of tourist and leisure services, the major selling points include steam safari excursions, premier class services, museum and heritage centres and train charter services.
Steam Safari Excursions
Described as short distance, these are one day tours designed to give families a day out for fun and recreation. The tours are traditionally run on days like valentine's, mother's and father's day and occasionally during the festive season. Characterised by steam locomotives, breakfast on board, bush style barbecue lunch and gifts to suit the occasion these have enjoyed growing popularity and National Rail has risen to the challenge of corporate social responsibility by donating part of the taken proceeds to charity.
Premier Class Services
Mukward explains that this is a differential service offered on their passenger trains, aimed at giving travellers a hotel experience on board. It is designed for convenience and adventure. Travellers just unpack once on the train, for days of adventure with no need for hotel accommodation. This service features on board shower facilities and carpeted compartments with lockable doors and safes for valuables. Buffet breakfasts and dinners, an on board cash bar and a lounge area with stereo equipment is also offered.
Museum and Heritage Centres
One of Mukwada's personal favourites! The history of Zimbabwe is intricately linked to the history of the railways and the development of cities and various towns, including the world famous Victoria Falls. This excursion follows the railway line and stems from Cecil John Rhodes' dream of a railway line from Cape to Cairo, "It has been preserved in the National Railways museum," Mukwada says, "The most valuable piece of history is Cecil John Rhodes' private saloon, which is stabled in its original condition in the Railway Museum."
Charter Train Services
Individuals, groups, churches and organisations can get a special charter train with their own specific itinerary going to any destination on The National Railway of Zimbabwe's railway system. This service is designed to serve the needs of those that might want a personalised passenger train service, which could include popular charters such as photographic tours, premier class charters and joy rides.
BEYOND TOURISM
However, tourism is not the primary focus of NRZ and their responsibilities extend beyond merely showing tourists a once in a lifetime experience. Their main areas of operations include freight services, where they are the country's leading bulk transporter for inputs and finished products for productive sectors of the economy. Such sectors include agricultural, industrial, mining and energy sectors, which require rail services for the bulk movement of their inputs and outputs, locally as well as across the borders. The organisation is also responsible for the movement of all classes of transit traffic predominantly to and from the seaports from and to the landlocked countries to the north of Zimbabwe.
Day to day, NRZ provides passenger train services for the bulk movement of travellers between cities and intra-major cities. The inter-city passenger service is strategically designed to link major cities and towns in Zimbabwe in order to offer an affordable and convenient mode of travel mainly to the medium to lower income groups of society, while intra-city commuter services provides a cheaper means of ferrying workers to and from work as well as alleviating transport problems faced by commuters, especially during peak hours in the major cities of Harare and Bulawayo.
NRZ's real estate assets, which incorporate land, office accommodation, residential houses (employees and private tenants), warehouses and commercial developments at stations and sidings together with joint venture developments on railway reserves are always being focussed on, simultaneously to the smooth railways services.
THE DRIVING FORCE
Mukwada believes that the strength of the business is not it's railways. This is just one small part of a much larger whole and he strongly advocates that the important things lie elsewhere in notions such as human capital, innovation and the standard of service offered to clients, "We strongly believe that our people, employees and customers, and their safety and satisfaction is the most important resource we could have," he says.
He goes on to explain that customer focus starts with employee focus, "We pay close attention to the training and development of our employees, aiming to ensure their satisfaction and happiness so that they can exude these qualities to our customers."
Along with the above, Mukwada highlights some other important qualities that he continuously presses to encourage, such things as innovative thinking when it comes to all aspects of the business, especially with environmentally sustainable operations, something which is a major focal point for a Southern Africa, "And integrity and transparency," he adds, "There is enough corruption in Africa at the moment and we believe that as a parastatal and government entity that it is our responsibility to act as an example of the highest calibre of business operations. As such our conduct is, at all times, governed by the highest degree of integrity and transparency. We believe we owe it to our stakeholders to always be morally and ethically correct and justified."