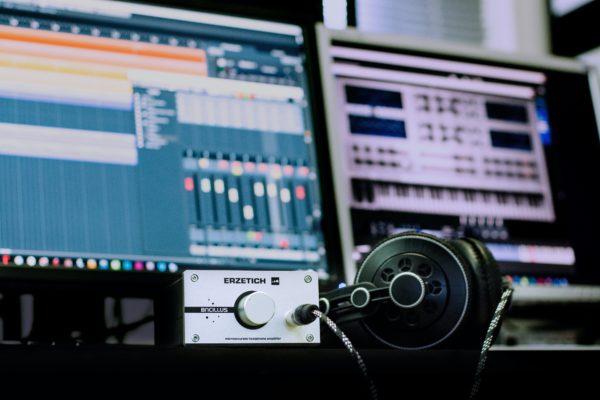 Setting up a home studio is not as complicated as it sounds. While one needs planning, researching, and adequate preparation, beginners can still set up their dream home studio effortlessly and effectively. All one needs is the correct motivation and these nine must-haves for beginners who want to set up a home studio.
1. High-spec'd Computer for Music Production
According to ProducerHive, a music production rig should have at least four cores of computing power with a minimum data processing speed of 2.4 GHz. Music producers work with large-size digital files, especially WAV. That is why you will also need a computer with at least 4 GB of RAM.
However, if you can see yourself becoming a full-time music producer, we suggest opting for at least an i5 processor mated to 16 GB of RAM. As for the memory module, a terabyte is now easier than sourcing 500GB of internal storage.
A desktop computer or laptop with good specs will give you faster processing of audio files. Ideally, the larger the screen, the better in fine-tuning your project. As for laptops, you can get one with at least 15.6 inches of high-resolution display. 
2. Digital Audio Workstation
After the hardware, one may have to choose among various digital audio software. Choosing a DAW that works with one's existing computer setup. For example, there are DAWs that only work with Apple computers, while others allow cross-platform functionality.
It would be best to check the DAW's user interface for efficient manipulation and intuitive functions. It will also help to consider the software's support and reliability.
Excellent choices include Steinberg Nuendo, Pro Tools, and Logic Pro. Reaper, FL Studio, Ableton Live, and PreSonus Studio One are also worth trying.
3. Audio Interface
Having the most sophisticated digital audio workstation does not mean a thing if one does not have the correct audio interface. One can look at it as an external soundcard, allowing for the seamless recording of analog audio signals and conveying this into the computer as digital information
A good-quality device also enhances audio quality, especially when one engages in mixing and tracking. It can reduce audio latencies, a benefit for music producers who love using plug-ins and virtual music instruments. 
Some audio interfaces feature high-performance digital audio converters, ensuring more accurate audio representation on studio monitors, speakers, or headphones. 
4. MIDI Controller
Not everyone has a guitar, piano, drum set, or any other musical instrument. It does not mean one can no longer produce good quality music. All one needs is a good quality MIDI keyboard. 
Beginner music producers can look at it as an ordinary keyboard piano that connects to the computer. The difference is that this device also has several controls, including pitch bend wheels and sound effect knobs and sliders. 
Novice musicians can start with a 25-key MIDI controller. As one improves his music production skills, he can opt for a 49-key controller. Piano players may want to get a 61-key device to ensure limitless virtual musical instrument playing.
5. Microphones
Master Class says prospective home studio owners can choose from three different microphone types for recording purposes. However, only one of these is versatile enough to make it a worthy gear for the beginning music producer.
Condenser microphones are perfect for anyone because they can record any musical instrument. However, they tend to be more acoustically sensitive than dynamic microphones. That is why live performers only use dynamic mics for their rugged characteristics, including extremely high volumes. 
The third type of microphones for recording is ribbon mics that have vintage technology. However, modern versions of this microphone produce an exceptionally detailed sound palette and can be as versatile as a condenser microphone.
6. Headphones
Recording and mixing different sounds can be annoying to some people. If you turn up the volume, other family members or neighbors might complain. That is why it would be best to get a decent pair of headphones.
Studio phones come in different shapes, sizes, and features. A must-have is a pair of cans with excellent noise-cancelling technology. One needs to listen to the recordings, not to the noise coming from the backyard, pets, crying babies, and neighbors in a shouting match.
For audio monitoring, one should pick a headphone that does not transfer noise into the microphone.  
7. Studio Monitors
One should never use only headphones in monitoring, mixing, and mastering audio recording. If you do, there is a good chance you will develop hearing problems. That is why it is always a good idea to get a studio monitor.
Some people think they can get away with a hi-fi speaker or home stereo. It may not make a difference if one only wants to enjoy music. However, producing music is different from consuming it. One has to understand the fine acoustic details of each recording. 
Music producers want to hear the imperfections, extraneous noises, and wrong notes in the recording to allow them to address these issues before the music goes out to the public.
8. Acoustic Foam
No music studio is ever complete without acoustic foam panels. These egg crate-like contraptions ensure more defined, cleaner, and clearer monitoring and recording processes. It allows music producers to make more accurate recordings.
According to Guitar Junky, an acoustic foam also allows music producers to hear the actual recording, free from sonic interferences within the room.
Soundproofing is different from acoustic treatment. Using acoustic foams allows music producers to control sound reflection and balance acoustic absorption and diffusion.
9. Audio Accessories 
Beginner music producers should also have the correct cables to connect different pieces of musical equipment and tools. A pop filter is essential for eliminating the popping sounds in a microphone when someone uses it.
Mic stands are also crucial unless one does not mind holding the microphone for the entire duration of the recording process.
Conclusion
Setting up one's dream home studio is not a massive project, although it can entail substantial costs. Aspiring artists and musicians can always start with these nine must-haves for beginners who want to set up a home studio and expand from here as their career takes off and the cash starts flowing in.