Sarah Frame has had a long and successful career in management and business development, but 18 months ago she gave it all up to start her own business. Green Onyx Consultancy focuses on personal development training and coaching for women and already it's helped hundreds of UK women gain confidence in the workplace. Daisy Jones spoke to Sarah to find out why inspiring working women is so important.
Sarah decided to do something different in her working life when she reached her mid-50s. Although enjoying her role as an international business development director, she wanted to do something that meant more to her personally for the next 10 to 15 years of her career.
"I sat there with a blank piece of paper, thinking 'what do I find really fulfilling?'" says Sarah, "When I looked back I realised that my legacy was all of the people who I'd helped with their career over the years. Today's workplace is ever-changing and you need to develop yourself and your skills to keep up. So I decided to set up my own business to help people develop their careers."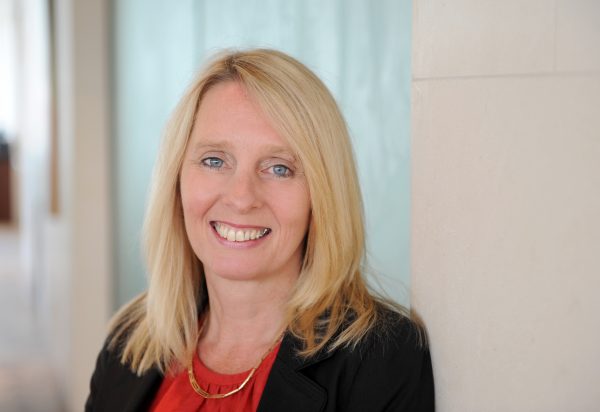 Sarah had already worked as a speaker on Springboard programmes, an experience she loved. Over the past 30 years Springboard has reached over ¼ million people in over 40 countries, specialising in training women. After becoming a licenced trainer with Springboard, Sarah started leading courses at Green Onyx Consultancy. Today, Sarah leads a range of courses, including Springboard for working women and Sprint for undergraduates as well as social media workshops and personal coaching. It's Sarah's personal experiences as a woman in business, that make her so passionate about what she does.
"I felt like I could use my experiences as a working mother (some of that time a working single mother) to show women that you can raise a family and have a successful career. You have to be resilient. It's going to be hard, it's going to be tiring, but you can do it. I've done it; I have five children and eight grandchildren – with another due next month!"
Sarah believes that the different roles women have to juggle often lead them to put pressure on themselves.
"A lot of women get 'working mother guilt'. They feel guilty because they think they either aren't being a good enough worker or a good enough mother. But I think shared parental leave is a real game changer; it'll take time but it'll make a real difference in creating a much more equal environment. Taking paid maternity leave took a while to be accepted, but now it is. Shared parental leave will eventually become normal."
It isn't just the pressures of raising a family that put women at a disadvantage in the workplace; as well as a pay gap and a lack of equal representation at senior levels in most organisations, Sarah explains how women's perceptions of themselves and their abilities hold them back.
"I've worked with women at all levels of business. No matter how successful and competent they are, women generally have strong tendencies towards self doubt and self criticism. There is a real difference in the way men and women feel about their success and achievements."
Despite Sarah's passion for what she does, starting Green Onyx Consultancy did present her with some challenges. After almost 20 years of being employed at a senior level, the reality of not earning a regular salary or having a PA to schedule meetings and manage administration was a steep learning curve! However, for Sarah there were many advantages to starting a business later in her career.
"We don't need to retire in our 60s anymore; in your 50s you're still young. You don't just have one job for life; you have different stages of your life and different careers. I've got four children aged between 35 and 30 and one who's 20; when they were young I needed to have the security of being employed. At that stage, I would not have wanted to take the risk of starting a business."
Sarah enjoys the buzz of business and the responsibility and choice that being a business owner gives her. Her busy day-to-day life involves delivering programmes, coaching clients, managing contacts, developing the business and keeping her profile up on social media. With a background in distance and online learning, Sarah is currently working on growing the business. Her plans include developing an exciting new online career advancement programme and expanding the range of people Green Onyx Consultancy can work with.
This expansion is very important to Sarah, who believes personal development programmes are the most important form of training.
"All businesses provide training of some sort, but personal development training teaches people to manage themselves, take control of their own lives and be equipped to fulfil their personal potential. Women who have done the programme with us are more likely to put themselves forward for promotion. As a recent People Management poll showed, there is a growing problem of employees with mental health issues such as stress and depression. Our programme participants report increased confidence, positivity, assertiveness and ability to manage change. This considerably combats the likelihood of developing stress related illnesses. We give women critical skills that they can use in their everyday lives."
The positive impact of Sarah's courses is apparent from the incredible feedback and recommendations Green Onyx Consultancy is getting.
"Being on the Springboard course has refreshed and revived my outlook, attitude and approach to my work and my life in general," says Accelerator Physicist Hayley Smith.
As well as supporting women in employment, Sarah has also noticed that the Sprint course has been making a big difference to undergraduates.
"Undergraduates have a huge amount to deal with," she says, "Managing your money and study, living away from home and international students have to cope with a change in culture and learning in their second language. Sprint really helps them address these issues."
Sarah also recognises the challenges young people face when they leave university; mainly securing a job, which for graduate jobs and internships is often a long and competitive process.
"When you leave university you're going to have to deal with rejection. I don't think it's ever been this hard for graduates. If you don't get a job it's not that you weren't good for it, you were probably really good but so were hundreds of other people. You can't let your self confidence be knocked."
It's clear from the undergraduates who have taken the Sprint course that Sarah's insight has sunk in.
"Sprint was an amazing development programme," says City University student Sonya Barlow, "Really insightful and all of the girls have come out feeling more self confident, self aware and ready to make an impact."
It's clear that Sarah is very good at what she does. She's an inspirational speaker with the life experience to provide real insight and solutions to the problems many women face in their working and personal lives.
"The key to my success was always being willing to learn. Lots of people work hard, lots of people are clever, so I continually asked myself 'What do I need to learn now to be ready for my next step?' If I could give any advice for success, I'd say you need determination, resilience and to always have a go. Take up opportunities and believe you can do it – always believe you can."
To Sarah, inspiring working women isn't just a passion – it's a necessity.
"We need women in the workplace," says Sarah, "We can't afford to not have women in the workplace and we can't afford to not have women succeeding in the workplace."
---
Related: Stop telling girls there aren't enough women in science