With a growth rate higher than Facebook's over the same period, the live webcasting social platform aims to be the best in the Chinese-speaking world.
Live webcasting social platform 17 held a press conference on May 5 to announce capital infusion of RMB 150 million (NT$ 750 million) from LeSports Innovation Fund and its strategic partnership with LeSports. It also shared its view on the trend of social webcasting and its development strategies for future market expansion.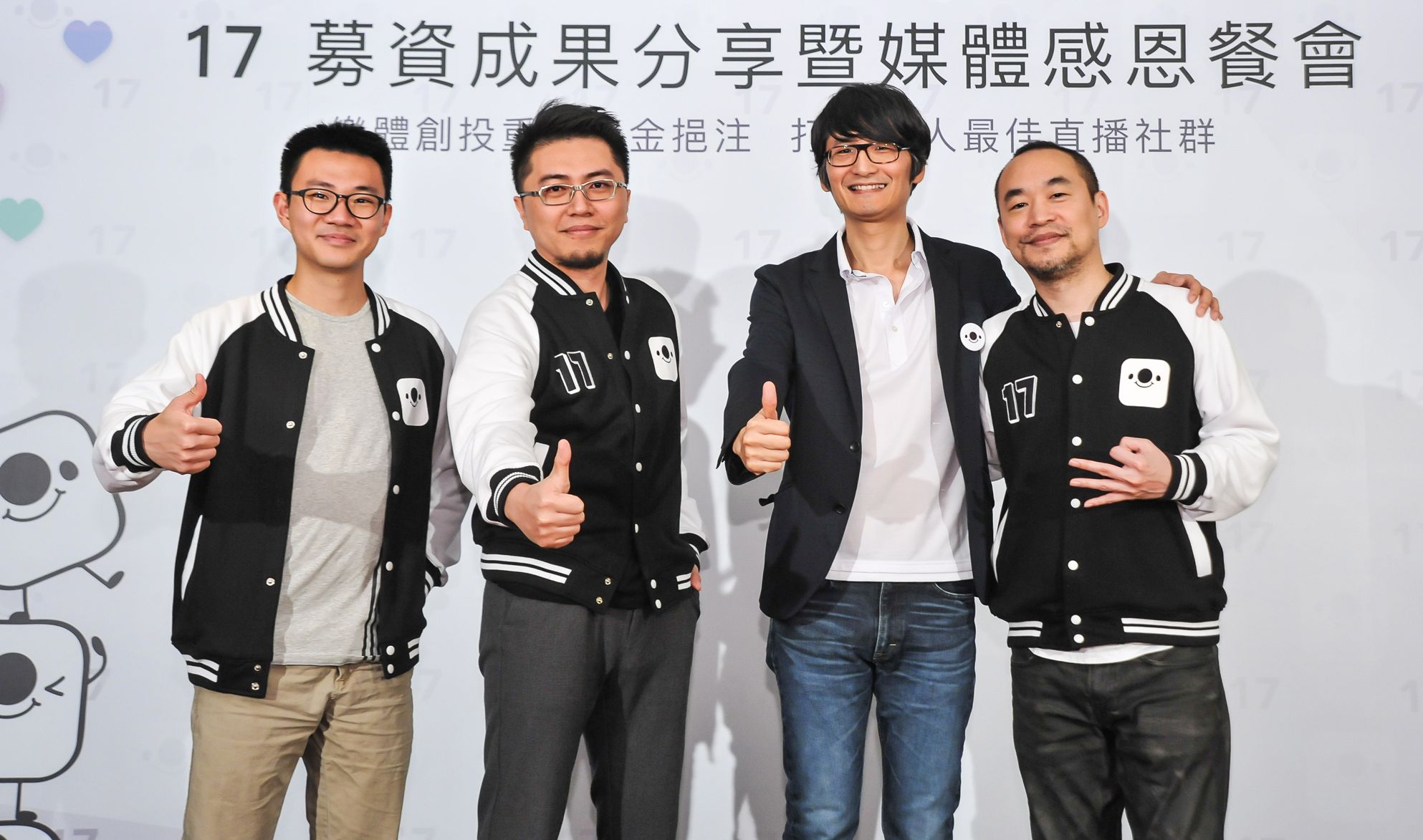 17 receives capital infusion of NT$ 750 million (equivalent to USD 23 million) from LeSports Innovation Fund and will extend its reach to more dimensions of user-generated content while expanding the market in the Greater China region through the strategic partnership (from right to left: Jeffery Huang, 17 Media Founder; Akio Tanaka, 17 Media CEO; Janus Ke, LeSports Innovation Fund Managing Partner and Popo Chen, 17 Media Founder)
With technology advancement changing people's use of audio-visual content dramatically, live webcasting platforms that meet consumers' demand for immediate and diversified content have emerged rapidly as a new trend in recent years. Integrated with social networking applications, the newly-emerged platforms allow creators of user generated content (UGC) to manage their brand and fan-base while creating a new business model where platforms share profits with UGC creators.
A leader among Chinese social webcasting platforms with a growth rate higher than Facebook's
Jeffrey Huang and Tai-Yuan Chen, founders of 17, had a sharp eye for market needs. They developed and launched the webcasting social APP in 2015, making it possible for users to do live broadcasts whenever and wherever they want while interacting with other users in real time. Once audience is large enough, content creators receive a share of the platform's profits in cash. With its broadcasting power and the incentive system, 17 hit more than 10 million downloads within 8 months to become the most downloaded iOS and Android APP, its growth rate surpassing that of Facebook and Instagram. A popular webcasting presenter makes as much as US$ 6,000 every month out of 17's innovative business model.
17's venture into the Chinese market backed by strategic partnership with LeSports Innovation Fund
Founded by experienced entrepreneur and famous entertainer Jeffery Huang, 17 received, in its early year financing, investments from Chairman of Prometheus Capital Sicong Wang and Infinity Venture Partners. The social webcasting APP has been actively expanding its market in the Chinese-speaking world and has rapidly gained international presence. As the business world sees great potential in its UGC-plus-social model, it has attracted attention from investors. In this round of financing, it secured RMB 150 million (NT$ 750 million) from the famous venture capital LeSports Innovation Fund. The large capital infusion will be directed to its strategic expansion in the Chinese market. LeSports Innovation Fund also facilitated 17's strategic partnership with LeSports on smart hardware as well as diversified UGC, "We're grateful for LeSports Innovation Fund's recognition. 17 will keep offering good services to our numerous social webcasting users while working with LeSports to provide diverse content of entertainment, sports, games, movies and culture & creativity, and to explore more ways of interaction on the platform," said founder Jeffery Huang.
A multi-layered monitoring mechanism that ensures broadcast content quality
In the hope of providing users with a better social platform, 17 has designed a multiple-layered mechanism to ensure the quality of broadcast content. In a very short period of time, it has set up SKYEYE, a monitoring system that is capable of preliminary filtering. Meanwhile its staff monitor all the broadcasts 24/7 and send reminders to remove illegal or sexually explicit content. 17 will actively expand its market in Greater China to create through the large user base a webcasting social platform full of rich, diverse content and networking — the best in the Chinese speaking world. In a highly competitive market of mobile webcasting, investors are full of confidence in 17's future development.