The motorbike and sidecar belonging to Hagrid, Harry Potter's loyal friend and Hogwart's gamekeeper, goes on display at the Museum of Liverpool from 16 May to 9 June.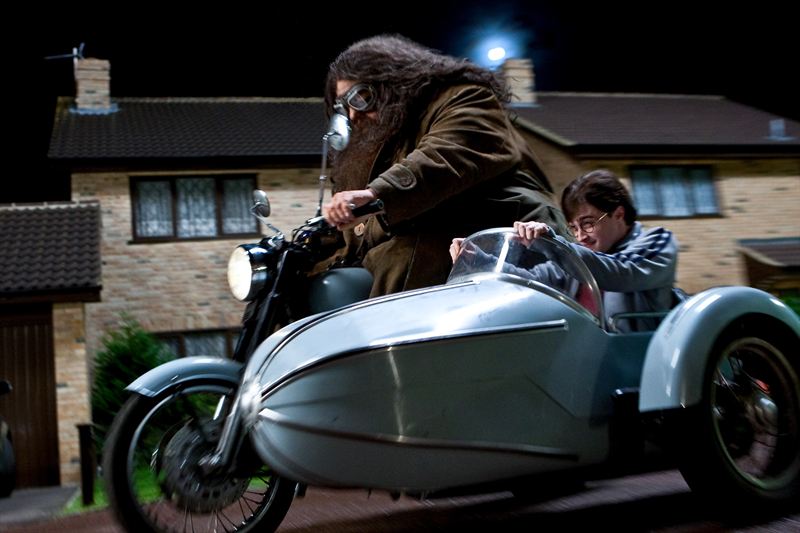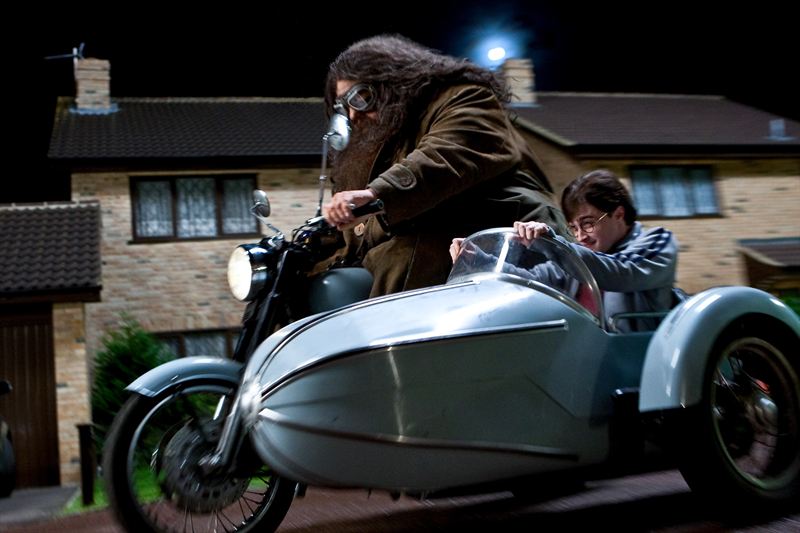 The quirky vehicle, which was originally owned by Harry's godfather Sirius Black, has a starring role in Harry Potter and the Deathly Hallows – Part 1. Its big moment comes in a particularly hair-raising scene as Harry and Hagrid embark on a dangerous chase through an underground road tunnel, which was actually filmed in the Birkenhead Queensway tunnel.
You are invited to attend a media preview at 09.30 hours on Monday 16 May 2016 at the Museum of Liverpool.
Paul Gallagher, Acting Senior Curator of Urban History is available for interview and photographs .
The poster for Harry Potter and the Deathly Hallows – Part 1 features in the Museum's popular exhibition Reel Stories: Liverpool and the Silver Screen (on display until September 2017), a celebration of Liverpool's starring role in films from the past 60 years through original film posters and memorabilia.
Paul Gallagher, Acting Senior Curator of Urban History, said: "We are delighted to be able to show Hagrid's bike during the run of our Reel Stories exhibition, which, among other things, examines Liverpool's remarkable ability to be a backdrop for filmmakers.
"We are very grateful to Warner Bros. for loaning us the vehicle, which we hope will be a hit with Harry Potter fans and film buffs, as well as our regular visitors."
Liverpool Film Office manager, Lynn Saunders, said: "It's testament to the excellent relationship we developed with Warner Bros. that this exciting piece is now going on display in the city.
"I'm delighted the Museum will incorporate it in their impressive Reel Stories exhibition and I hope it encourages even more visitors to visit and discover more about Liverpool's fantastic filming credentials."
The bike is a Royal Enfield, Bullet 500 with a 499cc petrol engine. It was registered in 2009 and modified for the film in the same year, including having its sidecar fitted.
The bike is on loan to the Museum of Liverpool by Warner Bros. Studios Leavesden Limited
www.liverpoolmuseums.org.uk/hagridsbike
www.liverpoolmuseums.org.uk/reelstories
---
Museum of Liverpool
The Museum of Liverpool is one of the country's most visited museums outside of London. It is the largest newly-built national museum in Britain for more than a century, demonstrating Liverpool's unique contribution to the world. The first national museum devoted to the history of a regional city, it showcases popular culture while tackling social, historical and contemporary issues. It has attracted more than two million visitors since opening in July 2011. The prestigious Council of Europe Museum Prize for 2013 was awarded to the Museum for its commitment to human rights as well as its work with children and families from all backgrounds.
The Museum has received generous support from several major funders, and grants from trusts and foundations, corporate support and individual donations. Major funders include the Northwest Regional Development Agency (NWDA), The European Regional Development Fund (ERDF), the Heritage Lottery Fund (HLF), the Department for Culture Media and Sport (DCMS),Garfield Weston Foundation and the Clore Duffield Foundation.
The Northwest Regional Development Agency (NWDA) was responsible for the sustainable economic development and regeneration of England's Northwest and had five key priorities: Business, Skills and Education, People and Jobs, Infrastructure and Quality of Life.
The European Development Fund (ERDF) is making a real difference to people and businesses in the North West. With €755 million to invest between 2007 and 2013, ERDF is enhancing the competitiveness of the region's economy by supporting growth in enterprise and employment. ERDF in the North West is managed by the Department for Communities and Local Government – for further information visit www.communities.gov.uk/erdf .
Using money raised through the National Lottery, the Heritage Lottery Fund (HLF) sustains and transforms a wide range of heritage for present and future generations to take part in, learn from and enjoy. From museums, parks and historic places to archaeology, natural environment and cultural traditions, we invest in every part of our diverse heritage.  HLF has supported more than 30,000 projects allocating £4.5billion across the UK.
About National Museums Liverpool
National Museums Liverpool comprises eight venues, including some of the most visited museums in England outside of London. Our collections are among the most important and varied in Europe and contain everything from Impressionist paintings and rare beetles to a lifejacket from the Titanic. We attract nearly 2.7 million visitors every year. Our venues are the Museum of Liverpool, World Museum, the Walker Art Gallery, Merseyside Maritime Museum, International Slavery Museum, Border Force National Museum, Sudley House and the Lady Lever Art Gallery.