Launched just a few months ago, Ink on Cotton is an exciting start-up with a novel premise: printing tattoo art on t-shirts. Tattoo virgin Daisy Jones spoke to Creative Director Neil McBurnie to find out why getting inked doesn't have to be permanent.
Surprisingly, Ink on Cotton came about after a chance meeting between Neil and an old school friend. In July 2014, Neil was in Leeds getting a tattoo in memory of his brother, who had passed away in April. When he bumped into art collector Tony, they got talking about tattoos and the meaning of art. It was the archetypal eureka moment.
"We decided t-shirts would be a fantastic canvas for showcasing art and a way of illustrating how tattoo art has progressed," says Neil, "We wanted to bring affordable art to people, with limited edition, numbered, certificated IOCs, very much like you see prints in the art world. Ink on Cotton seemed like the ideal name, as our artists would be putting their ink on cotton, not on skin."
Since that meeting a year ago, Neil and Tony have worked tirelessly to bring together a highly talented team that can spread their message across the globe. Andrew Mirfin, who is currently working on Neil's tattoo, was the first artist to come on board. Later, Neil approached Paul Talbot at the Doncaster Tattoo Convention and world-renowned tattoo artist Sneaky Mitch at his studio in Leeds. It was Paul and Mitch who created Ink on Cotton's six launch designs.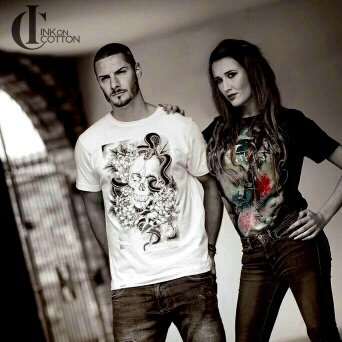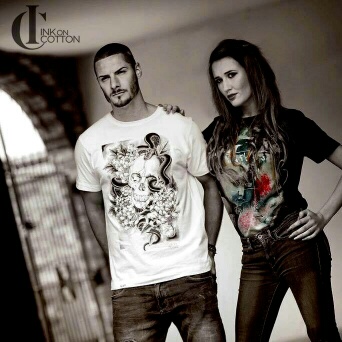 "Both amazing artists, but very diverse in styles, they demonstrate perfectly what Ink on Cotton is all about. Paul straight away wanted to test the limits of what could be printed with his art and produced three amazing pieces that do just that. Mitch produced a stunning set of three designs that complement each other perfectly."
Each IOC is not just a t-shirt, but an affordable art piece of the highest quality.
"It's all about the art. So far it's been an exciting and fun journey as we look to push boundaries and shift people's perceptions of art as we gain momentum."
Using the best tattoo artists, with future collaborations planned with all kinds of artists, novelists and poets, Neil is constantly looking to evolve Ink on Cotton and create beautiful pieces that are totally original. As each piece is individually numbered, no one else in the world will ever have the same IOC.
"We put a lot of love and creativity into our IOCs. We want to create mobile art that people can wear or frame. Unfortunately, some people never take their IOC out of the box as they want to keep it in pristine condition!"
With this focus on art, Neil doesn't consider Ink on Cotton to be a fashion label, however, he has learnt a considerable amount about the fashion industry over the past year – a journey he has thoroughly enjoyed.
"We've done photo shoots and been in a fashion show and it's all great fun. We have our own fashion show for charity in Leeds on Friday September 11th, which I'm looking forward to. We believe people should get value for their money, rather than paying high prices for plain designer t-shirts."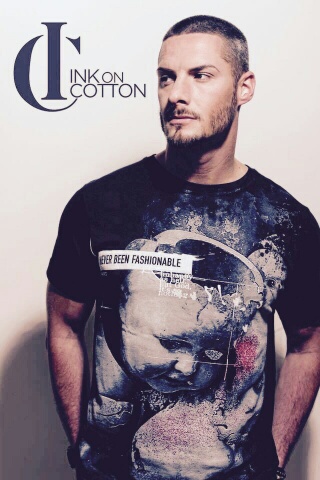 Ink on Cotton officially launched on 1st March 2015, but already it's been getting positive responses from people of all ages and walks of life.
"We've been very lucky that people have been so encouraging and appreciative of Ink on Cotton. My sons are 17 and 19 and they love what I do, which means a lot to me. IOC always seems to get people talking wherever we go and seems to appeal to all different types of people. Some like tattoos, some like art, some just like interesting t-shirts."
With a new range of merchandise coming out soon, including hoodies and vests, Neil has many plans for the future. An all-new design, 'Blue' by Claire Hamill, will shortly be arriving, as well as several designs from other artists.
"One artist who has agreed to work with us is Sam Barber, who was recently voted best female British tattoo artist. I would love to collaborate with Raphael Mazzucco. A collaboration between tattoo and fine art would help blur boundaries and produce stunning pieces."
Ink on Cotton's journey has only just begun, and there are many directions the business could take.
"The only limit is our own imaginations," says Neil, "I assure you that everything we do will spread a bit more beauty in the world. Keep watching the show and I hope you will all jump on board the IOC express and enjoy the journey, taking in the scenery along the way!"