You have to be careful with boot reviews in case you put your foot in it.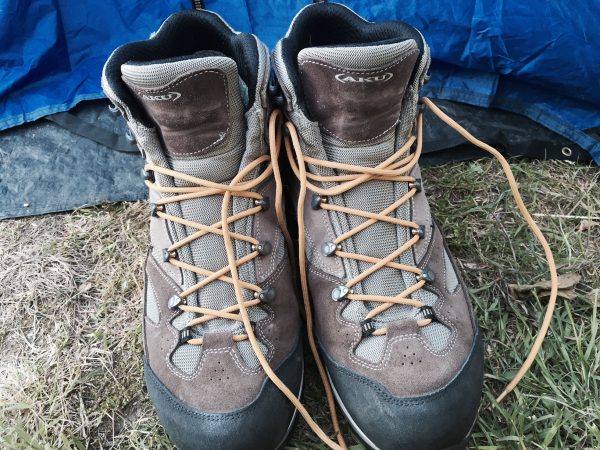 Walkers, hikers, campers and travellers, we're really the only people who can really appreciate a good boot. If you've ever had to tackle the Scottish highlands, or the Cornwall hills you'll understand how a pair of boots are less about fashion and more functionality. Assuming you're not a fan of blisters the size and consistency of tangerines.
A recent trip around the island of Britain to the most Easterly, Southerly, Westerly and Northerly part of the country has certainly put these boots through their paces. As I am a size thirteen foot, with a shovel wide ball, high arches and a heavy heel as well as being six foot five and 115 kilograms I am the very worst news for any boot manufacturer. Rising to the challenge Aku Boots were kind enough to hand craft these boots for me prior to my trek around the country.
My last pair of boots lasted me twelve years and when I cast them aside they were indistinguishable from crocks but ever so slightly more fashionable.  Due to this the last four years I've been walking in boots that have provided me with zero amount of cushioning and wouldn't have noticed until slipping my feet into the Aku Boots.  It's like having clouds surgically grafted to my feet. My ankles are supported, there is space for my toes to spread, my heel, ball and instep are supported in a balanced and smooth manner than gives me a much missed bounce in my stride.
They're also fashionable with a sporty-outdoor reference that makes me happy to wear them in any circumstances and I can report that not only they at home walking through the Scottish Highlands, but they're equally as pleased in the cinema and have been walking doing the rounds on my Twitter feed.
---
Related Article: Skoda Octavia. Never Miss a Sunrise.