Paul Murray is the Managing Director of Paul Murray HR, an HR consultancy that focuses on giving advice regarding employment law in the North West. Endeavour Magazine spoke to Paul to find out why, after almost ten years of working for himself, he doesn't want things to change – even though he's reached retirement age.
Paul decided to break away from employment after he, like many others, made an unwelcome discovery about his pension.
"When I was in striking distance of retirement age, I did an appraisal of my pension," says Paul, "I found out that, like everyone else, I'd been screwed over. It was much less than it should have been when I set it up thirty years earlier. Added to this, government had moved my wife's pension age forward by 6 years! Over the next few years the situation at my place of work got worse. I was working at a big HR firm and there was no appreciation for older and more experienced workers. I left on good terms – and decided to work for myself. I thought, 'I'm not very happy here, I might as well leave and work from home. I had worked for myself before, so I knew the repercussions and dangers, but that was 20 years previously."
The move to self-employment was made easier by Paul's background in the industry.
"My first book of clients was all people who knew me. I phoned round to see who remembered me and who wanted to still work with me. I wasn't sure how to market myself. As a small business, you're given advice from all sides, but a lot of it is people trying to sell you stuff."
Despite this uncertainty, Paul soon found that his approach to the HR industry was a big selling point.
"When I worked at the big HR firm, one of the compliments I received most from my clients was that they always put the phone down feeling better for having spoken to me, and like their problem could be sorted. I got to know them, we chatted. They used to tell me they were disappointed when they called and got through to one of the younger workers who'd been trained to get things sorted as quickly as possible and preferred to email instead of talk. Some clients felt a bit fobbed off, paying all this money for legal advice and not getting the 'one to one' service they preferred. When I decided to start my own business, I didn't know how I could compete with the big companies, people who had their own IT department – but then I realised I didn't need to. I just needed to continue doing what I already did naturally and give my clients a personal and traditional service. That's my 'USP'."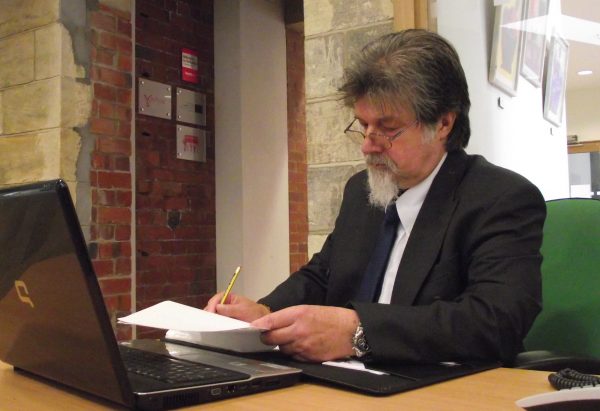 It's these traditional values that make Paul stand out from the crowd.

"The HR industry is seen as an industrial marketplace. HR companies are normally just trying to sell insurance. You have to do exactly as they say or the insurance will be invalid. It's a massive industry and it operates on a call centre basis. I'm an HR consultant and I'm not selling insurance. I don't even have letter templates, I custom write letters for my clients. When the phone rings, I answer it. I have time for my clients."
It's this that's the secret to Paul's success – although he says it's no secret at all.
"My ethos is to give my clients more than they expect. When you use any service, you remember who's good. I want to make sure my clients remember and recommend me."
As Paul grew his business, he discovered that he didn't need to change what he was doing, he just needed to promote what he already had going for him and one of these things was being older.
"Being older and more experienced has been a good thing for me. It doesn't work in every industry, but in mine it does. You might not trust a 20-something with a ponytail and a t-shirt to give you legal advice, but a man in a suit who occasionally peers over his spectacles? He knows his stuff!"
Despite these advantages, Paul has had to make some changes, most notably adapting his traditional business to the modern world.
"One of the things I've found hardest is technology. Where I worked, I used computers, but I didn't know how they worked. When I started working there in 1998, we had pens and paper on our desks. We thought we were pretty modern when we got a fax machine. Now, I've learnt a lot. I have social media pages, although I'm still not quite sure how it works. I can use spreadsheets, which makes things easier for my accountant and I publish my own blog and newsletter. I run the website myself and I learnt how to do SEO, so that keeps my overheads low."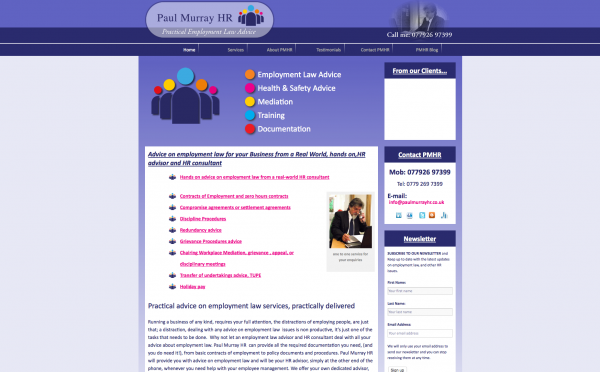 The Internet was a big factor in getting Paul extra exposure and lead to a lot of press coverage for Paul Murray HR, but he modestly insists that his newly-found fame is a result of fortuitous circumstances.

"I'm not a clever clogs," Paul laughs, "I've always thought that if you want to know about an industry you should ask an expert. So I asked my local newspaper if I could write an article for them about myself and I asked how I could write and format it to make it easiest for them. (When I wrote for a Motocross magazine about 25 years ago I had to use triple spacing and I was writing on a typewriter then!). I wrote about starting up a small business and I mentioned PRIME. The Prince's Initiative for Mature Enterprise (PRIME) is an organisation headed by the Prince of Wales to support older entrepreneurs. I was just one of their 1.3 million members over 55 starting a business, but when ITV's Tonight wanted to do a feature on PRIME, they got in touch with me – it turned out their researcher also lived in Hebden Bridge! After the programme went out other journalists got in touch and I've been featured in publications like the Guardian and the Independent."
Paul has found greater independence by working for himself. The day-to-day running of Paul Murray HR takes place at home, in the car – and even on a holiday in Canada.

"I spend most of my time writing emails or on the phone. I work from home but I don't have to stay at home. I can take my grandchildren to the park, or sit in a tearoom. My mobile can receive emails and I have my files on Dropbox. I even have Bluetooth set up in my car, so if I need to make a call I can use the voice recognition – if my wife can keep the grandkids quiet! My son and daughter guide me on all things technological. I never thought I'd embrace technology but I genuinely use it."
With Paul Murray HR in a stable state, Paul isn't looking to expand. His business is working for him and his lifestyle.
"It won't be long until I'm 70. I don't want to work too hard. I want to spend time with my grandkids and I'm learning the banjo. Working gives me something to look forward to each day. Sometimes it is a challenge, but knowing the industry well, if I don't know the answer, I know how to find it. I'm happy with the way things are and I'm not looking to expand my client base. I have enough to keep me busy. If I want to slow down in the future I can, but at the moment, I feel wanted and appreciated and I'm learning new things all the time."